What Kind of Clubs Did Ben Hogan Use?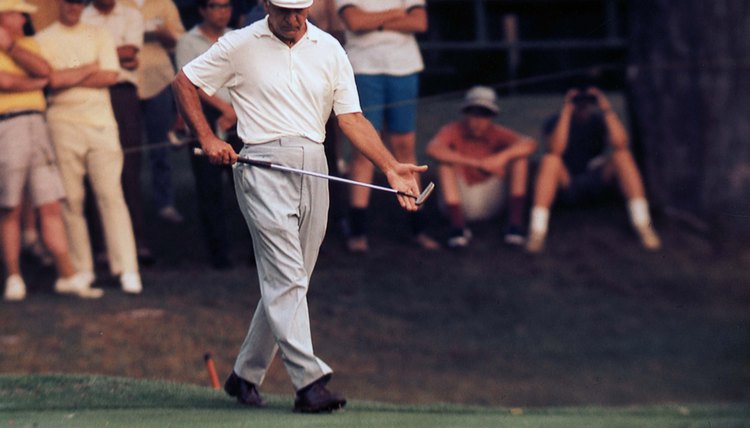 Ask a panel of experts to name the greatest golfer of all time and there's little doubt that Ben Hogan's name would be near, or at the top, of their list, along with names like Tiger Woods, Jack Nicklaus and Phil Mickelson. Hogan is one of five professional golfers to win each of golf's major championships at least once, and gained six of his nine major victories after recovering from a near-fatal automobile accident.
Hogan's Record
Hogan was a caddie in Fort Worth, Texas before joining the professional tour in 1932, at age 19. He reportedly discovered a secret in the late 1930s that transformed him from a run-of-the-mill pro to a champion. His World Golf Hall of Fame profile suggests Hogan weakened his left hand grip on the golf club and rotated his left arm clockwise during his backswing to create a power fade. Whatever he did, it worked.
Mr. Hogan won his first PGA Tour event in 1938 and a total of 64 events in the next 21 years, including his nine major championships. Hogan was inducted into the World Golf Hall of Fame in 1974. Below we dive into what you might have found if you took a peek into a Ben Hogan golf bag out on the golf course.
Ben Hogan Irons
Hogan's most famous club is the 1-iron that helped him win the 1950 U.S. Open. He was tied for the lead with George Fazio and Lloyd Mangrum, who had completed their rounds, and needed to par the final hole, a 458-yard par 4, to join the 18-hole playoff. Facing an approach shot of more than 200 yards on the fairway, Hogan played his 1-iron, rather than his normal 4-wood, because he wasn't hitting the wood well that day.
Although the 1-iron is notoriously difficult to hit accurately, he pinned the golf ball onto the green, then used his putter to two-putt for par. He won the playoff the next day.
Ben Hogan Golf Clubs
After the famous 1-iron Hogan used in the 1950 U.S. Open was stolen, he stopped using it. Instead, he relied on the rest of his set of irons, his 2 through 9 irons, all of which had stiff, steel shafts and less-than-typical lofts that ranged from 18 degrees for the 2-iron to 42 degrees for the 9-iron. Hogan, who stood about 5-foot-7, used a fairly short 43.25-inch-long driver with just 8 degrees of loft. His 3-wood, however, contained a slightly above average 15 degrees of loft. Hogan also carried three wedges among his set of 14 clubs in the bag.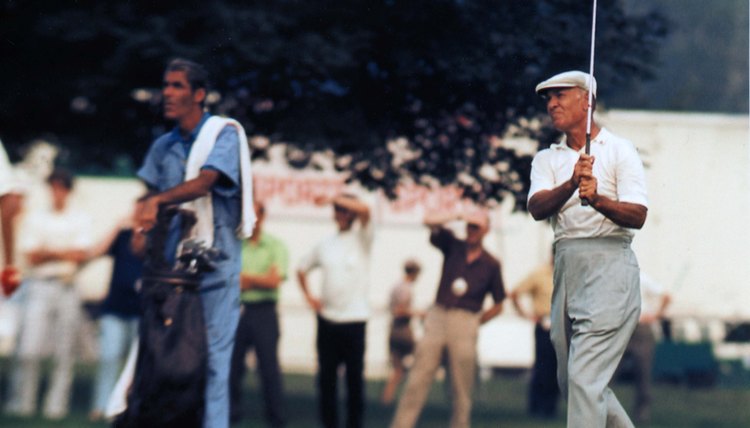 SportsRec
His two pitching wedges featured 44 and 49 degrees of loft, respectively, while his sand wedge was lofted 55 degrees.
Hogan had the heels of his club heads ground so the toe was fanned open about 5 degrees, presumably because he battled a tendency to hook the ball early in his career. Hogan didn't play with the Callaway, Taylormade or Titleist set of clubs like many Tour pro players do today; rather, he played with MacGregor clubs for most of his career, until he started his own club Ben Hogan Golf Equipment Company in 1953.
Writer Bio
M.L. Rose has worked as a print and online journalist for more than 20 years. He has contributed to a variety of national and local publications, specializing in sports writing. Rose holds a B.A. in communications.