What Are the Advantages of Using the Interlocking Golf Grip?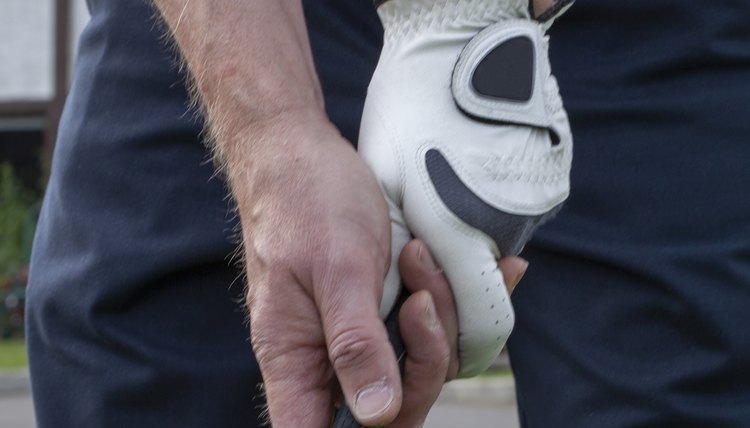 Although the most common golf grip among professional players on their golf swing is the overlap grip or "Vardon" grip (named after Harry Vardon), there are some notable golfers who have used the interlocking grip when handling their golf clubs.
The most famous of these are Jack Nicklaus and Tiger Woods, but other professional golfers such as Tom Kite, Michelle Wie and 2011 U.S. Open champion Rory McIlroy also use the interlocking golf grip. You can be sure that these champions have some good reasons to use this type of grip.
SportsRec
Locked Together
In the interlocking grip style for right-handed golfers, the right pinky finger hooks (or dovetails) around the left index finger. This forms a physical connection that pulls the two hands tightly together through the backswing all the way through the follow through.
When hands using this grip wrap around a club's cushioned grip, the result is an extremely strong "joint." This physical strength is the big attraction of an interlocking grip, and its advantages manifest themselves in a variety of ways in your golf game.
SportsRec
Unity
A common reason players choose one grip over another, like the overlapping golf grip, is their desire to create unity between their hands.
When you swing your club through your backswing and down towards the golf ball, your wrists act as a hinge. However, if your hands become separated during the swing, each wrist can act separately and your hands can interfere with each other.
This isn't a problem with an interlocking grip, which pulls the hands together so tightly that there are no gaps between any of the fingers. Nicklaus believed that the interlocking grip was "the best hand-'unitizer' going," as he put it in his book, "Golf My Way," and he never hesitated to recommend it to beginner golfers, amateur golfers, and even other PGA Tour pros.
SportsRec
Small Hand Size
Nicklaus said that he had smaller hands and that the interlocking grip allowed him to get a better grip with them. The more-common Vardon grip works better for players with larger hands, since one of the fingers on the right hand has to wrap around the fingers of the left hand.
With the interlocking grip, all of the fingers are close to the actual cushioned grip. Even the two interlocked fingers don't cause large gaps underneath.
SportsRec
Natural Strength
Nicklaus also recommends the interlocking grip for players with weak hands who would otherwise have a weak grip while attempting to use different grips. When your interlocked hands wrap around that cushioned club grip, the club is locked in place with very little effort.
It also allows even players with strong hands to keep a firm grip without a lot of tension in the hands and forearms. Since keeping those muscles relaxed during your swing is essential to creating clubhead speed – relaxed muscles can move more quickly – an interlocking grip may help you develop more clubhead speed without losing control of the club.