Golf Attire Etiquette
Uniforms are a part of almost every major sport, but proper golf attire is perhaps one of the most unique features of the game. While they may not be the most comfortable to golf in, button down shirts or polo shirts, athletic pants or golf shorts, and a golf cap or baseball cap usually make up the golf dress code at most golf clubs and public courses.
This is not only unspoken etiquette followed by golf purists, but most golf courses, country clubs, private clubs and municipal courses actually have a dress code that requires proper attire in order to play golf or get some extra practice at the driving range.
These golf clothing rules are not as restrictive as the standard for PGA Tour or LPGA Tour players, but they are designed to ensure that amateur players adhere to a certain protocol to help maintain the game's traditions. It is always a good idea to check with course management about the proper golf apparel in order to use their facilities.
Simply put, you should not see many sleeveless shirts, leggings or yoga pants when out on the golf course. Rather, here is what you can expect to see.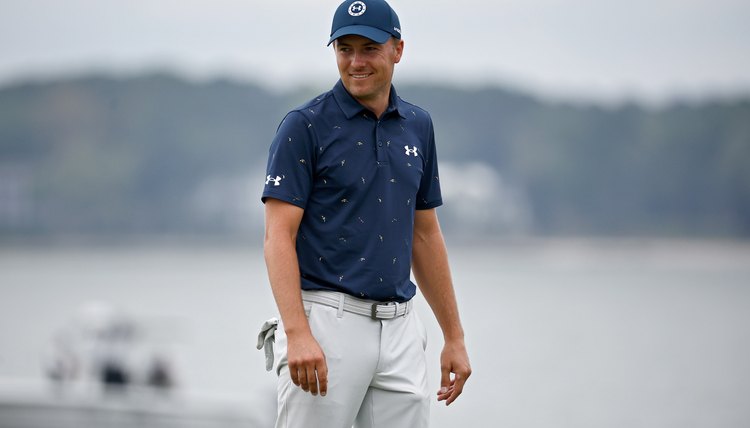 SportsRec
Shirts
In nearly all cases, golf courses require that men wear collared shirts. This usually means traditional cotton, microfiber or polyester golf shirts, like a polo. Some course managers also allow modern-style golf shirts that have a turtleneck-style collar.
For women's golf attire, tops vary greatly, with or without collars, but all adhere to a traditional sense of modesty. This means no bathing suit tops or tube tops. T-shirts or tank tops usually are not permitted for men or women.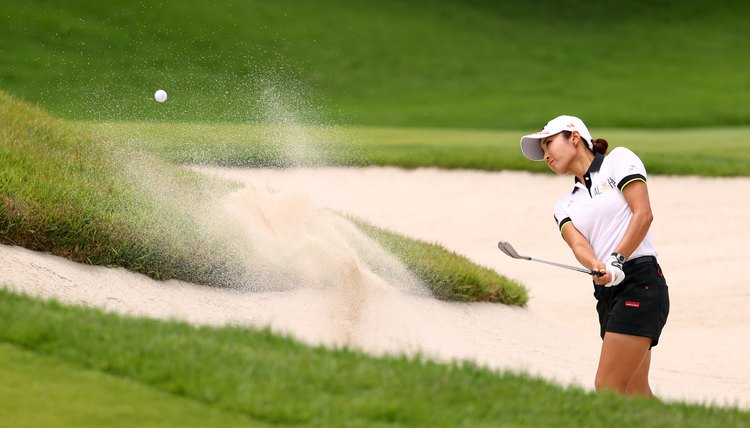 SportsRec
Pants
Men should wear long pants made of cotton or a polyester blend, or dress shorts with a pleated or flat front. Some courses will permit men to wear jeans, but others prefer more traditional golf pants or cargo shorts as described above.
Women also should wear long trousers, capris or dress shorts, or what are called golf skirts. These garments are made with a cut pleat or V-notch on the front or side to allow for motion in the golf swing and include an undershort. Cut-off jeans and workout, running or basketball shorts usually are not permitted for men or women.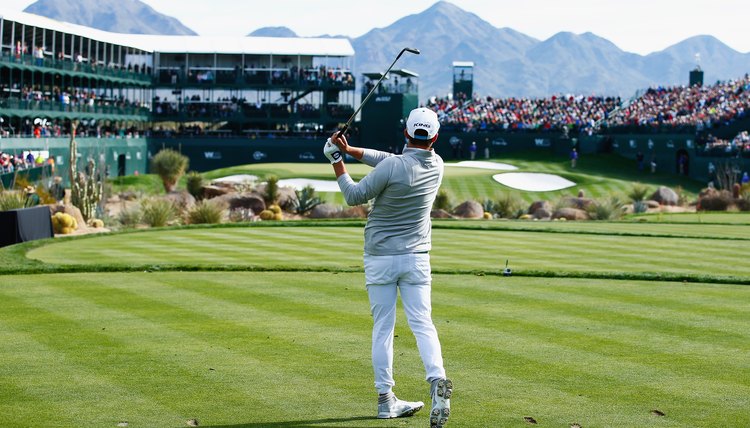 SportsRec
Shoes
Footwear is considered part of the game's equipment. Golf shoes will help stabilize a player's swing, allow for traction when walking and provide comfort during a round that can last several hours. These shoes include spikes on the soles. Many courses now require soft spikes made of hard rubber or plastic, not traditional metal spikes. Furthermore, other types of shoes that may appear to offer the same comfort and stability are not necessarily permitted.
Sneakers or running shoes are sometimes allowed on golf courses, but not always. Sandals, street shoes and boots are not permitted on most courses.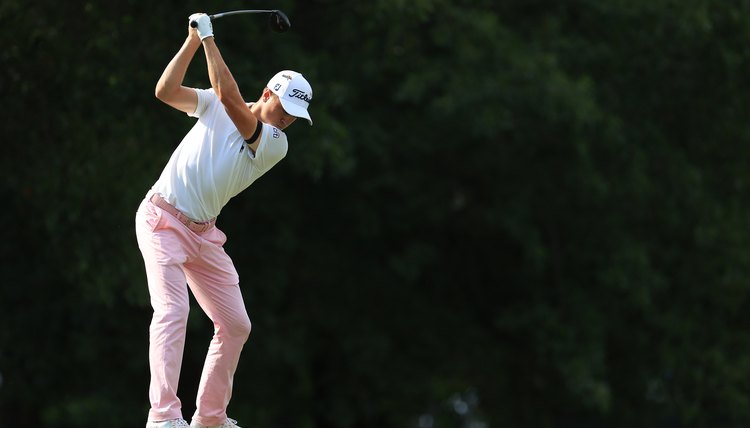 SportsRec
Socks
Socks are as necessary with golf shoes as they are with any sports footwear. Over the years, socks have become an important part of golf attire, mainly because advances in fibers help to keep a golfer comfortable and his feet dry. Golf socks come in a variety of styles.
Many golfers who wear shorts choose ankle-length socks that are barely visible above the shoes.
But more traditional tube socks are also permitted. Although a course dress code is not likely to specify what kind of socks a player is permitted to wear, there is unspoken etiquette that requires a player to wear socks that complement the clothing.
SportsRec
Hats
Golf hats usually are not specified in a dress code, but certain headgear is more appropriate when it comes to a golf outfit.
Baseball-style hats or visors, for men and women, are the most popular on a golf course. Their primary function is to help provide protection from the sun.
Straw hats of many varieties, and what are known as Ben Hogan caps, also are permitted. But headgear such as cowboy hats, dress fedora-style hats, beanie caps and gag hats are generally won't make it past the clubhouse.