Yoga Sequences for Kids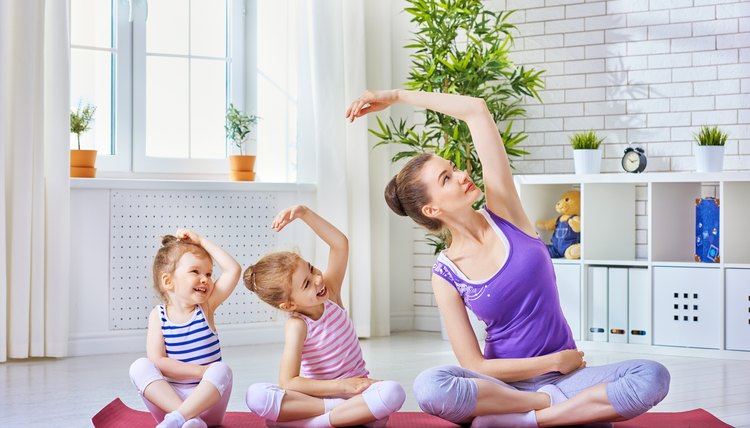 The benefits of yoga aren't just for grown-ups. Teaching yoga to kids from an early age allows them to connect with their body, calm their mind, engage in a healthy activity with their friends and learn how to breathe deeply to release stress. These strategies build a strong foundation for balanced, healthy, and happy humans!
However, the approach is very different when teaching young yogis, as they can lose focus easily. Here are some poses they'll love to learn.
1. Happy Baby
The first pose is Happy Baby, which will start with all the kids lying on their backs and grabbing their feet. Have the kids sway side to side without letting go of their feet.
2. Frog Pose
The second pose is Frog pose, in which the kids will roll up to their feet and squat, resembling a frog's legs. Ask the kids, "What does the frog say?" The children should chime in, "Ribbit, ribbit."
3. Cat Pose
The third pose is Cat pose, where the kids will transition onto all fours by placing their hands on front of the mat and making room between their legs. Then they'll round their backs up to mimic the way a cat stretches and moves. Ask them, "What does the cat say?" And they'll reply with each animal sound as they do the pose.
4. Lion Pose
The fourth pose is Lion pose, where the children stay in the Cat pose and move around in a circle on their hands and knees, mimicking the lion dance. And yes, they can even roar like a lion!
5. Downward Dog
The fifth pose is Downward Dog. Have them place both feet at the bottom edge of the mat with about a foot of space separating their ankles. Their hands stay in the same position they were in for Lion pose.
6. Chair Pose
The six pose is jumping up into Chair pose, where their feet come together and their knees are slightly bent, as if they're sitting into a chair.
7. Tree Pose
For the last active post, have them stand up and bring their hands over their heads and end with the final Tree pose. For the older children (ages 6 and up), try having them balance on one leg with their foot on their shin.
8. Savasana
After all of the movement, ask the children to lie on their backs for savasana, the meditation at the end of class. Tell them to close their eyes and breathe deeply, trying to be still and focus on how they feel.
The teacher can guide them through a short meditation, focusing on something they did that made them feel strong or proud and something that makes them feel calm and happy.
References
Polsgrove MJ, Eggleston BM, Lockyer RJ. Impact of 10-weeks of yoga practice on flexibility and balance of college athletes. Int J Yoga. 2016;9(1):27-34. doi:10.4103/0973-6131.171710
Yousefzadeh A, Shadmehr A, Olyaei GR, Naseri N, Khazaeipour Z. The Effect of Therapeutic Exercise on Long-Standing Adductor-Related Groin Pain in Athletes: Modified Hölmich Protocol. Rehabil Res Pract. 2018;2018:8146819. doi:10.1155/2018/8146819
Alexander GK, Innes KE, Selfe TK, Brown CJ. "More than I expected": perceived benefits of yoga practice among older adults at risk for cardiovascular disease. Complement Ther Med. 2013;21(1):14-28. doi:10.1016/j.ctim.2012.11.001
Ma X, Yue ZQ, Gong ZQ, et al. The Effect of Diaphragmatic Breathing on Attention, Negative Affect and Stress in Healthy Adults. Front Psychol. 2017;8:874. doi:10.3389/fpsyg.2017.00874
Rathore M, Trivedi S, Abraham J, Sinha MB. Anatomical Correlation of Core Muscle Activation in Different Yogic Postures. Int J Yoga. 2017;10(2):59-66. doi:10.4103/0973-6131.205515
Writer Bio
Andrea Boldt has been in the fitness industry for more than 20 years. A personal trainer, run coach, group fitness instructor and master yoga teacher, she also holds certifications in holistic and fitness nutrition.