Activities After Knee Replacement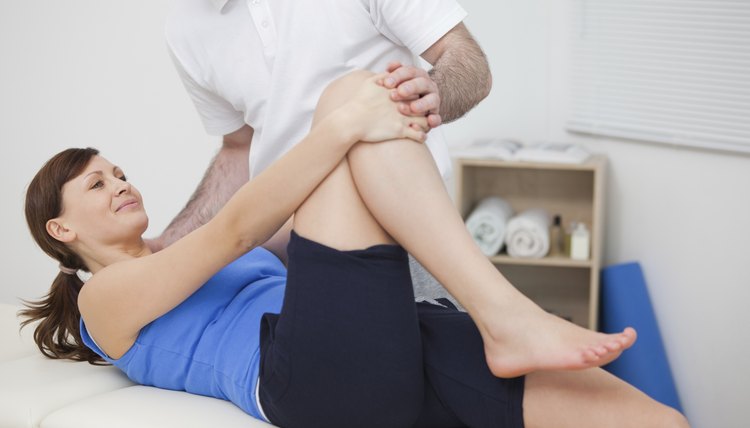 Knee replacement can put an end to knee pain and allow you to enjoy an active lifestyle. You can resume many activities impossible before knee replacement, but there are some restrictions on the activities you should do after knee replacement, according to the American Academy of Orthopaedic Surgeons.
Recovery
Early activity is important after knee replacement to help speed healing, says Steven Stuchin, M.D., director of orthopaedic surgery at the New York University Hospital for Joint Diseases. Physical therapy will begin in the hospital following knee replacement surgery and should continue after you return home. In the first few weeks after knee replacement, the goal is to strengthen the muscles around the knee and resume walking. Crutches or a cane may be needed for up to six weeks. You should also begin stair climbing, beginning with smaller-height stairs and later progressing to larger steps.
Encouraged Activities
Walking is encouraged after knee replacement. The American Academy of Orthopaedic Surgeons states that there are no restrictions on walking after knee replacement, and you can walk as much as you like. The AAOS also recommends swimming beginning after the sutures have been removed and the wound has healed, which is typically six to eight weeks after surgery. In a survey of orthopaedic surgeons presented at the 2008 annual meeting of the American Association of Hip and Knee Surgeons, 95 percent of responding surgeons said they place no limitations on swimming, golf, climbing stairs, and walking or bicycling on level surfaces after successful knee replacement.
Acceptable Activities
Other activities that are slightly more risky but still acceptable after knee replacement include volleyball, softball, in-line skating, ice skating, horseback riding, scuba diving, hunting, low-impact aerobics and racewalking, according to The Knee Society. Limit these activities to no more than twice a week to avoid overstressing the artificial knee, recommends Dr. Stuchin. Doubles tennis is also an acceptable activity for people with a knee replacement, adds Stuchin.
Discouraged Activities
Activities that should be avoided after knee replacement include basketball, football, hockey, soccer, high-impact aerobics, gymnastics, rock climbing, parachuting, jogging and any activities that involve jumping or squats, reports The Knee Society. These high-impact activities place excessive stress on the knee, which could result in early failure of the artificial knee, explains Stuchin. The AAOS also recommends that you avoid lifting anything heavier than 40 lbs.
Other Activities
You should be able to return to driving about a week after knee replacement if your left knee was replaced and you have an automatic transmission, says Stuchin. If your right knee was replaced, you should wait six to eight weeks before returning to driving. The Knee Society says that you may need to take up to six weeks off work depending on the nature of your work. Sexual activity can safely be resumed four to six weeks after knee replacement surgery, according to the AAOS. Talk to your doctor about when you can return to activities and participate in sports since each individual and knee replacement case is different, says Stuchin.
References
Resources
Writer Bio
Jan Sheehan is an award-winning medical and nutrition writer, having entered journalism in 1992. She is a former contributing editor for "Parents" magazine. She has also written nutrition articles for "Self," "Fitness," "Ladies' Home Journal," "Health" and other magazines. Sheehan has a Bachelor of Arts in journalism from Purdue University.