What does fact checked mean?
At SportsRec, we strive to deliver objective content that is accurate and up-to-date. Our team periodically reviews articles in order to ensure content quality. The sources cited below consist of evidence from peer-reviewed journals, prominent medical organizations, academic associations, and government data.
The information contained on this site is for informational purposes only, and should not be used as a substitute for the advice of a professional health care provider. Please check with the appropriate physician regarding health questions and concerns. Although we strive to deliver accurate and up-to-date information, no guarantee to that effect is made.
The Best Training for a Linebacker in Football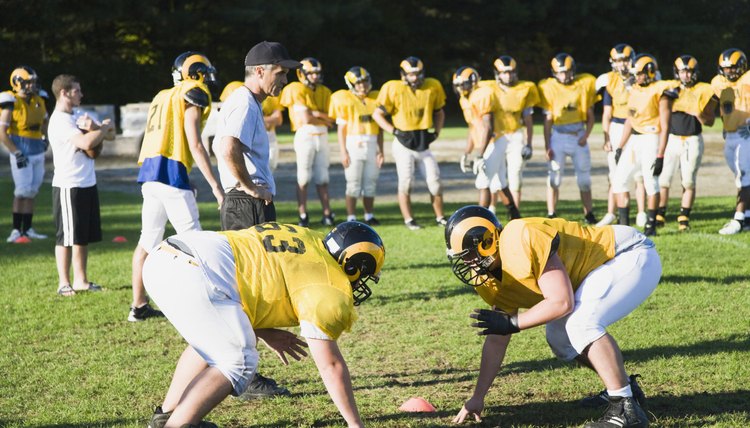 Linebacker is the most explosive, reactive and physically demanding position in the game of football. In a single play, a linebacker may have to call out defensive adjustments, read and react to the development of the play, chase someone 40 yards across the field and then tackle him using brute strength. Training regimens for a linebacker are equally intense, and require complete dedication of mind and body.
Types
Workouts for a linebacker don't take place only in the gym. You are going to spend roughly 25 percent of your time on the field doing exercises and drills to hone your reaction skills. You may perform these drills with the assistance of a coach or training partner. Time spent in the gym focuses on explosive movements, core strength and leg strength.
Features
Perform on-field drills without pads to work on reading and reacting, improving your reaction time, short- and long-distance speed and taking proper angles. These exercises are cardio intense and you will need to take several breaks. Gym training focuses less on cardio and more on increasing your overall strength. Explosive upper and lower body powerlifting movements such as deadlifts, bench presses, power cleans and squats are staples for improving on-command strength. Core training techniques include medicine ball workouts and Swiss exercise ball balance movements.
Considerations
The intense nature of linebacker workouts require a high energy level. This can only be achieved through eating a high number of calories. According to the latest USDA calorie-intake guidelines, if you are an active male between the ages of 14 and 18, you may require as many as 2,800 to 3,200 calories a day just to maintain a normal level of energy. For maximum energy during each workout, eat three to four hours beforehand to allow the food to digest. This preworkout meal should be heavy on complex carbohydrates to fuel your body.
Effects
Assuming that you are eating the proper amount of calories and working at optimal levels in and out of the gym, your body will alter its levels of muscle and fat. Repeated intense resistance training paired with a high-calorie, high-protein diet will pack muscle on your frame like nothing else. Additional muscle mass will help you push off opposing blockers en route to tackling the ball carrier. This improved strength paired with effective technique through on-field drills and exercises will help your performance in practice and on game day.
Misconceptions
From the outside looking in, you may think that the most important muscles to build are the upper and lower body, but the muscles in the middle make the biggest difference. Having a strong and stable core allows you to change direction, torque your body and pull an opposing player to the ground with force. Every time you make a movement where your hips aren't perfectly in line with your shoulders, your core muscles keep you balanced. Core muscles must be a part of every linebacker workout.
References
Resources
Writer Bio
Nicholas Bragg, a lifelong athlete and certified personal trainer, attended four separate colleges from Maryland to California, finishing in 2004. Named to the CEO's club as an elite performer at Intuit in 2009, he changed careers in 2010 and now contributes writing to Mahalo and SportswithM.