What Is a Hemi Walker?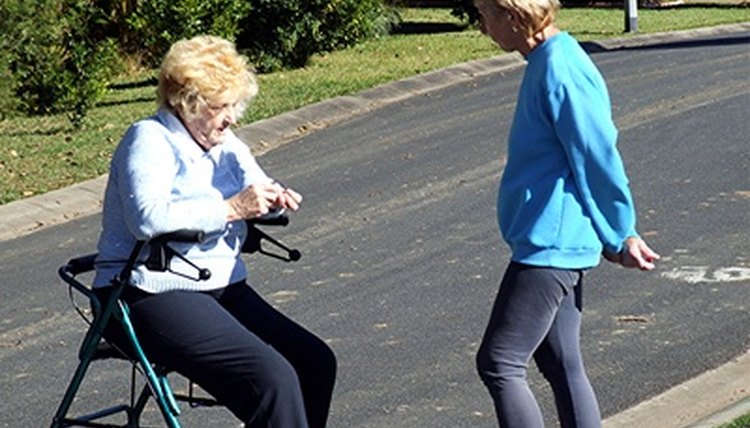 The hemi walker, also referred to as the side-stepper or one-handed walker, assists ambulatory people with limited mobility. Since the hemi walker is a lightweight device, it is easy to maneuver and lift, even with one hand, reports Technology for Long Term Care. Hemi walkers come in a variety of models with varying features, making it easier to fit a specific need. The type and model of hemi walker you purchase depends on your height, weight and degree of mobility.
Features
Since a hemi walker is a hybrid between a cane and a walker, it provides more support than a cane but is more lightweight than a standard medical walker. Constructed from a lightweight material such as aluminum, the hemi walker has four legs with a bar across the top at hip level. The hemi walker's feet are equipped with rubber tips, which provides excellent traction. The hemi walker does not roll--instead, you must pick up the walker to move it in the desired direction. Therefore, you need upper body strength and coordination skills to effectively use the hemi walker. Unlike a standard medical walker, a hemi walker is designed for use at the side of your body, rather than the front.
Uses
Technology for Long Term Care states the hemi walker suits people with either limited or no dexterity in one hand or arm. It is ideal for people that have one-side weakness as a result of a stroke or brain injury, according to Medical Walkers. It is also useful for people that have balance problems. Since the hemi walker requires the use of only one hand, it offers wider support to assist those with limited or no dexterity on one side. For those that have had an injury or surgery on one leg, the hemi walker provides assistance with keeping the weight off the affected leg during the healing process. The hemi walker can be used on a variety of surfaces, including stairs.
Types
A hemi walker is available in a number of different models and styles. These range from lightweight basic models to those that offer an additional grab bar to assist with getting up from a seated position. Some hemi walkers have a folding feature, which makes it easier for storage and transporting in a vehicle.
Specifications
Although the specifications of hemi walkers vary by model, most hemi walkers can hold up to 250 pounds. The hemi walker is designed primarily for patients that are 5 feet one to 5 feet 10 inches tall. Most hemi walkers are lightweight, just under 3 pounds. Each leg is height-adjustable, usually between 29 1/2 inches to 34 1/2 inches. When folded, hemi walkers have approximately three inches in depth. A bariatric adult hemi walker supports weight up to 300 pounds, weighs 10 pounds and is adjustable up to 36 inches, reports Medical Walkers.
Cost
Hemi walkers are available to purchase in a number of different models. The type of material used, features and ability to fold account for price differences. For example, a basic, lightweight (2.85 pounds) walker can run around $33, while a folding hemi walker is priced at approximately $49. Side walkers with a wider base cost around $110. Hemi walkers can be purchased online or at medical supply stores.
Resources
Writer Bio
Elizabeth Jean began writing professionally in 2000. She focuses her writing on tutorials and topics about health, nutrition, computers and Internet, personal finance and business. She writes healthy living, lifestyle and nutrition articles for various websites. Jean holds a Master of Business Administration and a cum laude Bachelor of Science in business administration, both from Duquesne University.