Standard Barbell Weight Limit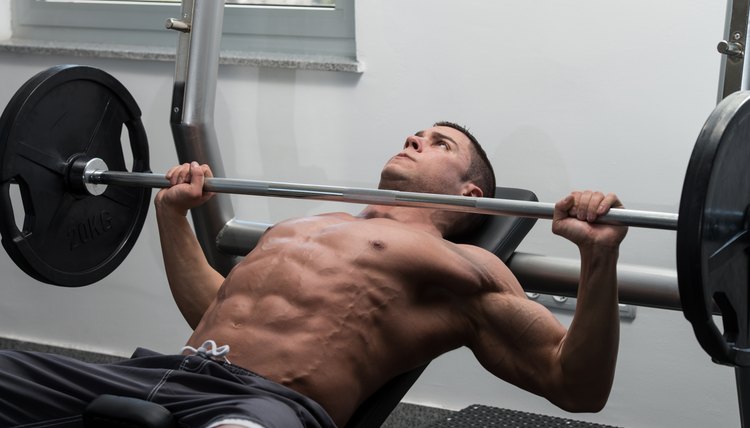 The standard barbell's origins date back as far as 1870, according to Dr. Jan Todd in "Iron Game History." The barbell has grown in popularity from this time and can be seen in most fitness studios across the United States. Knowing how to safely use a barbell has also becoming increasingly important. There are a wide variety of "standard" barbell types and with each type comes a different maximal weight limit that is safe for use.
Olympic Bar
The Olympic Bar is a standard barbell that normally weights 44 lbs. The range between the collars is normally 51.5 inches (in.) with a diameter of 30.2 millimeters (mm). Capacity for these bars ranges; however, most bars can withstand loads up to 500 pounds (lbs). These bars are normally used for "Olympic" lifts such as the Power Clean, Snatch and Push Press.
Training Bar
The standard training bar barbell is typically a lighter barbell that ranges in weight from 15 lbs to 30 lbs It also has a collar to collar width of 51.5 in.; however, its diameter is typically smaller at 28.6 mm. The maximal amount of weight that can safely be placed on these bars ranges from 150 lbs to 250 lbs Training bars are more suitable for novice lifters who may not be able to handle heavier lifting loads. These bars are useful for non-Olympic or non-power based lifts such as bicep curls and a military press.
1" Barbell
The 1 in.-barbell is smaller and can typically be found in home gyms. These bars are also much smaller than the Olympic, training and power bars. Their weight ranges from 14 lbs to 20 lbs, with diameters of 25.6 mm. The between-collar range varies from 36 in. to 52 in. The maximal weight capacity that can be handled by these types of standard bars is 200 lbs to 250 lbs. These bars are highly versatile; however, they may not be able to withstand the heavy loads of Olympic and power based lifts.
Power Bar
Power bars are designed to withstand large amounts of weight associated with power lifts such as the squat and deadlift. This bar is similar in design to the Olympic bar with a weight of 44 lbs and a collar to collar distance of 51.5 in.; however, the diameter of these bars can be smaller, at 28.6 mm. The maximal capacity of the bar can range from 1,200 lbs. to 2,000 lbs. This bar is an excellent option for seasoned weightlifters that need the extra bar strength to hold up to their heavier workouts.
Considerations
Always ask the company you purchased the bar from, or the fitness center you are using the bar at, what the maximal weight capacity for the bar is. Consider your skill level when choosing the appropriate bar for your desired lift. Some standard barbells have rotating collars while others do not, which may influence your decision on which barbell to select for your workout.
References
Resources
Writer Bio
Joshua Bailey has been writing articles since 2006 with work appearing at Bodybuilding.com and 2athletes.com. Bailey holds the following certifications: NASM-CPT, NASM-PES, NASM-CES and NSCA-CSCS. He also holds a Bachelor of Science in exercise and sports science from the University of North Carolina, Chapel Hill and a Master of Science in exercise physiology from the University of North Carolina, Greensboro.