How to Play Free Safety in Football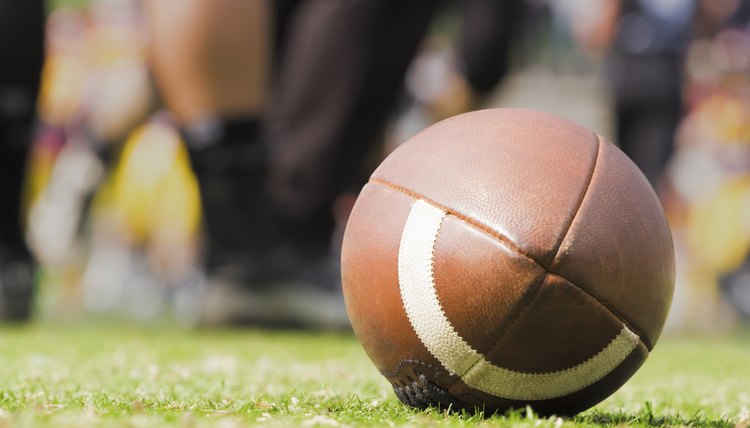 Free safety is one of the most physically and mentally demanding positions on the defensive side of the ball. These football players are asked to cover a lot of ground and have vital roles in defending against the passing and running games. They are arguably the most cerebral of the defending 11, tasked with diagnosing a play as it unfolds or before it begins, then getting in the right position to make the play.
Covering Ground
Free safeties must be fast, athletic players with the ability to cover a lot of ground. Often tasked with covering the likes of speedy wide receivers or covering vast areas in zone coverages, the centerfielders of the defense must fly from sideline to sideline making plays in the passing game. Practice your footwork with various cone drills, working on backpedaling and coming out of your break to turn and run with a receiver. Good points to remember are to stay low while backpedaling, keep your nose over your toes, then open your hips to initiate your break out your backpedal.
Becoming a Ball Hawk
Possessing the athletic ability to be in position to make plays is just one part of the game. Free safeties must also have the ball skills, lightning quick reaction time and soft hands to create turnovers with an interception. The tip drill is a classic standby for defensive backs coaches through the years. A coach will stand in line with two defensive players, spread out by 5 yards or more. The coach will throw a pass that the defender closest to coach will deflect in any direction and the second defensive back is charged with intercepting the pass. It is a simple drill that can transform a defense into a turnover machine. Free safeties are expected to make big plays when they have the ball in their hands, so sprint to the end zone every chance you get in practice.
Laying the Lumber
Free safeties are required to be sure tacklers and an intimidating presence all over the field. Safeties must limit big plays, and as the last layer of defense, the safeties can be the difference between a modest gain for the offense and a play that goes for a score. Angle tackling drills are most beneficial for safeties, because they have to make plays from sideline to sideline. Pick an angle that will allow you to get your head in front of the ball carrier. Always make a tackle with your shoulders and keep your head up, or see what you are hitting, as some coaches preach. Finish the tackle by wrapping the ball carrier up while exploding through the ball carrier with your hips and driving with your legs.
Study Up
A big part in becoming a great safety is being able to diagnose plays before they even begin. Watching film of an opponent can give you an idea of what the offense likes to do out of certain formations or you might discover a pre-snap read that will help you get in position to make a play. You can also find out if an opposing player has any tendencies, like what route they might run when facing a certain coverage look or how a quarterback might tip his hand before he throws the ball. The defense is always reacting to the offense, so they are always one step behind. Study up and try to level the playing field before the play even starts.
References
Writer Bio
Brian Lancette is a sports, travel and comedy writer based in Chicago by way of Northwest Wisconsin. His most recent work includes running youth baseball camps with the Boston Red Sox and Chicago Cubs. Lancette graduated from the University of Wisconsin (Eau Claire) with a degree in history and global studies.