What Equipment Is Needed for Field Hockey?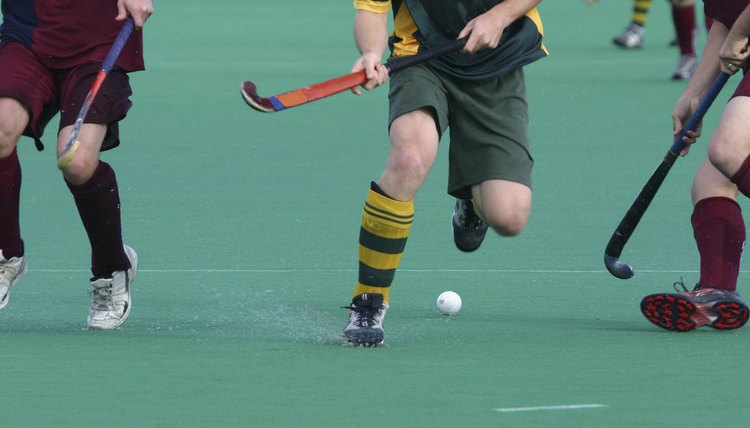 The history of field hockey may date back to 4,000 years ago, when ancient Egyptians played a similar game with a small ball and a long stick. The modern game of field hockey took shape in England in the late 18th century. It was introduced to the United States in 1901 by an English physical-education teacher named Constance Applebee. Field hockey is mainly a men's sport throughout the world. In the United States, however, the sport is dominated by women.
Field Hockey Sticks
You will need a specific stick to play field hockey. These sticks have two sides. One side (generally the left side) is referred to as the "playing side" and is flat on the lower half. The other side is referred to as the non-playing side; it is rounded from top to bottom. According to the official field hockey rules, a stick cannot weigh more than 737 grams, which is just under 26 ounces.
Ball and Goals
A field hockey ball is also necessary; this ball is usually white and made of a hard, solid plastic. It must weigh between 5 1/4 ounces and 5 3/4 ounces, and the circumference must measure between 8 13/16 inches and 9 1/4 inches. You'll need two goal cages, one on each end of the field. These measure 12 feet wide, 7 feet high and 4 feet deep.
Shoes and Protective Gear
You can play field hockey in any clothing that is comfortable, but you'll need field hockey cleats to get a good grip on the field as you run. Shin guards that will protect your legs from contact should also be worn. Goggles, gloves and mouthguards are also worn by field hockey players.
Goalie Equipment
Field hockey goalies will need a helmet with a cage to protect the face. Goalies also need extra padding. A goalie's leg pads cannot be larger than 12 inches wide, and the hand and arm pads cannot be longer than 14 inches or wider than 9 inches.
References
Writer Bio
Based in Colorado, Caitlin Fleur Erwin began writing in 2003. She is currently a Demand Studios writer for eHow and LIVESTRONG.COM Lifestyles. She has a bachelor's degree in English with a creative writing emphasis as well as a minor in dance from the University of Colorado.