Estimate the Cost of Equipment for a Youth Football Team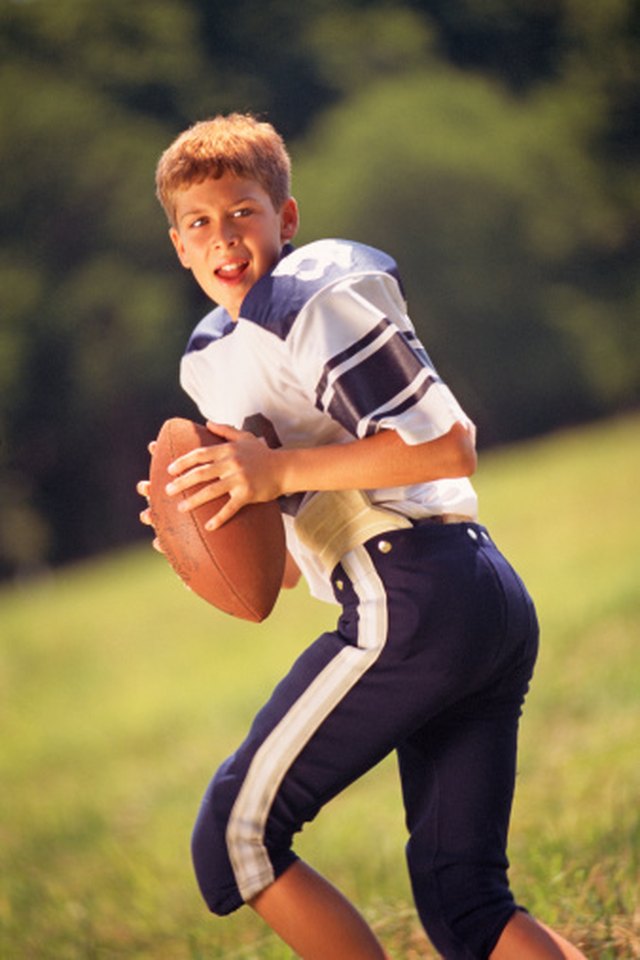 Many youth football organizations are having a difficult time equipping their players suitably, according to Twan Russell, director of youth and community Programs for the Miami Dolphins. Russell stated that, "Having the proper equipment, in many cases, is the difference in making the game of football safe and fun." Equipment expenses often exceed the funds generated by player fees. According to USA Football, the total estimated cost of starting a youth football team is approximately $2,928, as of mid 2015.
Helmets
The Adams Y4 is a basic youth helmet featuring an energy displacement ridge and a rear shell offset that conforms to the shape of the youth's skull. It is available in 13 colors. The helmet retails for around $44.99, as of mid 2015, although bulk discounts may be available with some companies. Face masks add approximately $25 to the cost.
Shoulder Pads
The basic youth shoulder pad, such as the Adams ASP Youth Shoulder Pad, start at around $31.95 as of mid 2015. That price is for the smallest model, made to fit a player weighing 40 to 60 lbs. Prices go up according to the players weight and size, with the largest made for players 160-180 lbs. and costing about $44.
Football Pants
Football pants with slotted pockets to hold thigh and knee pads, with snap in hip pads, are available in black and white and cost around $19.99 as of mid 2015. However, this price varies slightly depending on the brand. Most pants include built-in belt and hip, spine, thigh and knee pads
Jerseys
Jerseys range in price from around $15 for a basic numbered jersey. If you wish to customize a jersey to include a team name, the price increase to about $21.99 as of mid 2015. Practice jerseys may also be a consideration and are available starting at $6.99.
Funding
Organizations such as USA Football partner with NFL teams to provide equipment grants for youth football programs throughout the United States. More than $3 million worth of equipment has been purchased through the program since 2006. Selected youth leagues receive a variety of football and uniform options.
References
Writer Bio
Mitchell Clark has been writing since 2005, with articles published by various websites focusing on Libertarian political issues, current events, sports and other interests. He also hosts two blog talk-radio programs. A graduate of Beacon University, Clark holds a Bachelor of Arts and a Master of Arts degree in theology.