Bungee Jumping in Pennsylvania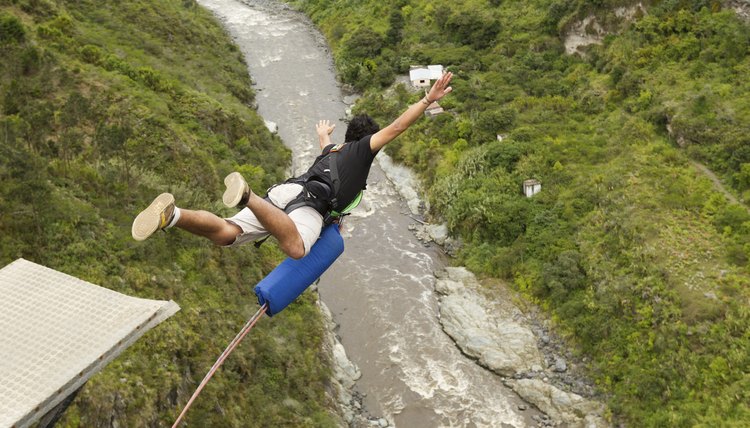 Since it requires special equipment and training, bungee jumping is not something you can do spur of the moment by yourself. In Pennsylvania, it requires registering with a bungee jumping club or company. The company or club will train you and provide the equipment you need, as well as a jump location.
Pennsylvania Operators
By hiring a special crew, you will be trained and provided with equipment. Another option is to join a bungee jumping club. Companies such as Adrenalin Dreams in Pittsburgh, Luxurgy in Philadelphia and Over the Edge Adventures, which schedules Pennsylvania jumps, can provide you with a highly trained and safety conscious crew.
That First Jump
It will take a while for you to become accustomed to the harnesses and to get ready for the first jump. The first jump can be done alone or with someone who is training you and requires a full-body harness. Subsequent jumps give you a choice of either using the same harness, or just ankle harnesses. You can also learn about different ways to jump -- head first, backwards, even spins and twists.
Advantages in Pennsylvania
Pennsylvania has plenty of high bridges ranging in height between 100 and 300 feet. The area around many of these bridges is quite scenic with forest and mountain vistas. In the fall, Pennsylvania's foliage is amazing foliage; in the winter months, you may have a snowy winter wonderland as a backdrop. Some bridges and their heights often used for bungee jumping in Pennsylvania:
Rubbles Run: 229 feet Ohiopyle: 110 feet Moshannon Viaduct: 112 feet Buffalo: 300 feet Salisbury Viaduct: 120 feet East Branch Viaduct: 130 feet Stoney Creek: 175 feet
Talk to Your Doctor First
Bungee jumping is not for everyone. If you have serious health problems, such as a heart condition, check with your doctor ahead of time to see if bungee jumping is an activity for you. In fact, a physical examination may be required in some Pennsylvania locations. Although this activity brings out the daredevil in you, note that for those terrified of heights, this activity may not necessarily be the best bet. It might involve dizziness or even fainting. Companies that offer bungee jumping in Pennsylvania prepare you for this activity, but once you make your deposit, you won't get it back.
Pennsylvania Safety Regulations
Bungee jumping adheres to safety regulations imposed by the government of Pennsylvania and by the U.S. Occupational Safety and Health Administration. These regulations require anyone planning to bungee jump to undergo training, both in-class training and instruction as well as on-the-spot training to ensure safety. In the equipment setup, the cord must be bound to your legs and a full-body harness must be used for added protection during the first jump. All equipment must be checked before the jump by a highly trained expert. The length and elasticity of the cord must be adjusted to your height and weight.
References
Resources
Writer Bio
Aleksandra Ozimek has been writing professionally since 2007 for a fashion blog, various online media and the "Queens Courier," in addition to interning at "Cosmopolitan" magazine. She completed her Bachelor of Science in journalism and photography from St. John's University, where she is completing her master's degree.