What to Wear for a Winter Workout?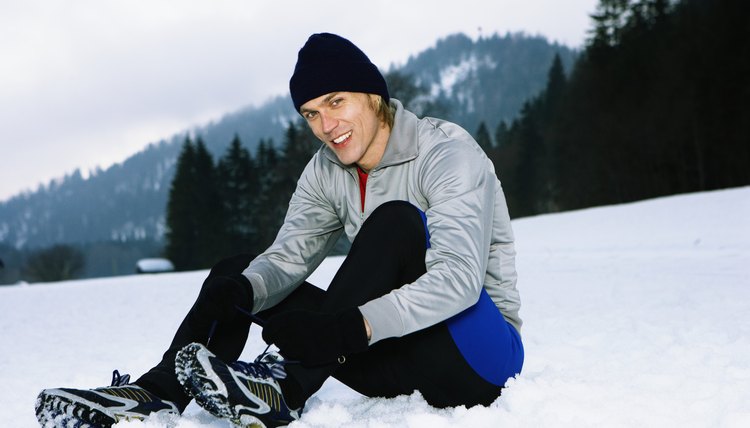 Whether you're running, snowshoeing, cross-country skiing, or just going for a walk, dressing for the cold is crucial to maintaining your exercise regime throughout the winter. It's no longer as easy as throwing on cotton sweats and slogging through the snow. Now polypropylene, new polyester blends, and a host of high tech fabrics -- plus a few tricks on how to dress -- keep you warm and comfortable outdoors, even when the thermometer drops below zero.
Layers
The proper way to dress for cold weather workouts is in light layers. Exercising can make it feel 30 degrees warmer than it is outside. Overdressing, or wearing one heavy outer garment, causes too much sweating. This leads to dampness, chills, muscle tightness and discomfort. By wearing several layers you have the option of removing one before you get too warm. If it turns chilly later, you can put that layer back on.
The Base Layer
Staying dry is essential to staying comfortable during a winter workout. When selecting the layer that goes against your skin look for materials that "wick" sweat away from the body. Check the labels for fabrics made from wool blends, silk or synthetics such as polypropylene. Avoid cotton because it absorbs and holds sweat against the skin, making you colder. Polyester-blend tights keep your legs warm and allow freedom of movement. Looser fitting workout pants are also available for anyone too bashful to wear form-fitting tights.
Insulation Layer
Just like insulation in a house, the outer layer keeps cold out and warmth in. Fleece is the perfect insulation layer. Light, breathable and inexpensive, fleece pullovers, jackets and vests can be made from recycled plastic so they're also environmentally friendly.
Outer Layer
If it's raining, snowing or particularly windy, add a protective outer layer, such as a jacket or pullover. Look for fabrics that breathe, such as a polyester blend. Avoid materials made from rubber or plastic.They trap heat and prevent evaporation, allowing sweat to build up and cold to creep in.
Extremities
Exercising pulls blood away from your hands and feet and toward your core. That's why it's important to properly cover your head, hands and feet. Most body heat -- up to 40 percent -- escapes through your head. The U.S. Army recommends wearing a knit hat that can be pulled over the ears when working out on a cold day. Thin, lightweight gloves or mittens made from synthetic fibers should be enough to keep your hands warm. If they get too warm the gloves can be tucked into a waistband or easily held in your hands if you're running or walking. Thick cotton socks will have your feet swimming in sweat. Socks made from a wool blend are thin but can keep toes dry and toasty even through the coldest workout.
Tips
Wear reflective tape on your clothing or a vest, to be safe when it's dark out. Begin your workout facing into the wind and return with the wind at your back to avoid a wind chill after you've been sweating. Don't forget sunglasses and sunscreen on days with snow on the ground and the sun in the sky.
References
Writer Bio
A journalist and writer since 1987, Alex O'Meara has worked for the "Baltimore Sun," City News Bureau of Chicago, "Newsday" and NBC. Author of the healthcare expose, "Chasing Medical Miracles: The Promise and Perils and Clinical Trials," O'Meara has completed several marathons and holds a B.A. in English from Long Island University.