Does Swimming Build Pecs?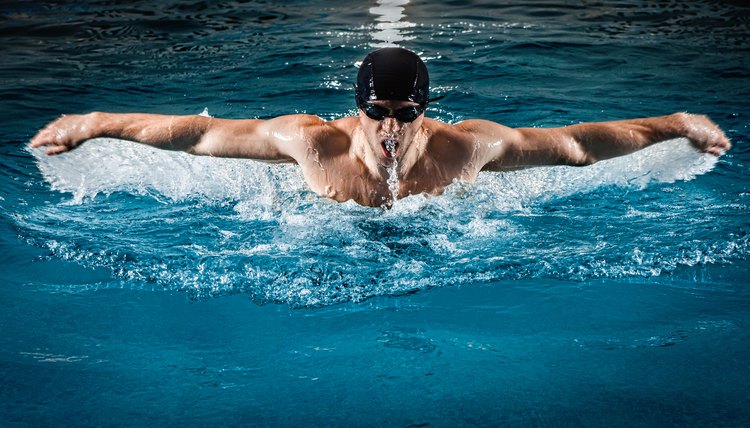 You see the likes of Katie Ledecky and Michael Phelps standing on the pool deck at the Olympics and wonder if swimming will give you a similarly sculpted bod. Broad shoulders, wide chests, sculpted backs and strong arms characterize a swimmer's body.
While swimming does play a role in which muscles develop, Olympic swimmers don't get a hot bod only from their pool laps. Dry-land workouts go a long way in developing swimmers' muscles, including their pecs.
If you're brand new to swimming, you'll notice it will add some muscle to your upper body -- including your chest -- when it becomes a regular workout. But, at some point you'll need to add strength-training moves such as the bench press, incline flyes and chest dips to continue to see gains.
Muscle Activation While Swimming
Every type of major stroke, including the front crawl, butterfly, backstroke and butterfly, use your pectoralis major and minor -- the pecs -- along with most of the other major muscles of the upper body, including the shoulders, arms and upper and lower back. Your abs and spinal stabilizers also get a workout in these strokes, as do the glutes, thighs and lower legs.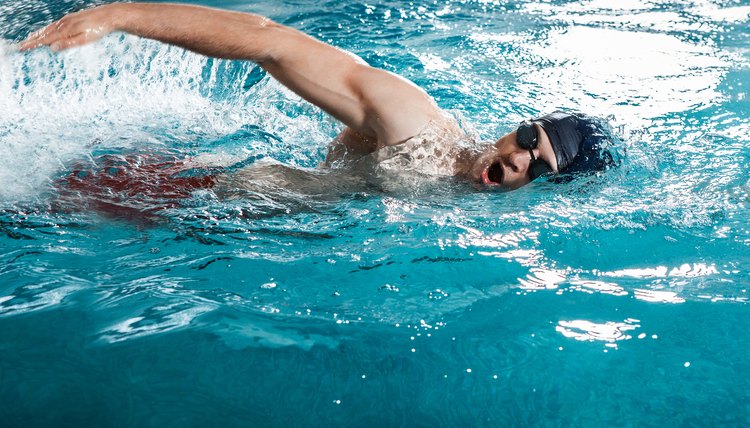 Swimmers develop a strong upper body to help their stroke.
Swimming is also a cardiovascular workout, meaning it uses the large muscle groups to raise your heart rate for extended periods of time to build stamina and greater heart and lung strength. Cardio workouts help keep your weight at bay and your body at a lower risk of chronic disease. Swimming might just be the ultimate full body workout.
How Muscle Builds
Muscle builds in response to stress, or greater resistance, which breaks down the fibers. When you rest between workouts, your muscles busily repair themselves, increase in size and become thicker.
Water provides stress during swimming -- 12 times that of air. So, when you first start swimming and take it up consistently, your muscles will adapt by growing somewhat in response to this stimulus.
Over time, your muscles -- including your pecs -- adapt to the extra work involved in swimming. They won't continue to grow because they've adapted to the stress, and they need new challenges to continue to build.
Getting Big Pecs
Swimming does contribute to pec strength and development, but not as much as a solid weight-training session. Moves such as the bench press, push-ups, dumbbell flyes, cross-cable flyes, the peck dec machine and push-ups offer ways to increase resistance through heavier weight to continue the process of growth.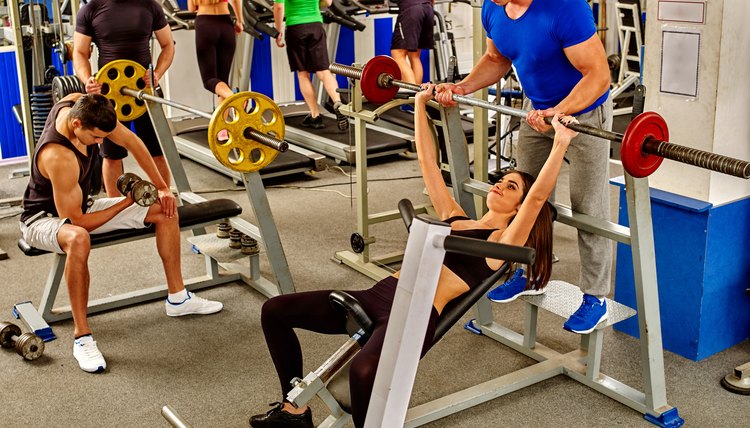 Swimmers develop a strong upper body to help their stroke.
The American Council on Exercise sponsored a study published in 2012, demonstrating that, of all these exercises, the bench press, the pec deck and the cross cable flyes offer the most activation for your pecs. So, if you'd rather spend time in the pool but still desire big pecs, shorten your dry-land workout by including just three sets of eight to 12 reps of these moves two to three times per week. You'll find that building stronger pecs, as well as back, ab and leg muscles, will help your swimming strength, too.
References
Writer Bio
Andrea Boldt has been in the fitness industry for more than 20 years. A personal trainer, run coach, group fitness instructor and master yoga teacher, she also holds certifications in holistic and fitness nutrition.