Types of Gymnastic Floor Exercises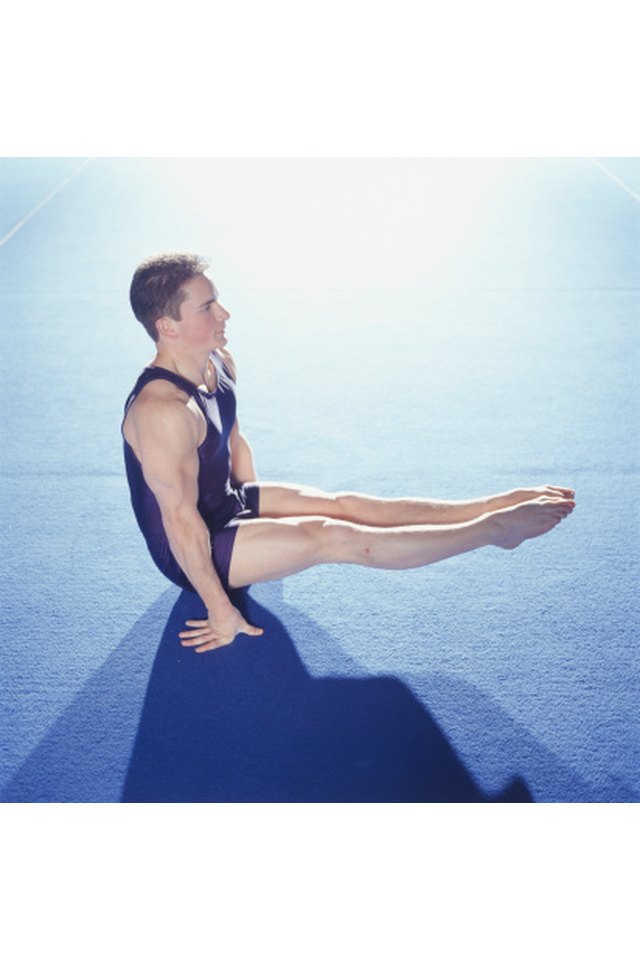 The international governing body of gymnastics, the Federation International de Gymnastique, recognizes five types of competitive gymnastics that use the floor exercise. Each type of gymnastics displays acrobatics, strength and balance, but each type uses the floor in its own way, with its own set of rules and floor elements.
Women's Artistic
The female gymnast shows her personality and creativity on the floor exercise, performed on a 40-by-40-foot spring floor. She must execute choreographed moves set to the tempo and mood of the instrumental music within the confines of 70- to 90-second routine. Her routine must include a combination of gymnastic, acrobatic and dance elements. Judges score the gymnast not only her athletic ability, but also her individuality, originality, maturity, mastery, and artistic quality.
Men's Artistic
The male gymnast performs on the same floor apparatus as the female gymnast, but he does not use music, and he is judged by different criteria. His routine must display a variation of linked tumbling, handstand and rotation elements. He must tumble forward and backward and hold a single leg or arm balance. The judges look for excellence in strength, flexibility and balance. His routine must not exceed 1 minute, 10 seconds.
Rhythmic
In the United States and in most countries, only women compete in rhythmic gymnastics. The rhythmic gymnast always performs on the floor to instrumental music, but with a different apparatus for each exercise. The different apparatuses are rope, hoop, balls, clubs and ribbon. The apparatus must constantly stay in motion, whether she's tossing it the air or twisting it around her body while she moves around the 43-by-43-foot floor. An individual routine must not exceed 1 minute, 30 seconds.
Acrobatic
Although acrobatic gymnastics on the floor exercise dates back to the ancient Greek period, the governing body has only recognized it since 1999. Gymnasts work in partners or groups, supporting one another on their hands and shoulders or tossing one another in the air, as they perform daring balancing and strength acts. Partnerships may be composed of one of the following: men's pairs, women's pairs, mixed pairs, women's group of three or men's group of four.
Aerobic
A newer form of floor gymnastics, aerobic blends gymnastics and aerobic movements in routines choreographed to music. The athlete pairs the jumps and balance elements of gymnastics with the kick and lunge elements of aerobics, for example. Male and female aerobic gymnasts can compete as individuals, mixed pairs, trios or groups of six. Groups use a 33-by-33-foot area, while the rest use a 23-by-23-foot floor. Judges look for continuous movement, flexibility and strength.
Writer Bio
Ivy Morris specializes in health, fitness, beauty, fashion and music. Her work has appeared in "Sacramento News and Review," "Prosper Magazine" and "Sacramento Parent Magazine," among other publications. Morris also writes for medical offices and legal practices. She holds a Bachelor of Arts in government-journalism from Sacramento State University.