What Do the Stickers on Football Helmets Mean?
When watching a game, you may have noticed various helmet stickers beyond team decals on football players' helmets. There are a multitude of reasons why stickers can be seen on helmets and they can be seen from youth football, to college football, all the way to the NFL. Football Helmet Stickers can be used to show off achievements, help with officiating or even honor a deceased player, owner or coach. Here are some of the common stickers seen in the NFL.
What are Pride Stickers?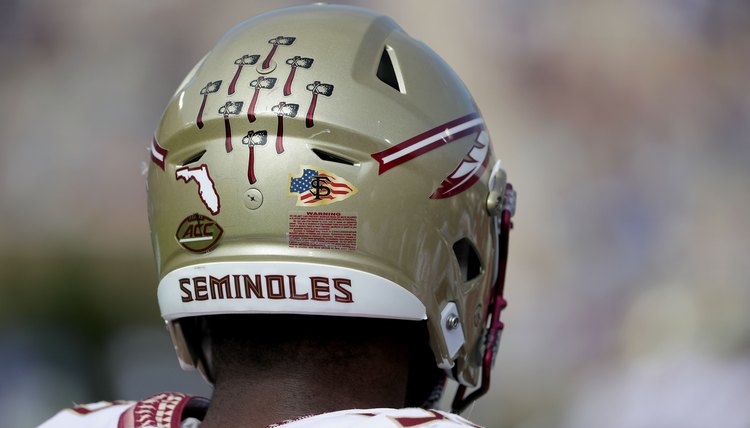 SportsRec
Often football teams like to decorate their helmets with pride stickers or reward decals. These take various designs and usually relate to the team or school. Popular from youth football to college, pride stickers give players a chance to show others how well they have been playing throughout the season. The stickers can vary based on what the achievement is and if it's an offensive or defensive achievement. They can be rewarded for big plays, touchdowns, tackles, interceptions, and other feats.
NFL teams don't use them but they are commonplace in high school and the NCAA. Some popular examples include Ohio State's Buckeye sticker, Clemson's paw prints, and Florida State's tomahawks which are awarded after team wins. The Ohio State Buckeyes Big Ten counterpart Michigan takes the concept a step further by including the player's area code as well.
What are the origin of Pride Stickers?
SportsRec
According to legend, Ohio State football coach Woody Hayes and trainer Ernie Biggs are the accepted forerunners of the tradition of the pride sticker. They started awarding team stickers to their players in 1968. However, ESPN claims that MIami coach Jim Young started the tradition two years before. Earlier credit has been given to various head coaches from colleges like Rutgers and Nebraska. But Woody Hayes and his buckeye leaves helped to put the stickers on the map
What is the Green Sticker on NFL Helmets?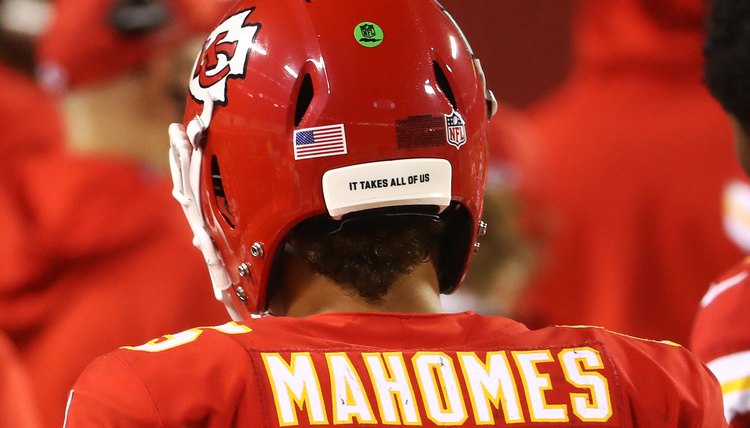 SportsRec
In NFL games, you may have noticed a bright green dot on one or two players' helmets. According to NFL rules, this is a sticker that marks the helmet that is linked up with a two-way microphone radio set, so the coaching staff can communicate with an on-field player. The quarterback on offense and the defensive captain or play-caller are linked up with communicators in their helmets. The green sticker must be worn for the helmet linked with the radio as instituted by NFL rule in 2007.
What are commemorative Stickers?
Sometimes, players will have a black sticker with a number or initials in it. This usually indicates the number or initials of a deceased player, coach, announcer or other individual who was close to the team, community, school or important to the sport itself. Examples include NFL players wearing "GU 63" after the death of lineman Gene Upshaw and Mississippi State University players wearing "36" on their helmets in honor of late teammate Nick Bell.
References
"2010 Official Playing Rules of the National Football League"; Triumph Books; 2010
Writer Bio
Daniel Bradley is a health, fitness, sport and nutrition expert in Philadelphia, Pa. He began writing professionally in 2007 and has contributed to the Mid-Atlantic American College of Sports Medicine Chapter's Research Panel. Bradley is a certified ACSM Health Fitness Specialist and an outdoor fitness instructor. He holds a Bachelor of Science in exercise science with a physical therapy concentration from West Chester University.