Football Stretches & Warm-Ups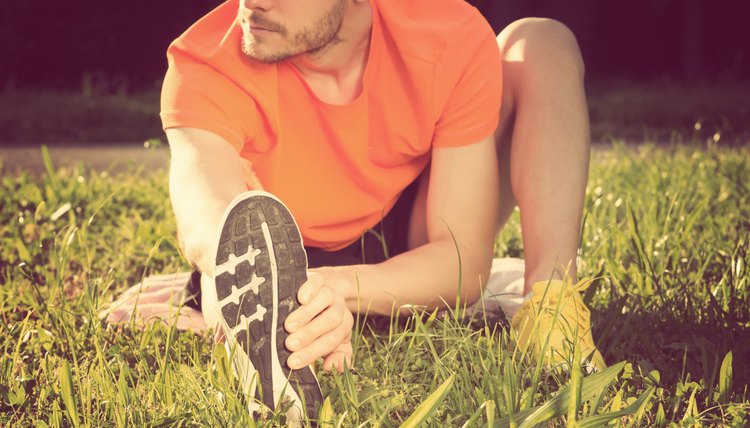 Warming up before a game or practice helps prepare you physically and mentally for exercise and competition. Before running hard, throwing deep passes and tackling opponents on the football field, you should be warmed up and loose to avoid injury and increase physical ability. It also allows for quicker muscle contraction and relaxation, increased force production, better reaction time, improved muscular power and strength, increased blood flow to muscles and enhanced metabolic reactions.
Stretch It Out
Football players need to loosen up their hips, backs, shoulders and leg muscles before engaging in practice or playing a game. The NSCA recommends dynamic stretching prior to any physical activity. It actively prepares the muscles, warms up the body and takes the muscles through their full range of motion. Dynamic stretching is a functionally based exercise that uses sport-specific movements to prepare the body for activity. While players are lined up, have them perform: walking knee hugs to stretch the hips and glutes, walking leg pulls behind the back to stretch the quads, pump stretches for the calves and low back, the Spiderman stretch for the groin and hips and the inchworm stretch for the hamstrings.
Rapid Motion
After dynamic stretching, proceed to the warm-up. Warm-up motions can involve stretching, too, but are designed to gradually increase heart rate more so. Start with simple motions as jogs, lateral bounds, high-knees, backwards pedal and butt kicks between five and 15 yards, instructs Mike Gentry, author of "A Chance to Win: A Complete Guide to Physical Training for Football." Have players increase the dynamics of the warm-up by incorporating different motions into one -- have them backpedal until they hear the coach's whistle, signifying that they must quickly turn and run the rest of the distance forward.
Practice Makes Perfect
Move to specific warm-ups, or, in this case, position drills. This can be a good transition into the practice itself. It will also bring players together for specific questions and last-minute tweaks with their position coaches before the game. During this warm-up time, for example, running backs practice their steps and hand-offs, defensive lineman practice engaging and releasing from blocks, and quarterback and receivers go over passing routes.
After the Game
Static stretching before practice or a game is traditional habit for sport, but may not be beneficial -- or even detrimental -- to athletic performance. The NSCA reports that static stretching before activity can compromise muscle performance. Static stretching prior to activity has been shown to decrease force production, power output, running speed, movement time and muscular endurance -- all integral components of performing well, physically and skillfully, in the game of football. Static stretching after activity is more practical, and will allow the muscles to cool down and relax after engaging in exercise.
References
NSCA's Essentials of Personal Training; National Strength and Conditioning Association
Essentials of Strength Training and Conditioning; Thomas R. Baechle, Roger W. Earle
A Chance to Win: A Complete Guide to Physical Training for Football; Mike Gentry
Writer Bio
Daniel Bradley is a health, fitness, sport and nutrition expert in Philadelphia, Pa. He began writing professionally in 2007 and has contributed to the Mid-Atlantic American College of Sports Medicine Chapter's Research Panel. Bradley is a certified ACSM Health Fitness Specialist and an outdoor fitness instructor. He holds a Bachelor of Science in exercise science with a physical therapy concentration from West Chester University.