ASA Coed Softball Rules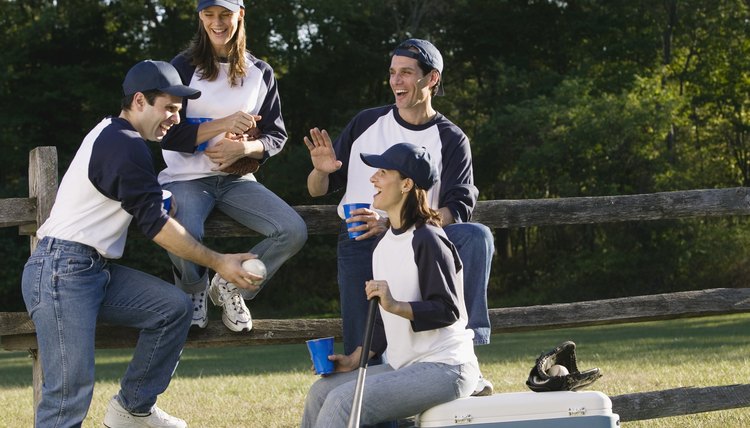 Softball is a recreational sport that has been played by men and women for decades. The Amateur Softball Association, founded in 1933, is the governing body of USA amateur softball. The ASA has established uniform rules and regulations for youth and adult softball, which extend to both genders.
Team Formation
To be registered as a coed ASA team, a team must consist of 10 players equally divided into male and female players. ASA rules also specify that two males and two females must be present in infield and outfield, and there must be a male and female pitcher and catcher. Exceptions are allowed if shorthanded play is necessary. However, if a member of the opposite gender arrives during the game, the lineup must be adjusted immediately to adhere to ASA regulations.
Game Play
An ASA regulation game consists of seven innings. In the event that scores are tied at the end of seven innings, play continues. Additional innings are played until one of the teams has a higher score at the end of a complete inning. Games can be called if the umpire deems it necessary. Acceptable reasons for calling a game include darkness, inclement weather, fire and any other circumstance that could put players in danger.
Batting And Pitching
The ASA states that coed teams must alternate genders in their batting order. Diameter of the balls used varies slightly among the gender. Men bat an 11-inch ball, whereas females bat a 12-inch ball. Pitching is classified into one of four categories: fast pitch, modified pitch, slow pitch and 16-inch slow pitch. Each pitching category has differing rule sets. Specific rules for each of these pitching styles are outlined in the ASA softball rule book, which is released annually.
Using ASA Rules
ASA softball rules apply only during ASA Championship play, however rules can be used at the local level in non-championship play as well. Use of rules during non-championship play is at the discretion of local league officials. ASA softball rule books are updated and published annually, and are distributed to all teams and umpires registered with the Amateur Softball Association. Registration and additional information can be accessed on the ASA website.
References
Writer Bio
Amanda Davis began writing in 2010 with work published on various websites. Davis is a dietetic technician, registered, personal trainer and fitness instructor. She has experience working with a variety of ages, fitness levels and medical conditions. She holds a dual Bachelor of Science in exercise science and nutrition from Appalachian State University and is working toward her master's degree in public health. Davis will be a registry eligible dietitian in May 2015.