Bike Tire Sizes & a Woman's Height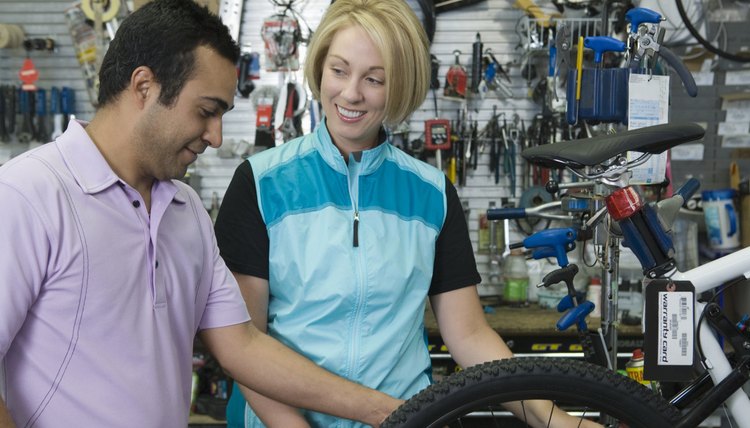 Most bikes for adults don't vary in wheel size -- and by extension, tire size -- for different heights. Nevertheless, a smaller-than-usual wheel size can facilitate an ergonomic small frame structure, such as those used on women-specific road bikes. On the other hand, using a smaller wheel size does not mean that the frame is well designed or that it will fit a certain height.
Wheels
The typical tire size for an early 21st century road or hybrid bike is 700c. The 700 is a measurement of the diameter of the wheel in millimeters. The 650c size is used on some small women's bikes, as well as some triathlon bikes designed for larger riders. The 26-inch wheel, slightly smaller in diameter than the 650c wheel but generally much wider, is standard on mountain and comfort bikes. Some early 21st century mountain bikes have 29-inch wheels, which is the same diameter as 700c wheels but wider. Some models of small road bikes use two different wheel sizes, such as a 26-inch wheel in the back and a 24-inch wheel in the front.
Frames
Small women are more likely to fit on the smallest mountain or hybrid frame size than the smallest road bike frame. One major factor is that road bikes typically have proportionally taller frames that are difficult for shorter people to straddle comfortably. In addition, top tubes on all types of small frames are proportionally longer in relation to frame height than those on larger frames. As women often have proportionally shorter arms than men, the reach from saddle to handlebars can therefore pose an additional challenge.
Solutions
If the bike frame is shortened by bringing the bottom bracket up from the ground rather than lowering the top tube, the standover height of the frame is the same. Even if the rider can comfortably sit and pedal, she can't comfortably straddle the bike. To solve these issues, small bikes can benefit from features like low bottom brackets and sloping top tubes. Another potential issue is toe strike, when the rider's foot on the pedal hits the wheel as it angles to either side. Small frames, even if they use 650c wheels, can have this problem if they don't compensate with long, shallow angle head tubes with sloping front forks that keep the wheel away from the bottom bracket.
Considerations
Though small road bikes are designed largely to reach the market of small women, short men may also find small women's bikes, with or without 650c tires, to be just what they need. The range of frame colors means that small bikes need not be associated with one gender, though depending on their comfort, men may want to replace the women-specific saddles or smaller brake levers. Similarly, taller women or women with longer arms may be quite comfortable with a men's style bike and/or standard size wheels.
References
Writer Bio
Erica Leigh has been writing and editing professionally since 2005, contributing to a technology and education nonprofit, renewable energy companies and various websites. Leigh holds bachelor's degrees in anthropology and linguistics from the University of Washington.