What Are the Duties of Football Coaches?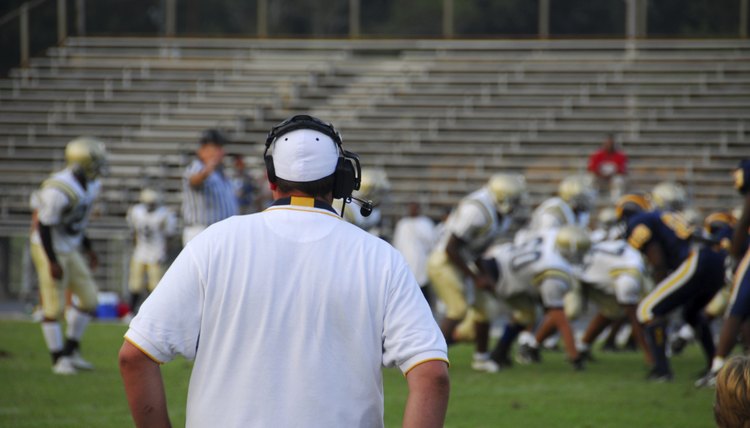 Head football coaches are often stereotyped as simple taskmasters, but in reality, their jobs are anything but simple. In addition to running games, head football coaches must deal with players, assistants and team or school officials, all while providing a face for the team. While coaches manage their teams in different ways, there are some key fundamental duties they all must handle.
Strategic Duties
In "the buck stops here" fashion, head football coaches are responsible for a team's overall offensive and defensive strategies. Because football teams are typically large -- from around 20 players at smaller high schools to more than 100 at major colleges -- football head coaches typically delegate plenty of responsibility to coordinators. But, with a week between most games, head football coaches typically sign off on any pre-game strategies they don't create themselves.
Practice Makes Perfect
The head coach generally outlines what the team does during practice, even though assistant coaches handle most of the individual instruction. Head coaches typically have the final say on personnel matters, such as which players make the team and which become starters. The head coach also sets the team's rules, and the consequences for breaking those rules. In many ways, head football coaches act as CEOs, setting the overall tone for the team while others execute their plans.
High School Lessons
Coaches at huge prep programs can take on elements of the CEO model. But at most levels, head coaches often supervise areas such as weight training, break down video of future opponents and buy equipment. They may also work with booster clubs and deal with parents who may not be happy with their sons' playing time. Regardless of a school's size, high school coaches deal with less experienced players, so they must do more fundamental teaching than coaches at higher levels.
Coaching in College
The key difference in college is the head football coach must be his team's key recruiter. Assistants may coordinate and even start the recruiting process, but the head coach must act as the closer. As a result, college head coaches must be familiar with NCAA recruiting rules. Coaches at all levels have fundraising duties, such as appearing at events for school donors. They also have to deal with unscrupulous agents and others who may try to take advantage of star players.
Professional Football Coaches
Coaches at the professional level have large staffs of assistants and help from small armies of scouts and personnel experts. Nevertheless, a professional head coach must work very long hours viewing video of opponents, holding meetings with players and assistants, and running practices. Pro head coaches are also involved in personnel decisions, such as which players to select during the college draft and which free agents to sign. On the field, the head coach is the final decision maker for his team, and the only one who may challenge an official's ruling.
References
Writer Bio
M.L. Rose has worked as a print and online journalist for more than 20 years. He has contributed to a variety of national and local publications, specializing in sports writing. Rose holds a B.A. in communications.