Why Do Football Coaches Earn So Much? Plus, Top NFL Head Coaches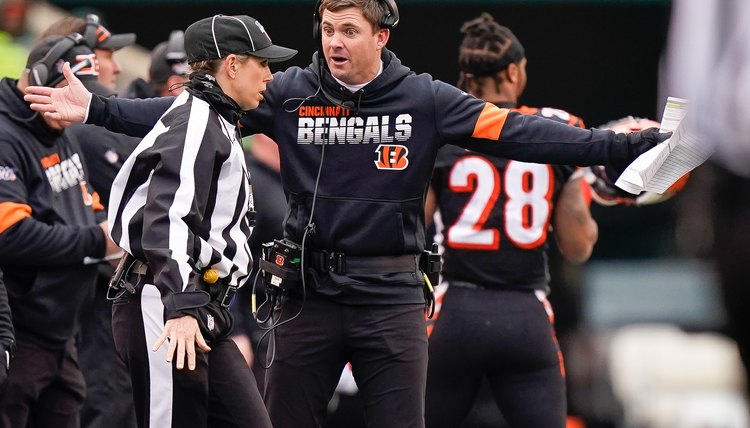 Head football coaches are often looked at as the guy calling the plays, but in reality, their jobs are far more advanced. In addition to running games, head football coaches must deal with players, assistants and team or school officials, all while providing a face for the team. This is why NFL head coaches are often paid an annual salary of millions of dollars to do what many might perceive as an easy task. With defensive coordinators being hired as head coaches and earning big contracts and contract extensions coming for big name Super Bowl winning coaches, it can be hard to keep track of who is bringing in the most money. Here are the highest paid head coaches and who the best of the head coaching bunch are in 2022.
Why are head coaches paid so much?
SportsRec
In "the buck stops here" fashion, head football coaches are responsible for a team's overall offensive and defensive strategies. While coordinators help to decide scheme and design plays, it is up to the head coach what strategy they use. The head coach also generally outlines what the team does during practice, even though assistant coaches handle most of the individual instruction. Pro head coaches are also involved in personnel decisions for their NFL team, such as which players to select during the college draft and which NFL players to sign. On the field, the head coach is the final decision maker for his team, and the only one who may challenge an official's ruling.
College football coaches are also paid quite well, and sometimes even more than NFL head coaches. The key difference in college is the head football coach must be his team's key recruiter. This adds another element to the coaching process because the head coach has to act as both the general manager and play caller. Alabama's Nick Saban was the highest-paid coach at $10.6 Million but Georgia's Kirby Smart inked a contract that gave him $11.2 Million a year. Guys like former Florida head coach Urban Meyer, Clemson head coach Dabo Swinney and Michigan HC Jim Harbaugh have also made bank as NCAA DI coaches.
What is the average salary of an NFL head coach?
The average salary of an NFL coach is $6.69 million dollars with a median salary of $5.5 million dollars. This statistic, however, is only based on reported salaries as some organizations have not released the salaries of their big name head coaches. DI football coaches on the other hand only earn an average of $1.75 million.
What does every NFL head coach earn?
The highest-paid coach is the Los Angeles Rams HC Sean Mcvay, who resigned in the offseason, making a reported 15 to 18 million dollars a year. He dethroned New England Patriots HC Bill Belichick who was making $12.5 million a year. The lowest paid is the Cleveland Browns' Kevin Stefanski who is only making $3.5 million. Here are the breakdowns for each NFL head coach's coaching salaries.
LA Rams Sean McVay 15-18 Million
NE Patriots Bill Belichick $12.5 Million
Seattle Seahawks Pete Carroll $11 Million
San Francisco 49ers Kyle Shanahan $9.5 Million
Baltimore Ravens John Harbaugh $9 Million
Indianapolis Colts Frank Reich $9 Million
Carolina Panthers Matt Rhule, $8.5 million
Kansas City Chiefs Andy Reid $8 Million
Pittsburgh Steelers Mike Tomlin $8 Million
Buffalo Bills Sean McDermott $8 Million
Washington Commanders Ron Rivera $7 Million
Philadelphia Eagles Nick Sirianni $6-7 Million
Arizona Cardinals Kliff Kingsbury $5.5 Million
Green Bay Packers Matt LeFleur $5 Million
New York Jets Robert Salah $5 Million
Cincinnati Bengals Zac Taylor $4.5 Million
Dallas Cowboys Mike McCarthy $4 Million
Denver Broncos Nathaniel Hackett $4 Million
Cleveland Browns Kevin Stefanski $3.5 Million
Head coaches with unknown salaries: Mike Vrabel Tennessee Titans, Brandon Staley Los Angeles Chargers, Dan Campbell Detroit Lions, Arthur Smith Atlanta Falcons, Todd Bowles Tampa Bay Buccaneers, Dennis Allen New Orleans Saints, Doug Pederson Jacksonville Jaguars, Josh McDaniels Las Vegas Raiders, Mike McDaniel Miami Dolphins, Kevin O'Connell Minnesota Vikings, Matt Eberflus Chicago Bears, Brian Dabol New York Giants
Who are the best head coaches in the NFL 2022?
Among these coaches stand a select few who stand above the rest. These guys are the consistent playoff contenders, the leader of men, and even some of the greatest to ever do it. So as the preseason rolls on, here are my rankings for the top five coaches in the NFL in 2022.
5. Baltimore Ravens John Harbaugh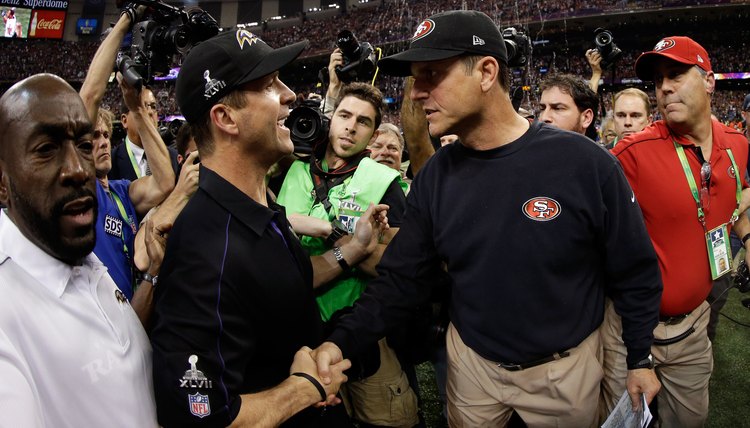 SportsRec
John Harbaugh has been one of the most consistent head coaches in the NFL. This is even more impressive when you consider how different his teams have been year after year. He was able to completely revamp his offensive philosophy as the Ravens went from Joe Flacco to Lamar Jackson. He was also able to just miss the playoffs with his entire RB depth chart and missing Jackson for half the season. It'll be a bounceback year for the Harbaugh brother in 2022.
4. Pittsburgh Steelers Mike Tomlin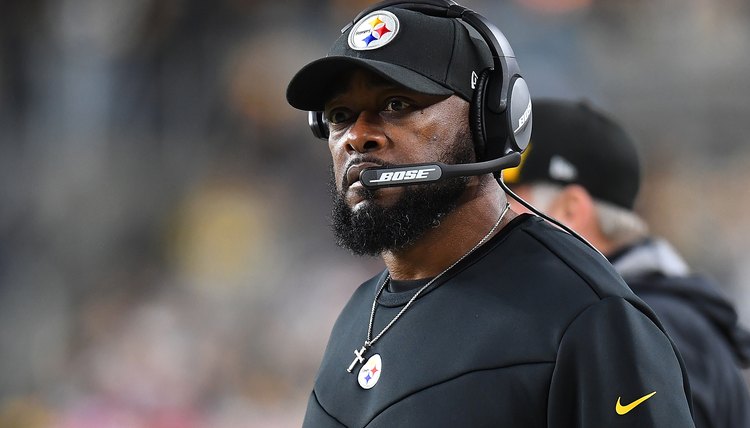 SportsRec
In the AFC North, Mike Tomlin is the top dog amongst a crop of impressive coaches. The Steelers have never had a losing season in his fifteen year tenure, and have rarely missed the playoffs. He was able to drag a washed up Ben Roethlisberger into the playoffs last year and now has options like Kenny Pickett, Mitch Trubisky, and more to choose from. He has made the rebuilding years for the Yinzers very successful.
3. Sean McVay Los Angeles Rams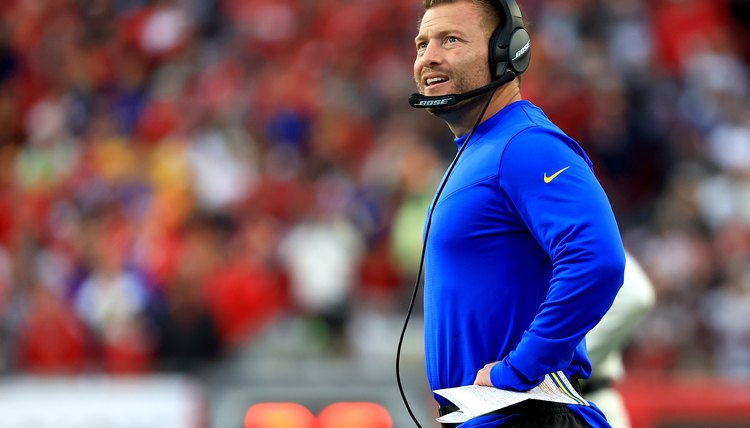 SportsRec
The wonder boy turned himself into an NFL champion in 2022, winning Super Bowl LV over the Bengals. He has quite the resume for being only 36, with three NFC West titles, two NFC championships, and of course last season's ring. It's a resume so good, he considered retiring to do color commentating for Amazon Prime. He is back for 2022, however, and is set to solidify his case for the Hall of Fame
2. Bill Belichick New England Patriots
SportsRec
Look Bill is by far one of the best coaches of all time, but right now his coaching prowess hasn't saved the Patriots from mediocrity. In spite of his six rings and twenty winning seasons, he hasn't won a playoff game in three years. However, a breakout Mac Jones season will change all of that and could re-solidify Belichick at the best in the game. But for now, he is a solid #2 in a league that is changing.
1. Andy Reid Kansas City Chiefs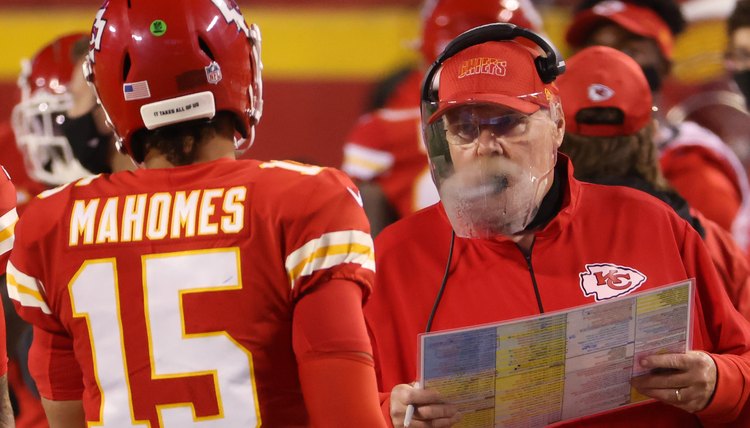 SportsRec
While Andy Reid may not have as many rings as Bill Belichick, Reid has had more success as of recent than any other coach. Reid has made three of the past four Super Bowls and won one. While that can be chalked up to Patrick Mahomes, it should be noted that Reid has always been able to get the most out of all of his starting QBs. From making Alex Smith into a top ten QB to making the Super Bowl with Donavan McNabb, Reid has been an offensive guru and one who can be expected to innovate year after year.
References
Writer Bio
M.L. Rose has worked as a print and online journalist for more than 20 years. He has contributed to a variety of national and local publications, specializing in sports writing. Rose holds a B.A. in communications.