What is the Black Stuff Under a Football Player's Eyes?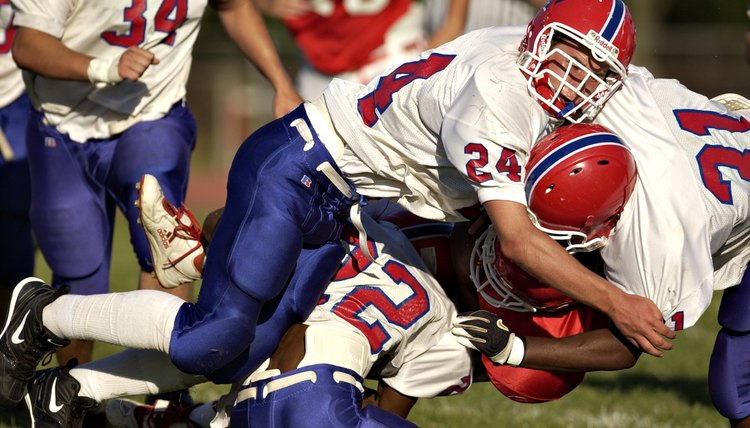 The black stuff frequently seen under the eyes of football players is known as eye black and dates to the 1942 Washington Redskins, according to a study conducted by Yale University. Fullback Andy Farkas was rumored to have come up with the idea of using grease under the eyes during football games. Ever since, youth, college and professional football players can be seen sporting eye black in a variety of ways.
Purpose of Eye Black
Eye black, especially at the professional football level, is used as a competitive advantage, according to the University of New Hampshire's Inquiry Journal. Eye back is believed to help reduce the glare caused by sun and stadium lighting. Players believe glare can reduce their athletic performance by reducing contrast between the football and the background of the stadium. The dark pigment of eye black is believed to absorb light. Eye black is commonly grease or black adhesive strips.
Player Expression
Many players use eye black as a form of personal expression, according to ESPN.com. Players have used eye black to reference bible passages, logos, home area codes and shout outs. For example, Ray Rice is known to wear a long strip of eye black across his face with the phrase R.I.P. 914 S.U.P.E. The R.I.P. is a memorial to his late cousin. His area code is 914 and S.U.P.E. stands for "spiritual uplifting people everywhere."
War Paint
Many players have been seen sporting eye black in patterns similar to those used by warriors in ancient Egypt. Players add a little extra eye black to their faces to create designs and markings, which often are aimed at intimidating opponents. Players might make triangular or tribal designs using the eye black.
Scientific Research
The only scientific study to be conducted to date on the effectiveness of eye black was by Drs. Brian DeBroff and Patricia Pahk at the Yale University School of Medicine in 2003. This study was designed to test the benefits of eye black grease and eye black adhesive strips. The study compared eye black with clear petroleum jelly in respect to reducing sun glare and found that eye black grease slightly improved sun glare. Adhesive strips and petroleum jelly did nothing to help to reduce sun glare. Regardless of eye black's effectiveness, many players say they wear eye black merely for looks. Laveranues Coles of the New York Jets says playing without eye black is like playing without a helmet or shoulder pads.
References
Resources
Writer Bio
Michelle Zehr started writing professionally in 2009. She has written on health, fitness, fashion, interior design, home decorating,sports and finance for several websites. Zehr possesses a Bachelor of Arts in communication from the University of Pittsburgh, a Master of Arts in professional writing from Chatham University and a graduate certificate in health promotion from California University of Pennsylvania.