The History of the Basketball Shoe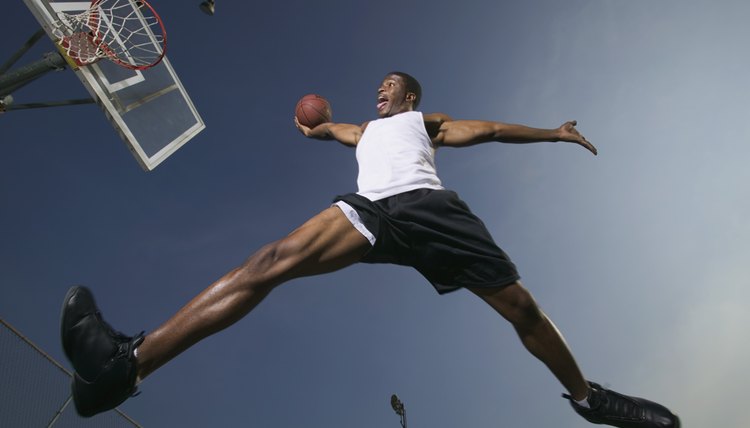 The history of the basketball shoe almost directly parallels the history of basketball itself. Although the game originated in 1891, the first sneaker specifically designed for basketball didn't come along until 1917, when Converse released its All-Star shoe. Since then, of course, basketball shoes have become a multibillion dollar international business and the game of basketball is played around the world, too.
Converse and the Early Days
Shortly after Converse's All-Star basketball shoe hit the market, basketball star Chuck Taylor joined the company and loaned his name to the new product by the 1920s. Before long, the unmistakable high-top shoes were known as "Chuck Taylors" and even just "Chucks." Converse All-Stars became the high-top sneaker of choice for basketball players as well as teens, rockers, skaters and others looking to make a fashion statement throughout most of the 20th century.
Signature Shoes
While Chuck Taylor might have been the first player to have his name on a basketball shoe, Walt "Clyde" Frazier was one of the first NBA stars to have a signature shoe. In 1973, the sneaker company Puma approached the New York Knicks star about having his own shoe, "The Puma Clyde."
Nike and Michael Jordan
By the mid-1980s, Nike had become a major player in the sneaker world, but it was the partnership between the Oregon-based shoe company and a skinny young ballplayer from North Carolina that propelled them both into the stratosphere of popularity and cash. When Nike signed Michael Jordan of the Chicago Bulls and together they came out with the Air Jordan basketball shoe, it became one of the signature moments of the 1980s and truly turned the basketball shoe into a fashion statement.
Basketball Shoe Construction
Basketball shoes were basically just high-top, all-purpose sneakers until the 1970s. In the 70s and into the 80s, particularly at Nike, basketball shoe construction became much more scientific and high-tech. Materials and design construction were experimented with to provide support and flexibility in the right places and give players extra spring in their jumps. For example, the 1989 Nike Air Jordan IVs used a specially designed plastic mesh construction to help make the shoes lighter.
References
Writer Bio
James Roland started writing professionally in 1987. A former reporter and editor with the "Sarasota Herald-Tribune," he currently oversees such publications as the "Cleveland Clinic Heart Advisor" and UCLA's "Healthy Years." Roland earned his Bachelor of Science in journalism from the University of Oregon.