What Are the Warmest Ski Gloves?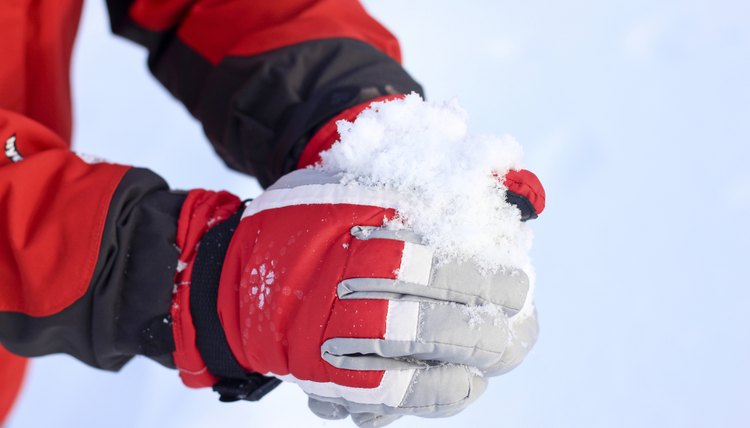 Frozen fingers can ruin a day of skiing and put you at risk for injury. Whether you're a skier, snowboarder or any type of winter sports lover, choosing the right gloves is important. Gloves that are too tight or lacking in adequate protection from the elements may expose you to frostbite and other cold-weather dangers. No single glove style or brand is the warmest glove for every individual. The right combination of proper fit and technical features ensure that you are wearing the warmest gloves for your favorite winter sport.
Waterproofing
The first layer of protection against the biting wind and extreme temperatures of winter weather is the outermost layer of your gloves. Ski gloves should be waterproof to protect your hands against rain and snow. Gore-Tex, Entrant, Omni-Tech and leather are materials often used to make a waterproof exterior for ski gloves. Ski gloves that are not made of these or similar waterproof materials may still be warm when kept dry, but the moisture in the air and contact with frozen, wet or snow-covered surfaces will make gloves wet and can result in loss of warmth without adequate waterproofing.
Liners
A lining is an additional layer of material to wick moisture away from the skin and provide more warmth in ski gloves. Most liners are made from a synthetic material or wool, both of which are known for being warm even when wet. Some gloves may come with separate, removable glove liners. Liners can be removed and washed, or replaced with an additional liner if it becomes wet. Liners are a great way to adjust the warmth of your gloves depending on the conditions each day. You can purchase liners separately and choose a warmer liner on extremely chilly days and thin liners, or go without a liner on warm days.
Insulation
Winter gloves have a layer of insulating synthetic fiber or down between the waterproof exterior and the inner lining. Down can be extremely warm in the coldest of conditions, but it can become cold and slow to dry when wet. Synthetic materials that are used for insulation, such as Primaloft or Thinsulate, are known for being more breathable, compressible and water resistant than down, though not as warm. The warmest glove for each individual is dependent on typical body temperature and activity level. If your gloves are too warm, your hands may become sweaty, and the wetness can result in chilly hands. Choose a glove that feels warm, but not hot, and use an additional liner or an alternate pair of gloves for wetter or drier days to be warm in all conditions.
Fit
A glove that fits properly will give your fingers enough room to move and promote good circulation but be snug enough to not be drafty or cause difficulty trying to buckle ski boots or do other activities. Your finger tips should barely graze the ends of the glove and be able to bend easily to form a fist. To test the fit of the fingers and palm, try pushing down between your thumb and index finger. You should be able to touch thumb and index finger together easily and not feel a strong pressure inward. Gloves that are made entirely or mostly from leather may require some time to break in.
Cuff Length
Ski gloves come in a wide range of lengths and sizes. For skiing, the warmest gloves will have a long cuff or a long piece of fabric extending from the cuff called a gauntlet. Both the cuff and the gauntlet style are designed to keep out snow and rain, which keeps your hands dry and warm. Gauntlet-style gloves are worn around the outside of the cuff of your jacket and are warmer in most situations because of the added coverage and the tendency to keep snow from entering your sleeve. Cuff-style gloves are designed to be tucked into the cuff of your jacket and can be beneficial for wetter conditions when rain may run down your sleeve.
References
Writer Bio
Kiraney Cummins is a travel and outdoor recreation writer in Portland, Ore. She writes for Pacific Northwest businesses and travel agencies. Kiraney earned a Master of Arts in English composition and has been published in a variety of online publications.