List of National Fitness Chains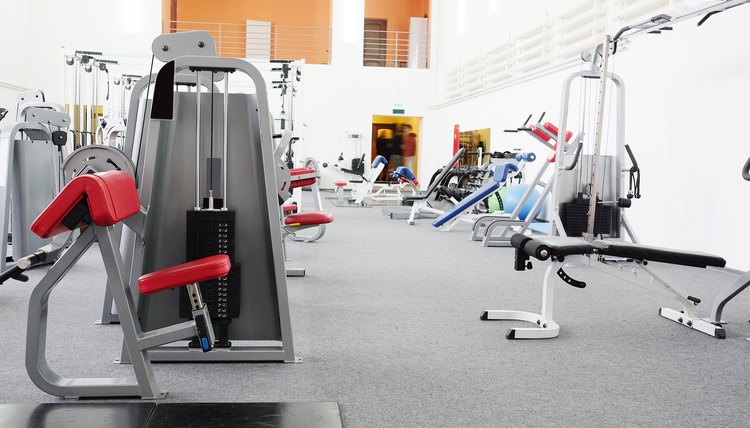 Regular exercise is a vital component of any weight-loss plan. Many people choose to join a gym as a way to increase motivation and meet their fitness goals. Learning about the different national fitness chains makes it easy to compare benefits, costs and other qualities to choose the gym that's right for you.
24-Hour Fitness
24-Hour Fitness has been a trusted name in fitness for more than 25 years. This national fitness chain has more than 400 clubs across the U.S. and is open 24 hours a day, allowing you to work out at your convenience. 24-Hour Fitness offers group classes, online nutritional guidance and state-of-the-art cardio and resistance equipment for an all-inclusive exercise experience. Certified personal trainers are on hand to provide guidance for your workout, and steam rooms, whirlpools and saunas are available for post-workout relaxation. Racquetball, basketball, volleyball and heated lap pools are just some of the additional amenities found at 24-Hour Fitness facilities.
Bally Total Fitness
Bally Total Fitness is a well-known fitness chain with a wide selection of amenities, including group exercise classes, personal training and many types of equipment. The Bally approach to fitness incorporates cardiovascular, flexibility, strength training and mind/body techniques for overall body conditioning. Among the membership plans at Bally are reduced-rate friend and family plans and corporate memberships for employees.
Gold's Gym
Gold's Gym is one of the oldest and most well-known fitness franchises in America. The first Gold's Gym was established in Venice Beach, California more than 45 years ago by Joe Gold; today, the chain operates in 40 states and 30 countries around the world. Gold's Gym offers classes including group cycling, mixed martial arts and yoga, and attracts many bodybuilders. Step aerobics, Kid Fit and Zumba are a few of the classes available.
Curves
Curves is a women's fitness club that incorporates a state-of-the art coaching program into a 30-minute high-energy circuit workout. The CurvesSmart workout offers equipment programmed with your personal fitness information for minute-by-minute feedback. New on the Curves Circuit is Zumba Fitness, a 30-minute class that combines the strength training of Curves with the moves of Zumba for a fun and intense workout.
Resources
Writer Bio
Based in Las Vegas, Tracii Hanes is a freelance writer specializing in health and psychology with over seven years of professional experience. She got her start as a news reporter and has since focused exclusively on freelance writing, contributing to websites like Wellsphere, Education Portal and more. She holds a Bachelor of Arts in communication arts from Southwestern Oklahoma State University.