Rowing Circuit Training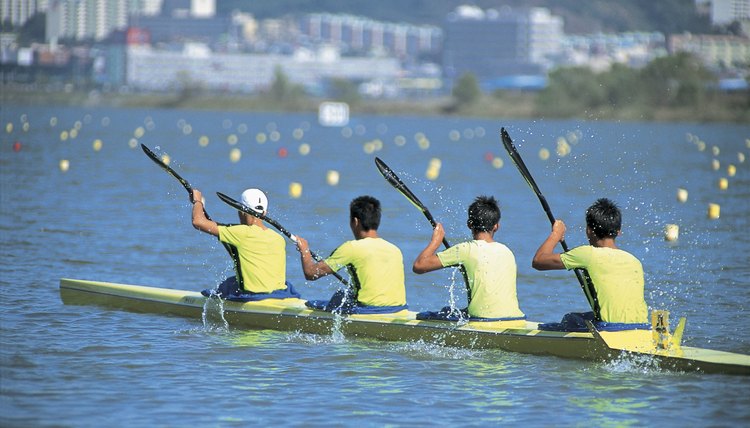 When it comes to a dry land regimen for rowing, one of the most effective methods to build strength and endurance is circuit training. By working through resistance exercises with short recovery periods, rowers can also learn how to navigate through fatigue. Performing circuits with lighter weights while sustaining a 70- to 80-percent heart rate for 30 to 40 minutes can complement your cardiovascular training.
Design the Course
To structure a circuit for training, aim for a minimum of eight to 12 exercises in which the load for each exercise is 30 to 60 percent of your one-rep maximum, according to the "Handbook of Sports Medicine and Science, Rowing" by Niels Secher and Stefanos Volianitis. The menu of exercises will depend on the workout's objective, such as training for the core musculature, upper body, lower body or total body. You can perform the exercises according to time -- 30 to 60 seconds per station with a 30-second rest interval -- or number of reps. Try to include a few exercises that tax large muscle groups, such as cleans, squats or stepups, to boost the intensity of the circuit.
Different Types of Circuits
Types of rowing circuit training can range from a series of body-weight exercises to a combination of weight lifting with plyometric jumps. You can do an outdoor circuit which alternates between running and calisthenics. According to Declan Connolly at the University of Vermont's Human Performance Laboratory in his 1999 article "In Form: Making the Transition to Longer Distances and Circuit Training" in "Rowing News," an example of a circuit you can do at home with a 45-pound bar includes the following sequence: 40 situps, 15 squats, 30 bent-over rows, 15 stepups for each leg, 30 pushups, 15 squats, 30 arm curls, 40 situps, 30 upright rows, 30 bench presses. Aim to complete the circuit two or three times for a duration of 20 to 30 minutes.
Run or Row for Endurance
You can perform circuits that incorporate running outdoors or rowing indoors, which can improve endurance. For example, perform an outdoor circuit which combines running lengths and calisthenics. Begin with a five- to 10-minute warm-up and then run for three minutes. Stop and do 20 to 30 reps of an exercise, which can include jumping jacks, pushups, burpees, walking lunges or toe touches, according to rower Tom Bohrer, two-time Olympic silver medalist, in his 2005 article "Circuit City" in "Rowing News." Repeat the running-exercise interval two or three more times and then do a five- to 10-minute cool-down. Bohrer also instructs a conditioning class for rowers in which an indoor circuit consists of two minutes of rowing on an erg followed by 60 seconds of exercise. Similar to the running circuit, perform a few sets of the rowing-exercise interval with the goal of maintaining a steady heart rate.
Body to Blade
A rower's core musculature is responsible for transferring force from the body to the blade. Strong abdominals will not only improve your performance on the water but also prevent injury. Circuit training for your midsection can be done quickly in a small space with no equipment. For example, a core region circuit can consist of situps with a twist, supermans, standard crunches for the front abdominal wall, V-ups, oblique crunches for the muscles along the sides of your waist, hip thrusts, pushups and bicycle kicks. Perform 10 to 15 reps of each exercise, or 30 seconds on and 30 seconds off. Repeat the circuit two or three times.
References
Writer Bio
Kay Tang is a journalist who has been writing since 1990. She previously covered developments in theater for the "Dramatists Guild Quarterly." Tang graduated with a Bachelor of Arts in economics and political science from Yale University and completed a Master of Professional Studies in interactive telecommunications at New York University.