Salomon Sx 92 Ski Boots Information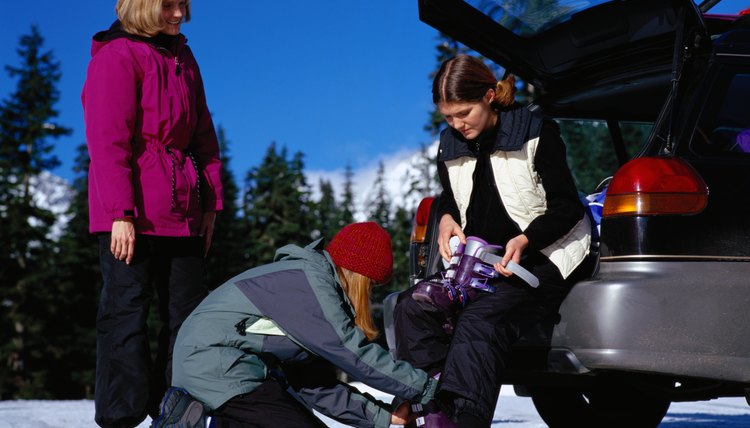 The Salomon SX92 ski boots were popular in the 1980s and 1990s. Salomon no longer makes this model of ski boot. The SX92 is still available through online retailers and in some ski shops that sell used equipment. The Salomon SX92 was a top-of-the-line performance boot. US ski team member Keith Veyna of Big Fork, Montana raced on the SX92 Equipe, according to Barbara Lloyd in an article published in the Dec. 19, 1988 issue of "The New York Times."
Fit
The Salomon SX92 is a rear entry boot, in which the heel opens up to allow the foot to slide into the boot from the back. The SX92 has several fine-tuning adjustments that includes a heel lever, micrometric cable adjustment for the lower leg, a programmable forefoot hold, a double-flex adjuster, a forward lean knob and interchangeable soles. It has plastic arch supports and removable plastic footboards.
Function
The Salomon SX92 ski boots are easier to use and more comfortable than the overlap ski boots, according to Pamela Taylor in an article published in the January 1990 issue of "Black Enterprise." The rear-entry boot is an ideal boot for strong skiers and comes with custom fit adjustments. The SX92 ski boots are used by Olympic downhill skiers and are recommended for speed skiing.
Availability
Salomon SX92 ski boots are available in men or women's sizes. They come in a variety of colors from white, red, black and combinations of colors. SX92 boots can be purchased used only as Salomon is no longer making this model of ski boot. They range in price from $19 all the way up to $200, depending on condition.
Replacement Parts
Replacement parts for the Salomon SX92 can be found with some searching. The best advice when looking for parts is to find a used pair of the same size and strip the boot for parts as needed. Some ski shops carry replacement parts for discontinued ski boots. In addition, some parts are universal and can be bought new. Call your local ski shop for more information.
References
Writer Bio
Caroline Thompson is a professional photojournalist who has been working for print and online publications since 1999. Her work has appeared in the "Sacramento Bee," "People Magazine," "Newsweek" and other publications. She holds a Bachelor of Arts in photojournalism from California State University at Hayward and a personal trainer certification from the university's Health and Fitness Institute.