Requirements to Play College Football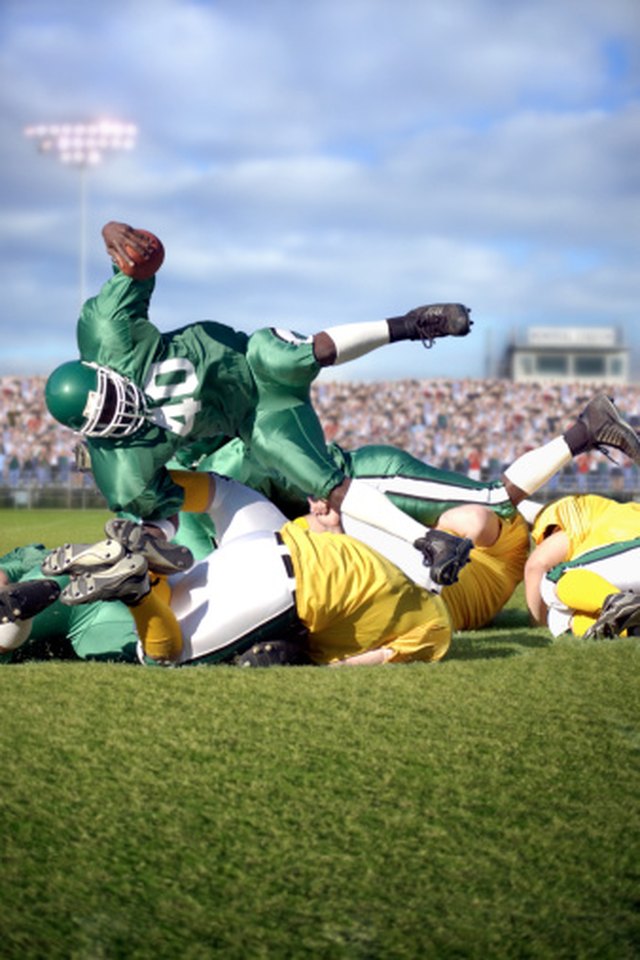 Since 1906, the National Collegiate Athletic Association (NCAA) has governed collegiate athletics. To maintain consistent eligibility practices among sports, teams and players, the NCAA has an Eligibility Center that determines a list of requirements that must be followed and practiced to play college football.
Prerequisites
Initial eligibility requirements must be fulfilled during high school to play college football. The NCAA requires every recruit and potential college football player to successfully graduate high school while completing 16 core courses. The courses include four years of English, three years of mathematics, two years of natural or physical science, two years of social science, an additional year of English, mathematics or science and four years of extra core courses, such as foreign language, religion or philosophy.
Grade Point Average
After enrolling at the chosen college or university, a college football player must maintain minimum academic standards to be eligible for competition. The NCAA enforces these academic standards. Academic requirements include enrolling as a full-time student and maintaining a good academic standing. The criteria for maintaining a good academic standing varies depending on the college institution you attend.
Recruiting
Coaches and faculty are allowed to recruit potential college football players, but the NCAA enforces recruiting regulations that can affect a player's eligibility to play college football, according to the NCAA. The recruiting calendar is split into three phases -- quiet period, contact period and dead period -- with the NCAA monitoring the entire recruiting process. August 1 through November 29 is the quiet period when coaches can only make on-campus recruiting visits followed by the contact period from November 30 to January 31. A dead period takes place from December 21 through January 1 when the coaches and recruiters are restricted from contacting potential recruits. Violating these recruiting procedures can result in player or coach suspensions.
Scholarships
The NCAA regulates the number of available scholarships per football program. Any additional players beyond the allotted number of scholarships must be considered "walk-on" players. Similar to recruiting violations, scholarship violations may result in suspensions. Division I-A football programs are allowed 85 scholarships, while I-AA programs are allowed 63 and Division II programs are allowed 36, according to the Athletic Scholarships website.
References
Writer Bio
Based in Nebraska, Jeremy Hoefs began writing fitness, nutrition, outdoor and hunting articles in 2006. His articles have been published in "Star City Sports," "Hunting Fitness Magazine" and RutWear field journals, as well as on the Western Whitetail website. Hoefs graduated with a Bachelor of Science in exercise science from Nebraska Wesleyan University.