Bicycle Seat Post Sizes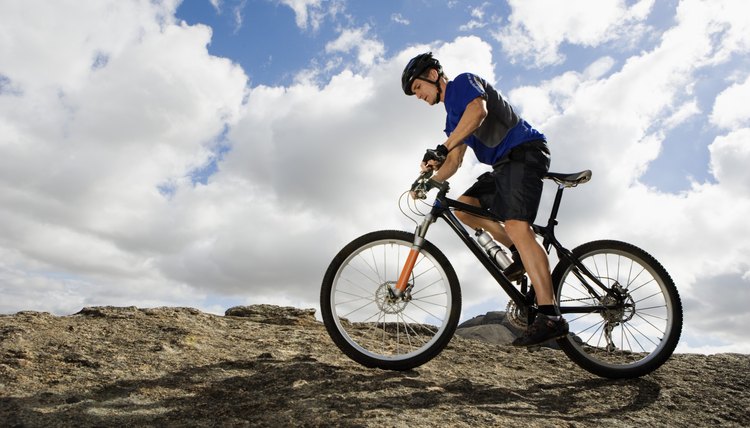 The most common types of bicycle seat posts are steel or aluminum, with a tapered shaft at one end or a bicycle seat post that combines the post and the saddle clamp into one unit. A wide variety of seat post sizes are available, and it is important that the seat post size match the specifications of the bike frame. Seat post sizes vary with the type of bike, the material, whether it is a replacement seat post and the frame design.
Seat Post Measurement
Bicycle seat post sizes are specified in diameter and length. The most important number is the diameter. Various seat post lengths will fit a bike, but only one diameter will be the correct one for your specific type and frame design.
Seat Post Diameter
Bicycle seat post diameter on British or Italian bike frames is typically around 1 1/8 inches in diameter, or 28.6 mm. Older French frames use 28 mm seat posts, and older American style bicycle frames use a 1-inch seat post, according to Sheldon Brown, a bicycle mechanic and writer. The diameter size for high-performance bicycle seat posts is larger because they are made of thinner-walled tubing. High-quality bicycles generally use seat posts with a 27.2 mm diameter. This is the most common size seat post in the industry, according to Dean Phillips, a bike fitter with Fit Werx. Many mountain bikes use larger seat posts of 27.4 mm or larger because the seat posts are longer and the thicker diameter helps to add more support to the extra long tubing.
Seat Post Length
The length of the seat post has some standardization because of mass production of the bicycle. Modern bicycles come with stock seat post sizes of 250 mm and 300 mm. A variety of handlebar stems are available that help tailor the bike to the correct sizing for comfortable riding. Custom-fit bikes are also available. The rider's body is measured, and a frame recommendation is made based on the rider's size. Custom seat post sizing is available that is designed to fit the bike to the rider.
Special Seat Post Sizes
Mountain bikes and BMX sports bikes have custom seat posts that are usually longer than street bicycles. Tandem bicycles have special designs based on the number of riders and their sizes. For instance, a tandem bicycle that carries four riders, two adults and two children, will most likely use four different-sized seat posts. Youth saddles that accommodate small children will use special-sized seat posts to allow for shorter legs and a displaced child pedal assembly. Another factor that can affect seat post size is in replacement seat posts. Many times, when a seat post is replaced, a wider hole is bored to accommodate the new seat post. Overall, standardization in seat post size is limited. Before replacing a seat post, check the size on the post itself, call the manufacturer or look up the diameter in a seat post size database.
References
Resources
Writer Bio
Caroline Thompson is a professional photojournalist who has been working for print and online publications since 1999. Her work has appeared in the "Sacramento Bee," "People Magazine," "Newsweek" and other publications. She holds a Bachelor of Arts in photojournalism from California State University at Hayward and a personal trainer certification from the university's Health and Fitness Institute.