Golf Equipment Used by PGA Tour Players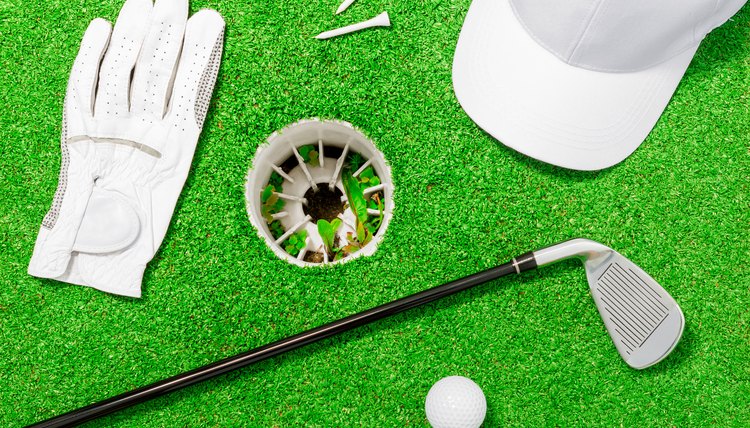 PGA Tour players earn their living by performing and competing at the highest level of the game. Their equipment is custom fitted to their swings, and players often provide feedback which plays a part in the clubs' design process.
Because PGA Tour players are the best ball strikers in golf, they use clubs that are less forgiving than clubs that amateurs typically use. Tour players place greater value in superior shot-making ability, feel and feedback over forgiveness.
Titleist
Titleist is a leading brand in every area of golf equipment. However, it is most dominant when it comes to producing golf balls for PGA Tour players. At the 2011 Sony Open, 91 players used Titleist Pro V1 and ProV1X golf balls, with the nearest competing ball only used by 14 players.
Titleist is also a leading choice for irons. At the 2011 Hyundai Tournament of Champions, Titleist led the way, with 30 percent of the field using Titleist irons. The Titleist MB irons are particularly popular with PGA Tour players, and are used by top golfers such as Rory McIlroy and Adam Scott.
At the same tournament, Titleist also led the way in putters and wedges with its Scotty Cameron and Vokey brands.
Callaway
Callaway has 17 professionals on staff, including major champions Phil Mickelson and Ernie Els. Both players use the FT Tour driver, popular among professionals because of the penetrating ball flight it provides.
Callaway staff players also prefer the Tour Authentic X Prototype irons, a classic-styled iron with minimal offset and a thin top line, designed for shot shaping and enhanced feel. Callaway also owns Odyssey putters, and as of 2011, 15 of the 17 Callaway staff players use Odyssey putters. Popular Odyssey putters include the various two-ball models as well as the Black Series Tour Designs.
TaylorMade
TaylorMade's list of staff players includes 2010 USPGA Champion Martin Kaymer and two-time winner on the 2010 PGA Tour Justin Rose. TaylorMade drivers, particularly the R9, are used by many PGA Tour players.
In 2010, TaylorMade was the number one driver in golf, recording 45 wins worldwide on the major professional tours. The TaylorMade Penta golf ball has also established itself as one of the main competitors to the dominant Titleist ProV1.
References
Resources
Writer Bio
Based in Alicante, Spain, Jordan Gibb began writing professionally in 2010, and his work appears on LIVESTRONG.COM. He is a professional golfer who has worked with experts in fitness and in all areas of golf. Gibb is a graduate of the University of North Florida where he gained a Bachelor of Arts in English while competing for the men's golf team.