Super Circuit Weight Training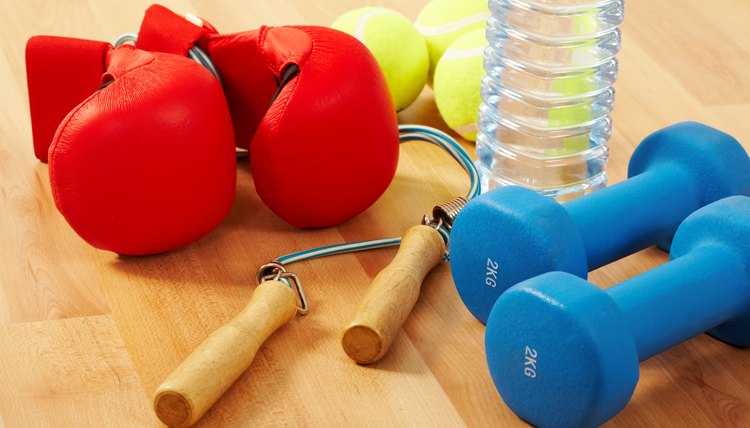 Circuit training is a weight training system where you do exercises quickly one after another for aerobic benefits as well as strength gains. Super circuit training combines the weight lifting exercises of circuit training with interval cardio training. From this combination you get high repetitions of strength training exercises mixed with short aerobics.
Format
The format for super circuit training is to do a high number of repetitions per exercise, and then, between exercises, you do an aerobic activity. A repetition range of 15 to 20 works for super circuit training. Regular circuit training will have back-to-back strength training exercises throughout an entire circuit, or sometimes a short rest between exercises. The inclusion of some aerobic exercise between each strength exercise is unique to super circuit training, though sometimes this is simply called circuit training as an umbrella term. Usually, you'll do one to three complete circuits, though four is not unheard of. Ask your doctor for guidelines.
Benefits
Super circuit training over traditional weight training offers several benefits. Saving time is a top reason. Because you get an aerobic workout and a strength workout, you won't need to do both. Build muscle, increase endurance and burn calories all at once. A super circuit workout may take only 20 to 30 minutes or possibly less, if you do fewer circuits. A cardio session alone takes that amount of time, at least. Super circuit training is easily tailored for full-body workouts by doing one exercise per body part, or can be modified for just an upper or lower body workout, or even all for one muscle group.
Sample Workout
Any circuit can be adapted for super circuit training. Take a circuit such as push-ups, squats, sit-ups, lunges and chin-ups that hits all your major muscle groups. Instead of resting for 30 seconds between the exercises, do some aerobics. You can do knee-ups, marching or use a cardio machine. Complete 15 to 20 reps of each exercise.
Timed Super Circuit Workout
If you prefer setting a timer instead of counting reps, super circuit training for a timed workout might work better for you. Instead of counting reps for strength exercises and then watching the clock during aerobic exercise, use a set time for each exercise. Do 30 seconds of a strength exercise followed by 30 seconds of high-intensity aerobics. Examples include jogging in place, jumping jacks or bouncing on a rebounder.
References
Wilke J, Kaiser S, Niederer D, et al. Effects of high-intensity functional circuit training on motor function and sport motivation in healthy, inactive adults. Scand J Med Sci Sports. 2019;29(1):144-153. doi:10.1111/sms.13313
Feito Y, Heinrich KM, Butcher SJ, Poston WSC. High-Intensity Functional Training (HIFT): Definition and Research Implications for Improved Fitness. Sports (Basel). 2018;6(3):76. doi:10.3390/sports6030076
Cardozo DC, DE Salles BF, Mannarino P, et al. The Effect of Exercise Order in Circuit Training on Muscular Strength and Functional Fitness in Older Women. Int J Exerc Sci. 2019;12(4):657-665.
Mayorga-Vega D, Viciana J, Cocca A. Effects of a Circuit Training Program on Muscular and Cardiovascular Endurance and their Maintenance in Schoolchildren. J Hum Kinet. 2013;37(1):153-160. doi:10.2478/hukin-2013-0036
McGlory C, Devries MC, Phillips SM. Skeletal muscle and resistance exercise training; the role of protein synthesis in recovery and remodeling. J Appl Physiol (1985). 2017;122(3):541-548. doi:10.1152/japplphysiol.00613.2016
Shaw BS, Shaw I. Compatibility of concurrent aerobic and resistance training on maximal aerobic capacity in sedentary males. Cardiovasc J Afr. 2009;20(2):104-106.
Chiara M, Chamari K, Chaouachi M, Chaouachi A, Koubaa D, Feki Y, Millet GP, Amri M. Effects of intra-session concurrent endurance and strength training sequence on aerobic performance and capacity. British Journal of Sports Medicine. 2005 Aug; 39 (8):555-60.
Fleck SJ and Kraemer WJ. (2004) Designing Resistance Training Programs: 3rd Edition. Champaign, IL: Human Kinetics.
Gettman LR, Pollock ML. Circuit weight training: a critical review of its physiological benefits. The Physician and Sports Medicine. 1981 9:44-60.
Glowacki SP, Martin SE, Maurer A, Baek W, Green JS, Crouse SF. Effects of resistance, endurance, and concurrent exercise on training outcomes in men. Medicine and Science in Sports and Exercise. 2004 Dec; 36 (12):2119-27.
Resources
Writer Bio
Sarka-Jonae Miller has been a freelance writer and editor since 2003. She was a personal trainer for four years with certifications from AFAA and NASM. Miller also worked at 24 Hour Fitness, LA Fitness and as a mobile trainer. Her career in the fitness industry begin in 2000 as a martial arts, yoga and group exercise instructor. She graduated cum laude from Syracuse University.