What Is the Difference Between Softball and Baseball Cleats?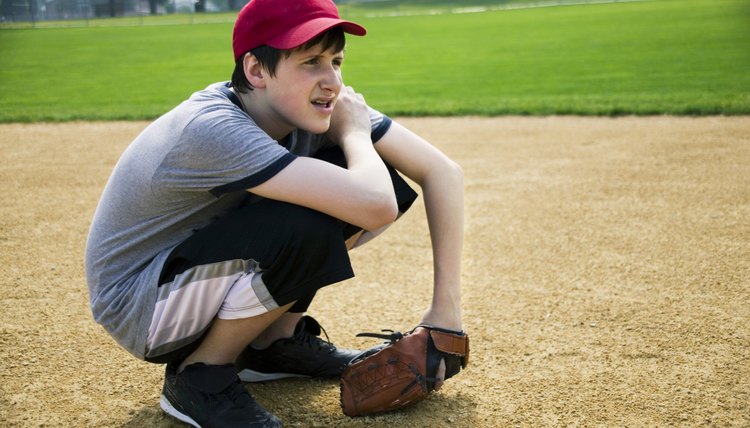 America's first baseball players wore straw hats, wool pantaloons and, most likely, high-top, leather-soled athletic shoes typical of the mid-1800s. Softball began in the late 1800s as an indoor sport, also played in soft-soled shoes. However, just as straw hats were abandoned for caps, players of baseball and softball -- which evolved into an outdoor sport -- eventually modified their shoes to provide traction on grass, dirt and, later, artificial turf. This modification included the addition of spikes, worn on the bottom of player's shoes, or cleats.
Early Baseball Shoes
Paul Butler, a ballplayer of the 1860s, is credited with being the first to attach spikes, similar to those used by golfers, to the soles of his shoes. Soon most players were wearing these removable spikes, which cost about $1.50 a pair. Metal plates with built-in spikes replaced individual spikes in the 1870s and cost much less -- about 30 cents a pair. The first shoes to be marketed as baseball shoes were made of leather with laces and metal cleat plates. They were produced by Waldo M. Claflin in 1882. By the 1900s, the best professional baseball players, including Cy Young, were wearing Claflin's shoes.
Soft on Spikes
Softball first was played outdoors in the spring of 1888. Specific rules and regulations for the sport were not organized until 1934 with the creation of the Amateur Softball Association of America (ASA). The ASA historically has not allowed metal spikes to be worn by slowpitch softball players but permitted players at all levels to wear synthetic spikes. In recent years, the ASA has changed their rules regarding metal spikes for fastpitch softball as has the National Federation of State High School Associations (NFHS) and the National Collegiate Athletic Association (NCAA).
Metals and Plastics
Professional baseball players wore black or dark-brown leather cleats until the 1960s when the Kansas City A's broke with tradition and donned white cleats. Players at all levels of baseball now wear cleats in a variety of colors with blue and red being the most popular. Synthetic turf led to changes in cleats worn by professional baseball players and many now wear plastic cleats. Major league baseball players are not permitted to wear cleats with pointed metal spikes similar to the ones on golf shoes. College-age and high-school baseball players are permitted to wear metal cleats or spikes. Official Little League rules allow players to wear metal cleats or spikes in the intermediate, junior, senior and big league divisions. Younger players must wear synthetic cleats.
Rules Revised
As of 2011, NCAA rules for college fastpitch softball state that cleats may have smooth soles, hard or soft rubber cleats or rectangular metal spikes no longer than 3/4 inches. In 2008, the NFHS amended its rules to allow high school fastpitch softball players to wear metal cleats and metal toe plates. In 2013, ASA rule changes gave youth tournaments and leagues the option to allow or not allow fastpitch softball players at the A and B levels in the 14-and-under divisions to wear metal cleats. As of 2010, Little League Softball allows players in the junior, senior and big league divisions to wear metal spikes or cleats. In slowpitch softball, metal cleats still are prohibited, but players may choose among soft and hard-rubber cleats, turf shoes and sneakers.
References
Resources
Writer Bio
Laura Leddy Turner began her writing career in 1976. She has worked in the newspaper industry as an illustrator, columnist, staff writer and copy editor, including with Gannett and the Asbury Park Press. Turner holds a B.A. in literature and English from Ramapo College of New Jersey, with postgraduate coursework in business law.