What does fact checked mean?
At SportsRec, we strive to deliver objective content that is accurate and up-to-date. Our team periodically reviews articles in order to ensure content quality. The sources cited below consist of evidence from peer-reviewed journals, prominent medical organizations, academic associations, and government data.
The information contained on this site is for informational purposes only, and should not be used as a substitute for the advice of a professional health care provider. Please check with the appropriate physician regarding health questions and concerns. Although we strive to deliver accurate and up-to-date information, no guarantee to that effect is made.
Can a Man Reduce His Chest Size Through Exercise?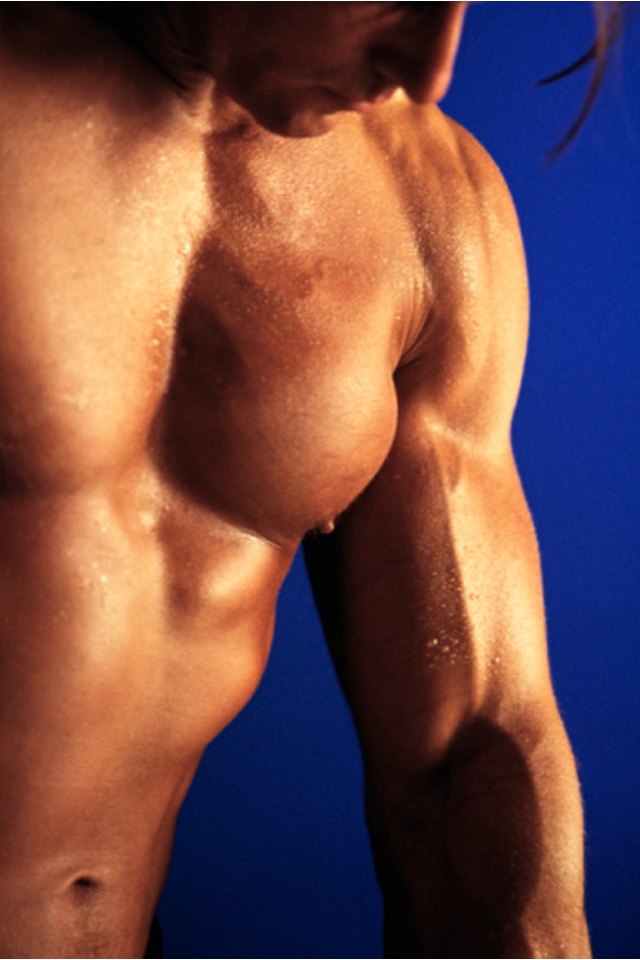 While all humans have breasts, large breasts on a man may lead to embarrassment and low self-esteem. Similar to breasts on a woman, man breasts are often seen on men with excess fat throughout the rest of the body, although the condition called gynecomastia may also be related to hormones, steroid use or medications. Reduce your man breasts by adding exercise to your daily routine.
Cardiovascular Exercise
Cardiovascular exercise is one of the most effective ways to burn calories and shed fat. The best forms of cardio are those that use large muscle groups such as running, cycling, rowing, cross-country skiing and swimming. Shapefit.com notes that doing the breast stroke can burn around 400 calories in 30 minutes. Choose a type of cardio that you enjoy to prevent burnout. You can opt for long-duration, low-intensity workouts or quick, high-intensity workouts, depending on your own preference and how much time you have to dedicate to exercise.
Strength Training
While cardio increases your calorie burn during your workout, strength training can increase your metabolism for the long haul. Muscle is a metabolically active tissue, which means it requires calories to simply maintain its mass. The more muscle you have, the higher your resting metabolic rate and the more calories you burn on a daily basis. Not only will it help you shed fat, but strength training will also tone the underlying muscles to give you a muscular physique once you reduce your breasts and your overall body fat. Exercises such as the push-up, bench press and chest fly will target your chest muscles while the squat, deadlift, lunge, row and shoulder press will increase your muscle mass throughout the rest of your body.
Circuit Training
Circuit training is a combination of cardiovascular and strength training -- strength training exercises are performed in a manner that taxes your cardiovascular system. This type of exercise will give you a calorie-blasting workout in a short amount of time. Military.com says that mixing a resistance training regimen with a cardiovascular element will increase your metabolism by burning fat and building muscle. Creating your own circuit training program is simple -- choose several exercises that work different parts of your body and perform them for a designated amount of time. For example, perform push-ups, squats, pull-ups and sit-ups for one minute each and repeat the circuit five times, resting for one minute between circuits. Chances are you'll be sweating and exhausted by the time you finish.
Considerations
Although exercise in any form can help you shed fat, you must be consistent if you want to get results. The American College of Sports Medicine recommends that overweight adults get at least 45 minutes of exercise per day to facilitate weight loss and prevent weight regain. This exercise can include, cardio, strength training, circuit training or a combination of all three. Remember, however, that strength training should be done only two to four days per week -- take a rest day between each strength session to ensure adequate time for your muscles to recover and rebuild. Cardio can be done every day as long as you use discretion to prevent any potential overuse injuries.
References
ACSM's Resources for the Personal Trainer, Second Edition; Nicki Anderson, et al.
Strength Training Anatomy, Second Edition; Frederic Delavier
Writer Bio
Jen Weir writes for several websites, specializing in the health and fitness field. She holds a Bachelor of Science in exercise science from Montana State University, is an NSCA-certified strength and conditioning specialist and maintains a personal trainer certification from the American College of Sports Medicine.