How to Become a Certified Pilates and Yoga Teacher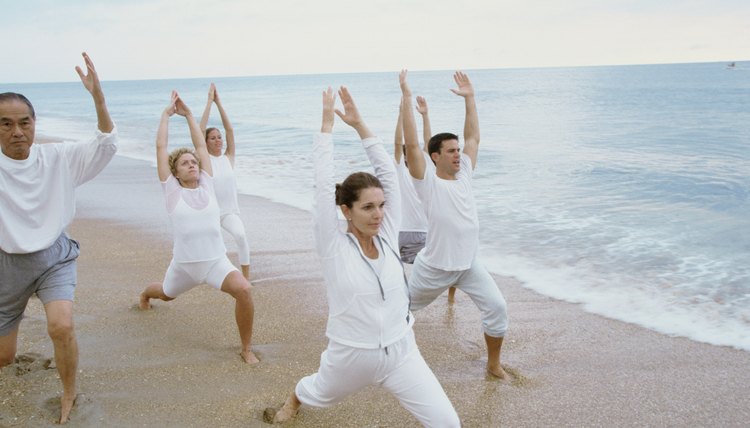 Many yoga and Pilates devotees consider pursuing certification as a Pilates and yoga teacher in hopes of turning a passion into a career. The route to certification is different for each discipline, as programs that certify Pilates instructors vary greatly from the standardized programs overseen by the Yoga Alliance that are responsible for certifying yoga teachers. In order to become a certified Pilates and yoga teacher, you will need to attend at least two certification programs.
For Pilates Certification: Find a Program That Fits Your Needs
Certification as a Pilates teacher is significantly easier than certification as a yoga instructor and applicants are faced with more options. There are dozens of schools across the country that offer instruction in various Pilates specializations, like the Balanced Body Studio, which provides a focus in core conditioning, or the National Exercise Trainers Association, which offers certification as an instructor with a focus on the Pilates Reformer. A comprehensive program includes certification in mat, reformer, trapeze, barrel, cadillac and chair Pilates. Though it isn't required, many Pilates instructors recommend choosing a program accredited by the Pilates Method Alliance. Once you've finished your program, you can join the job market as a certified Pilates teacher.
For Yoga Certification: Choose a Program
Yoga teachers face a few more steps on the road to certification. If you're an American considering a career as a yoga instructor, be sure that you choose a program registered with the Yoga Alliance. Though every program accredited by the Yoga Alliance has the same basic standards for certification, each program meets those standards in its own way. Some programs require intensive training over a short period of time. In one of these programs, for example, you can anticipate daily meetings with an instructor over the course of a month. Other programs are more easily scheduled into your day-to-day life, with night and weekend classes over the course of several months.
For Yoga Certification: Meet the Program's Admission Requirements
Many programs require that you demonstrate a track record of experience in your yoga practice. Each training program differs slightly in their expectations, but you can safely assume that you'll need proof of experience. Some programs may ask for a letter of recommendation from a yoga instructor you've spent significant time training with.
For Yoga Certification: Consider Your Level of Commitment
The Yoga Alliance offers two levels of certification. The first level requires 200 hours of training and is the minimum training requirement at most yoga studios for hiring new instructors. The second level requires more than twice the hours, with 500 hours of training. This 500 hours of training is no small commitment; those who enroll in a 500-hour program typically began with a 200-hour certification. After finishing a 500-hour program, you are considered a Registered Yoga Teacher.
References
Balanced Body, Pilates Trademark Lawsuit.
The Pilates Method Alliance - Position Statement: On Pilates.
Writer Bio
Suzy Kerr graduated from Grady School of Journalism and Mass Communications at the University of Georgia. She completed her Master's degree in Nutrition Sciences, also at the University of Georgia. Suzy has been a successful health, fitness and nutrition writer for more than 10 years, and has been published in various print and online publications.