What does fact checked mean?
At SportsRec, we strive to deliver objective content that is accurate and up-to-date. Our team periodically reviews articles in order to ensure content quality. The sources cited below consist of evidence from peer-reviewed journals, prominent medical organizations, academic associations, and government data.
The information contained on this site is for informational purposes only, and should not be used as a substitute for the advice of a professional health care provider. Please check with the appropriate physician regarding health questions and concerns. Although we strive to deliver accurate and up-to-date information, no guarantee to that effect is made.
Back Extension Exercise for Bulging Disk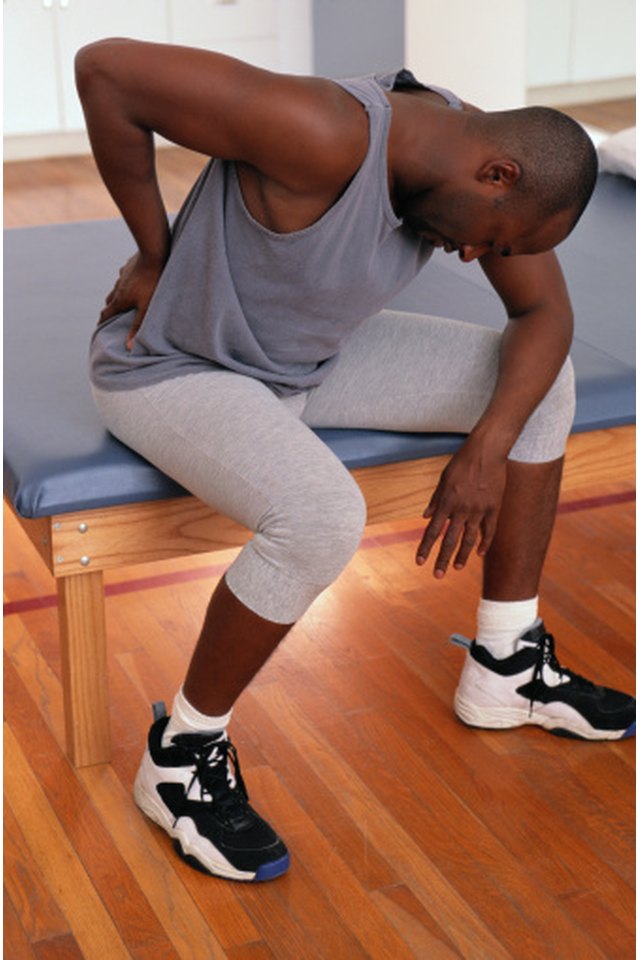 A bulging, or herniated, disk is a relatively common source of lower back pain. If surgery is not warranted, physicians will send patients to physical therapy for management of their symptoms through exercise. You should not begin an exercise regimen on your own without first knowing the source of lower back pain, but in people with posterior or posterolateral disk herniations, lumbar extension exercises have proved to be beneficial.
Bulging Disk
Intervertebral disks are spacers between the bones of your spine, and their function is to provide shock absorption during weight-bearing activities. There are two components to a disk, the annulus fibrosus and nucleus pulposus. The annulus is a tough cartilage ring that encapsulates the gel-like nucleus. When a disk herniates, the annulus has worn thin in areas and the nucleus is able to push through, creating a bulge appearance.
The Purpose of Exercise
Lumbar extension exercises have been used for the treatment of lumbar disk herniation since 1981. Robin McKenzie, a physical therapist in New Zealand, stumbled on this methodology by accident, but it since has been widely researched and accepted as a treatment option. In theory, if a patient has a posterior herniation, the gel-like nucleus has pushed backward. Repeated extension, or backward, movements should physically push the nucleus back to the center of the disk and allow the annulus to heal and scar over. The ultimate goal of repeated extension is centralization of symptoms. In other words, pain that once traveled down the leg to the foot should regress to the thigh, buttocks or low back.
The Exercises
There are five sequential lumbar extension exercises that vary in degree of lumbar range of motion. If one exercise increases symptoms, then do not progress to the next exercise.
Lie prone with your head down and arms to the sides. Remain in this position for five minutes. Prop up on your elbows from the prone position. Hold this position for 30 seconds and repeat ten times. Prone pushup: Place palms on the floor adjacent to your shoulders and press up, extending your elbows. The pelvis should remain flat to the floor. Hold for five seconds and repeat ten times. Standing mid-range lumbar extension: Place your hands on your lower back and lean back to approximately half of your available range of motion. Hold for five seconds and repeat ten times. Standing full-range lumbar extension: Place your hands on your lower back and lean back to your full available range of motion. Hold for five seconds and repeat ten times.
Ideally, you should do the exercises every two hours you are awake. A physical therapist can determine how many of these exercises are appropriate and the number of repetitions based on your symptoms.
What to Expect
One benefit to lumbar extension exercises as a means of treating disk herniation is the body's quick response. Usually within a week of following the lumbar extension protocol, the patient notices improvements in intensity of pain, centralization, or both. Lower back pain has other causes, and lumbar extension exercises are not for every condition. Performing lumbar extension exercises should not be a substitute for an evaluation by a physician and physical therapist.
References
Writer Bio
Mindy Riley began writing professionally in 2011 for LIVESTRONG.COM. She practices physical therapy in Evansville, Ind., with expertise in rehabilitation of the shoulder, knee and spine. Riley is a certified strength and conditioning specialist with the National Strength and Conditioning Association. She also has a Master of Physical Therapy from the University of Evansville.