Can You Play Basketball With Training Shoes?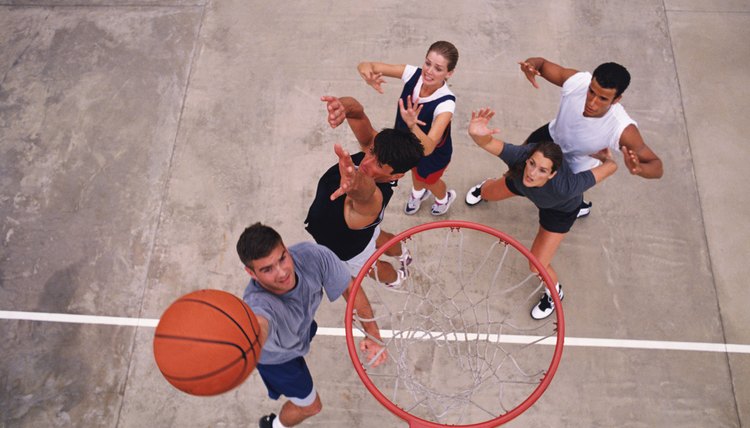 Basketball is one of the most popular sports in the U.S., and all players want to perform at their best, regardless of ability. One way to increase performance and to prevent injuries is to play the sport with the proper footwear. The American Academy of Orthopaedic Surgeons recommends you choose shoes that that fit snugly, offer support, and are skid resistant. Training shoes are one option for competing in basketball games.
Required Motions
Basketball is a game full of physical activity and fast motions. Basketball players must be able to change directions at a moment's notice, and sprint fast up and down the court for long stretches of time. Training shoes do not hinder these movements. While most basketball players prefer high top basketball shoes that protect the ankles and support side-to-side movements, training shoes do not hinder the ability to be quick and agile. A selection of elite college and professional players wear these shoes for this reason and because they have thick soles. Thick-soled shoes give you extra stability when running on the court and are recommended by the American Orthopaedic Foot and Ankle Society.
Jumping Ability
Another skill set possessed by the best basketball players is the ability to launch themselves in the air and land safely for rebounds and lose balls, as well as to block shots from the opposing team. Training shoes help in this regard, providing extra cushion for landing and stability for your feet and ankles, according to the American Academy of Podiatric Sports Medicine.
Durability
Basketball players endure a variety of stresses and rigors over the course of a long season. Players in the National Basketball Association face the strain of an 82-game regular season, not to mention the preseason and any potential playoff matchups. Basketball shoes must be able to hold up after intense wear and tear over the course of a whole season. Training shoes are typically those people working out consistently. These shoes are proven to be durable.
Flash
Basketball players have always looked for style and flash when choosing their latest shoes. Shoe companies court professional players with million-dollar endorsement contracts, allowing them to design their own models and chose their preferred shoes for game competition. This practice has a trickle down effect to the college, high school and recreational game. Players want to look and feel their best on the court, and the best low-top training shoes allow them to do so.
References
Writer Bio
Lyle Stefanavich started writing professionally in 2005. His work has appeared in the "Olivet College Echo," "Battle Creek Enquirer," "The South End Newspaper," TellUsDetroit.com, "Warrior Within Magazine," "Dearborn Press and Guide," Dethoops.com, CSTV.com, and UCSHO.com, among other publications. Lyle holds a Bachelor of Science in finance from Wayne State University and is pursuing his Master of Business Administration.