What Do College Baseball Scouts Look for?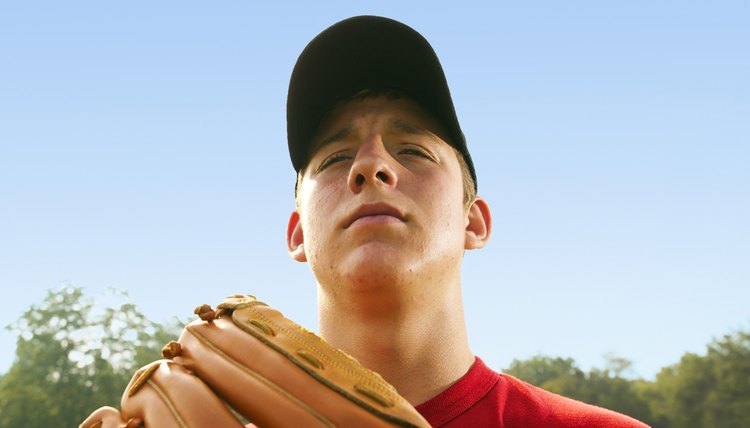 A college baseball scout looks for high school players with the physical skills and maturity necessary to become successful at the college level. In most cases, colleges coaches scout prospects for their own programs. Evaluating young baseball players is part science, part art. The scout must peer into the future and try to predict how a high school baseball player will perform in a few years against much tougher competition.
Exceptional Pitching Skill and Attitude
According to SteveEllis.com, website of the former Chicago Cubs pitcher, college coaches look for high school pitchers with a desire to succeed and the ability to throw a fastball around 90 mph with a smooth delivery. College coaches also prefer injury-free pitchers who can throw strikes. Additional qualities preferred by scouts are mental toughness; the ability to pitch to both sides of the plate; movement on the fastballs; a good two-strike, off-speed pitch and the ability to throw a good breaking ball when their team is behind in the count.
Calm, Cool, Collected Catchers
A catcher is the leader on the field, and a great catcher is worth his weight in gold. Catching is the most demanding position in baseball. Catchers must be able to manage a pitching staff, call pitches and calm frayed psyches. Catchers need to be exceptionally fit and durable enough to drop into a crouching position more than 100 times per game. College scouts look for high school catchers with soft hands, quick feet, an ability to block pitches in the dirt and a great throwing arm with a quick release.
Soft Hands, Strong Arms
Scouts look for two primary attributes when evaluating infielders and outfielders: arm strength and range. Arm strength is critical for shortstops and third basemen, who must make long throws across the diamond. Scouts want to see a quick release and straight throws that don't tail off as the ball approaches the first baseman. Outfielders should have a strong overhand throw with a straight trajectory, good carry and a live bounce off the turf. In terms of range, infielders need good body control, quickness, soft hands and great reflexes.
A Hitter for All Fields
Hitting is the hardest skill for scouts to evaluate. Scouts like to see a smooth, quick and level swing, which gives the batter the ability to wait on pitches. Knowing the strike zone and having patience at the plate are important. Raising or dropping your hands when you stride into a pitch is a bad sign. The ability to turn on an inside fastball and rip it, and the ability to hit quality breaking pitches are the hallmarks of excellent college hitters. If you can hit to all fields, your chances of making it to the college leagues is improved.
Winning Personal Attributes
Some athletes with seemingly lesser physical skills still manage to become stars in college and even in the big leagues. Scouts look for players who can focus, rise to challenges, yearn to improve, lead disciplined lives and persevere when the going gets tough. These attributes are hard to measure, but usually are necessary for success in college baseball.
References
Writer Bio
Jim Thomas has been a freelance writer since 1978. He wrote a book about professional golfers and has written magazine articles about sports, politics, legal issues, travel and business for national and Northwest publications. He received a Juris Doctor from Duke Law School and a Bachelor of Science in political science from Whitman College.