Dimensions of Softball Bases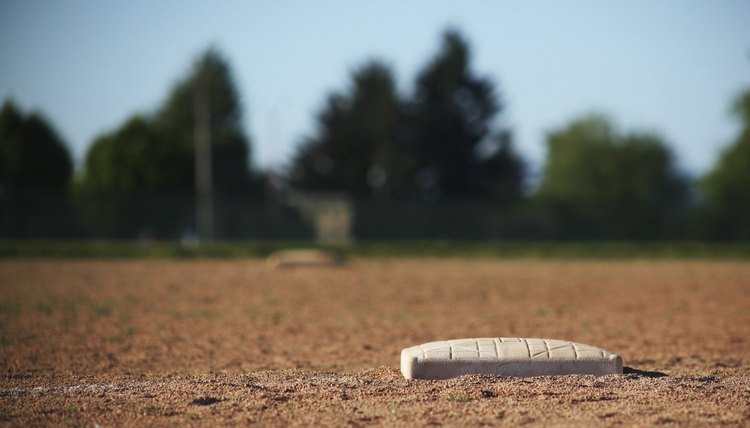 Softball base size is set by the Amateur Softball Association (ASA), the governing body for the sport in the United States. This association prescribes not only base sizes, but the distance between the bases, the thickness of the bases and the materials bases are made from. First base and home plate have different rules than second and third base.
First Base
First base is a different size than the other bases. What is known as a double base is used. The dimensions are 15 by 30 inches; however, first base has the same criteria for thickness as the other bases. According to the ASA Official Rules of Softball Umpire Edition, bases cannot be more than 5 inches thick. The half of the base that lies in fair territory is white, and the half placed in foul territory is either orange or green. The double base is designed to minimize collisions when players slide into the base.
Second and Third Base
Second base and third base are square and 15-by-15 inches. In addition to adhering to size standards, ASA rules state bases must be properly fastened into place and must be made of a suitable material, such as canvas. The American Sport Education Program book "Coaching Youth Softball" recommends using breakaway bases that separate from the mat that secures the base to the ground upon impact. That's because 70 percent of softball injuries occur when players slide into bases. Other options include bases that flex upon impact or that have tapered sides so players are more likely to slide up and over the base.
Home Plate
Home plate is a different shape and size than the other bases. This five-sided base is 17 inches long in front. Each side is 8.5 inches long. The two lengths that extend to make the plate's diamond shape in the back are each 12 inches. Home plate is flat and made of hard rubber or wood with a rubber coating. It is embedded in the ground.
Base Distances
The distance prescribed between bases is consistent among all bases laid out on the field. ASA rules call for 60 feet between each base in most adult fastpitch divisions of play. In men's, women's and co-ed slowpitch divisions, the prescribed distance between bases is 65 feet. In youth fastpitch divisions, both boys and girls use the 60-foot distance. In youth slowpitch divisions, girls and boys in the 14- to 18-and-under divisions use the 65-foot distance.
References
Writer Bio
Linda Tarr Kent is a reporter and editor with more than 20 years experience at Gannett Company Inc., The McClatchy Company, Sound Publishing Inc., Mach Publishing, MomFit The Movement and other companies. Her area of expertise is health and fitness. She is a Bosu fitness and stand-up paddle surfing instructor. Kent holds a bachelor's degree in journalism from Washington State University.