Soccer Tips on How to Shoot Long Range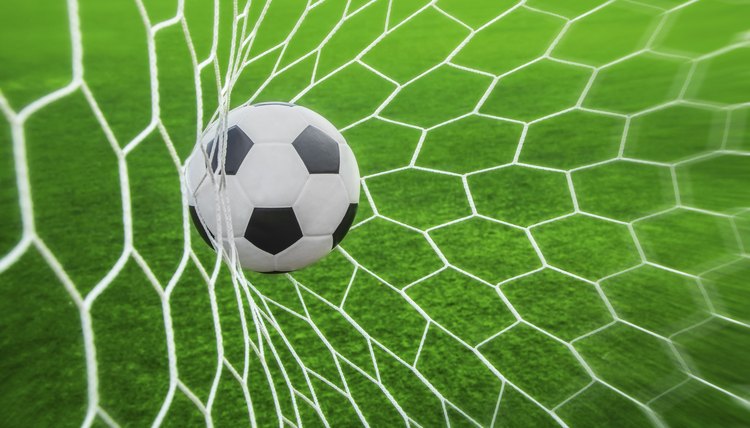 Shooting long range in soccer is difficult, but regular practice can improve your skills. If you're having trouble achieving proper form while shooting, consult your coach or watch professional soccer players during a match. Note the movements they make to achieve distance shots. Don't worry if it takes a long time to get better. Just focus on completing your shots correctly and maintaining accuracy, and over time your ability to shoot at a distance will improve.
How to Connect
Perfect your form so that your shots are consistent and powerful. Plant your nonshooting foot a little more than 1 foot away from the ball and keep that leg slightly bent. Lift your shooting foot high behind you, then whip it forward while pointing your toes downward. The laces of your shoe should connect below the midline of the ball. Follow through with your leg. If the ball doesn't go far or if your shot is inconsistent, practice kicking with correct form against a wall. This allows you to take shots repeatedly without having to chase after the ball each time.
How to Gain Distance
Start off by shooting the ball from a location at which it is easy for you to hit the target consistently and accurately. Typically, this will be in the center of the field a few dozen feet away from the net. Shoot repeatedly from that location, each time aiming at a specific area of the net. For example, shoot several balls toward the top left corner, then top right, then bottom left and then bottom right. Once you can perform these shots accurately, move away from the net to a distance that makes it more difficult for you. Stay at that distance until you improve and then move farther away.
Taking Angled Shots
Once you have a decent range, it's time to improve how you shoot on an angle. When you are directly facing the center of the net, you have maximum flexibility in choosing your shot location. But if you're standing off to either side, the amount of open area that's available for targeting decreases, making it harder to score goals. Practice taking shots from a distance and at severe angles to the goal. For example, set up shots that are far away from the net and off to the side. If possible ask a friend to play goalkeeper to make your targeting opportunities more realistic. Visualize the open area of the goal and aim toward it. Move farther away as you improve.
Avoiding Toe Kicks
Kicking the ball far is not easy, so you might be tempted to use the tip of your foot to add some distance to your shot. While kicking with the point of your cleats does make the ball go farther, it is impossible to maintain a consistent, accurate shot when you shoot this way. The best way to shoot long-range is to use proper form -- the instep kick -- to launch the ball toward the target. It might not be easy at first, but over time you will develop accuracy as well as distance.
References
Coaching Soccer for Dummies; Greg Bach
Writer Bio
Stan Mack is a business writer specializing in finance, business ethics and human resources. His work has appeared in the online editions of the "Houston Chronicle" and "USA Today," among other outlets. Mack studied philosophy and economics at the University of Memphis.