Training for the 2-Hour Olympic Triathlon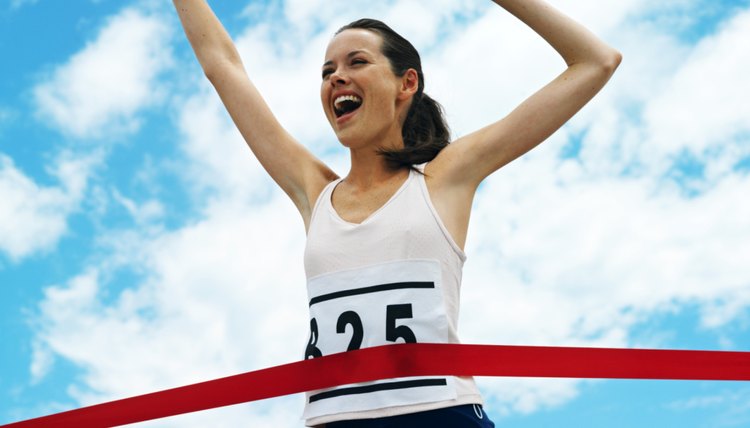 Completing an Olympic-distance triathlon in two hours is a feat rarely accomplished by the recreational athlete. Usually it's only elite triathletes that are able to finish the 1.5-km swim, 40-km bike ride and a 10-km run in about 1:45. Often, these athletes spend 30 to 40 hours a week in training for months on end to achieve this high level of fitness.
Swim Training
Alistair Brownlee -- who captured the gold medal at the London 2012 Olympic Games with an overall time of 1:46:25 and a swim split of 17:04 -- schedules five swim sessions a week in his training program. Three swims are at an easy intensity and volume and the fourth is at a moderate intensity. Each swim lasts about 60 to 75 minutes. The fifth swim session is the hard session for the week and covers nearly 4,000 meters, divided into multiple sets. Brownlee starts with an 800-meter warm-up set followed by six 100-meter kicks, three 100-meter speed sets and four 50-meter descending speed sets. His main set consists of 18 100-meter freestyle swims with the goal of completing each 100 meters in 1:25 or less. He finishes the session with a cooldown of a 100-meter backstroke and a 100-meter freestyle.
Bike Training
Javier Gomez -- who took the silver medal at the 2012 London Olympic Games with a total time of 1:46:36 and a bike split of 59:16 -- cycles an average of 300 to 400 km a week. His training includes longer duration rides in the earlier part of the season and concludes with shorter and more intense rides as he gets closer to race day. He also enjoys pacing a motorcycle to simulate competition pace.
Run Training
Jonathan Brownlee -- who earned a bronze medal at the 2012 London Olympic Games for his total time of 1:46:56 and a run split of 29:37 -- completes about 10 hours of running a week. He schedules five runs each week, with most of the runs done off-road. Three of the runs are at an easy pace and last between 60 to 75 minutes. His speed session is done at the track and includes a variety of technique drills followed by a series of 300-meter, 600-meter and 800-meter sprints. His last session of the week includes three to four hard intervals on grass.
Transitions
Known as the fourth sport in triathlons, transitions between the swim, bike and run take on a new priority when you're racing at the world-class level, where every second counts. At the top levels, triathletes are out of their wetsuits in six seconds for the swim-bike transition and are off their bikes and starting the run in four seconds. Lesley Paterson, X-Terra champion, advocates keeping your cycling shoes clipped into the bike pedals and using a flying mount in the swim-bike transition. This takes quite a bit of practice to master. To improve his bike-run transition times, Gomez includes transition workouts in his training plan. He cycles on a trainer at the track and then changes to running shoes and runs a fast 2.5 kilometers.
References
Resources
The Triathlete's Training Bible; Joe Friel
Writer Bio
Jack Kaltmann is a Las Vegas-based writer with more than 25 years of professional experience in corporate communications. He is a published author of several books and feature articles for national publications such as "American Artist" and "Inside Kung-Fu." Kaltmann holds a Bachelor of Arts in English from Miami University and is a retired nationally certified personal trainer.