Facts About a Basketball Player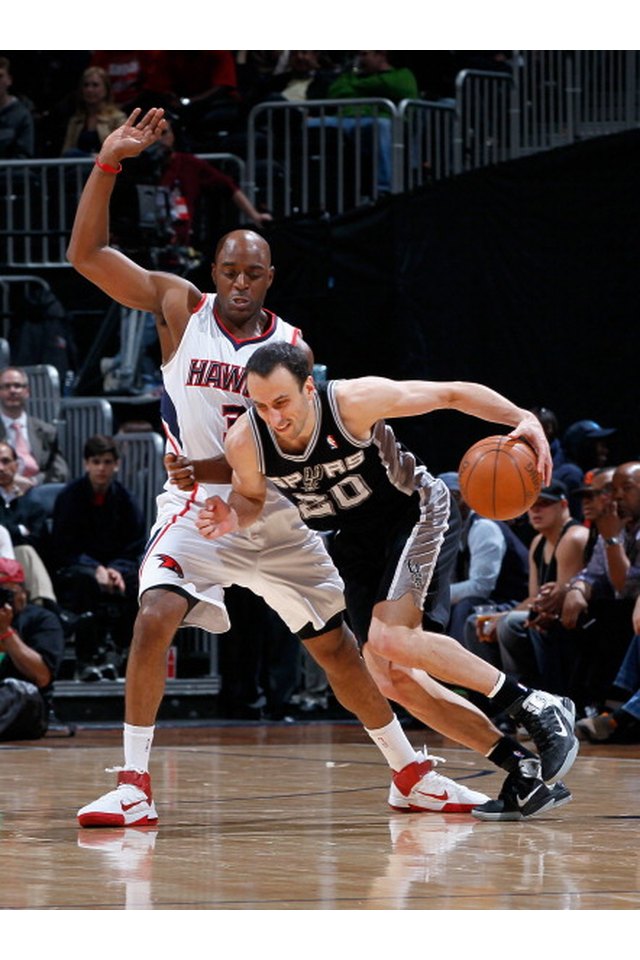 Basketball players have come in all shapes and sizes throughout NBA history, and no two basketball players are the same. Some players, like Tim Duncan of the San Antonio Spurs and Kobe Bryant of the Los Angeles Lakers, spend their entire NBA careers with the teams that select them in the NBA Draft. Others, however, like Shaquille O'Neal, can move around the league several times- Shaq played for the Los Angeles Lakers, Boston Celtics, Cleveland Cavaliers, Orlando Magic, Phoenix Suns, and Miami Heat in his 19 NBA seasons.
Like every sport, basketball has its legends. No one will ever come close to what Michael Jordan accomplished with the Chicago Bulls, where he won six NBA Championships in six trips to the NBA Finals, multiple MVPs, countless NBA all-star appearances and is arguably the greatest player; but players like Wilt Chamberlain, Hakeem Olajuwon, Kareem Abdul-Jabbar and Larry Bird have left their mark on the game in their own way, and had a huge amount of influence on what kind of players make up the NBA today.
Height
A lot of the guys you see throwing down huge dunks and skying for rebounds on television look huge- and that's, well, because they are. In the 2021-22 NBA season, the average height of an NBA player was 6'6", or 198.6cm.
The tallest player in NBA history was Manute Bol, who stood at a staggering 7'7" tall. The shortest player in NBA history was Muggsy Bogues, who stood at just 5'3".
Salary
NBA salaries vary greatly, but the average player makes around $8.5 million per year. For rookies, the lowest they can make is just over $1 million.
Ranking the highest paid NBA players in 2022-23:
Steph Curry, Golden State Warriors: $48,070,014
Russell Westbrook, Los Angeles Lakers: $47,063,478
LeBron James, Los Angeles Lakers: $44,474,988
Kevin Durant, Brooklyn Nets: $44,119,845
Bradley Beal, Washington Wizards: $43,279,250
Damian Lillard, Portland Trail Blazers: $42,492,492
Giannis Antetokounmpo, Milwaukee Bucks: $42,492,492
Kawhi Leonard, LA Clippers: $42,492,492
Paul George, LA Clippers: $42,492,492
Klay Thompson, Golden State Warriors: $40,600,080
Age
Entering the 2022-23 NBA regular season, here are some interesting facts about the age of NBA players:
Average age: 26.01
Oldest player: Udonis Haslem, Miami Heat: 42 years old
Youngest player: Jalen Duran, Detroit Pistons: 18 years old
The oldest player to ever play in an NBA game is Nat Hickey, who played in two NBA games at age 45, and the youngest player to ever play in an NBA game is Andrew Bynum, who played in his first regular season game at 18 years and 6 days old.
Draft Eligibility
The NBA currently has a rule that, in order to be eligible for the NBA Draft, a player must be at least 19 years old and one year removed from their high school graduation. The rule was adopted in 2005, which means that the majority of all NBA players drafted since 2005 have attended college for at least one year.
NBA stars like Kevin Garnett, Kobe Bryant, LeBron James and Tracy McGrady went straight from high school into the draft before the rule was instated.
How many players are in the NBA?
NBA teams can have 15 players on their active roster at any point in time, so if you assume that all 30 teams have 15 players, that comes out to around 450 players in the NBA.
How many players are on an NBA team?
Each of the 30 NBA teams is allowed up to 15 players on the active roster.
Who are the highest paid coaches in the NBA?
Gregg Popovich, Spurs: $11.5 million
Steve Kerr, Warriors: $9.5 million
Doc Rivers, 76ers: $8.5 million
Erik Spoelstra, Heat: $8.5 million
Mike Budenholzer, Bucks: $8.5 million
How long is the average career in the NBA?
The average NBA career lasts around 4.5 years. The most seasons played by a player is 22 by Vince Carter, who has played for the Toronto Raptors, Sacramento Kings, Atlanta Hawks, New Jersey Nets, Phoenix Suns, Dallas Mavericks, Orlando Magic and Memphis Grizzlies in his career.
Who has played the most playoff games in NBA history?
LeBron James has played the most playoff games in history, at 266.
Stat leaders in NBA history
Most points: Kareem Abdul-Jabbar, 38,387
Most assists: John Stockton, 15,806
Most rebounds: Wilt Chamberlain, 23,924
Most steals: John Stockton, 3,265
Most free throws made: Karl Malone, 9,787
Most three-point shots made: Steph Curry, 3,278
Most three-pointers shot: Steph Curry, 7,673
Most triple-doubles: Russell Westbrook, 197
Writer Bio
Jeremi Davidson began freelance writing in 2005. Davidson enjoys writing about sports and personal fitness, contributing to a number of different health and lifestyle websites. He holds a Bachelor of Arts in English from Thompson Rivers University.