Sports Team Building Exercises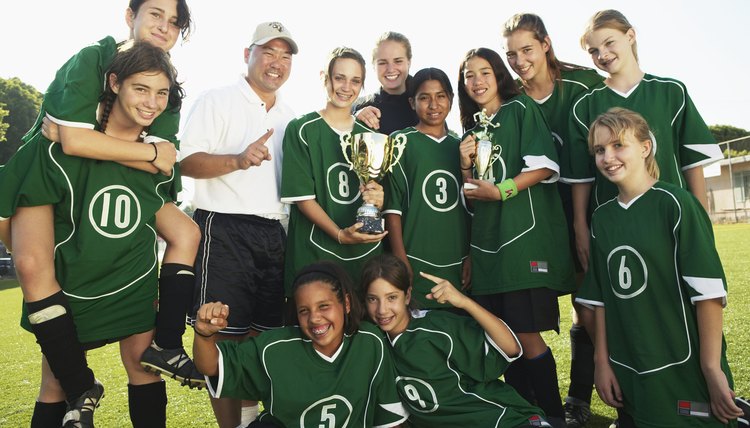 At any level of organized sport, it's critical that team members create a bond and work toward one goal. The way an individual interacts with another player can influence and impact a team's performance and overall success. To build a dynamic team that will reach peak performance in competition, create a cohesive squad that plays with enthusiasm, confidence and shared goals both on and off the sporting field.
Developing Relationships
Social activities like barbecues, dinners at a player's home and potlucks allow team members to connect in a casual, non-competitive environment. This team-building exercise develops relationships and can boost player morale. According to "The Expert Coaches' Perceptions of Team Building," a study published by "The Journal of Applied Sport Psychology," team-building exercises are most relevant in the preseason and at the beginning of the season to acquaint players. The study also showed that activities can be timed to increase player motivation, such as before and after major competitions when the team's level of confidence might be shaken.
Social Responsibility
Many sports teams use charity events, such as food drives or team fund-raising campaigns, to increase visibility in their communities. As players invest time in their communities and teams, they are also strengthening their confidence as a team and as individuals. This encourages them to be valuable members of the community while working toward a common goal outside of the sport. This team-building activity continues with professional athletes and franchises. The MLB Players Association holds the City Clinics Program, where players engage children in sports while teaching them the fundamental skills of baseball and life, such as commitment and teamwork.
Physical Interaction
Building communication by engaging players in activities outside of regular practice heightens the connection they have with one another in competition. Activities can include an obstacle courses, paintball, rowing or ultimate Frisbee. When playing for the Tampa Bay Lightning, veteran forward Adam Hall told NHL.com that exercises like paintball were powerful team-building tools. This activity made him more conscious of each teammate's voice and their location when he called their names. He translates this awareness to communicating on the ice when making split-second decisions and trusting that his teammates would quickly respond to his voice.
Psychological Interaction
Establishing trust between team members will reflect in their overall performance. Having individuals share their personal challenges, hardships or fears will allow team members to know one another outside of the sport. According to Jon Gordon, team-building consultant and author of "The Energy Bus," and "Training Camp," high-performing teams are developed through great communication, which includes sharing positive experiences, common challenges and vulnerable storytelling. Gordon says the best approach to this exercise is to have the player stand while speaking. Discussing defining moments in life, either positive or negative, can connect teammates on a deeper level.
References
Writer Bio
Himani Ediriweera is an award-winning Toronto-based journalist. A regular contributor to "Postmedia" and the "Toronto Star," she also works as a data journalist with a U.S.-based media company. Ediriweera studied journalism at Humber College and received the Great Lakes Environmental Journalism Fellowship from Michigan State University in 2004. She specializes in business, health and wellness, sports, animals, environmental issues, and lifestyles.