Types of Physical Therapy for Morton's Neuroma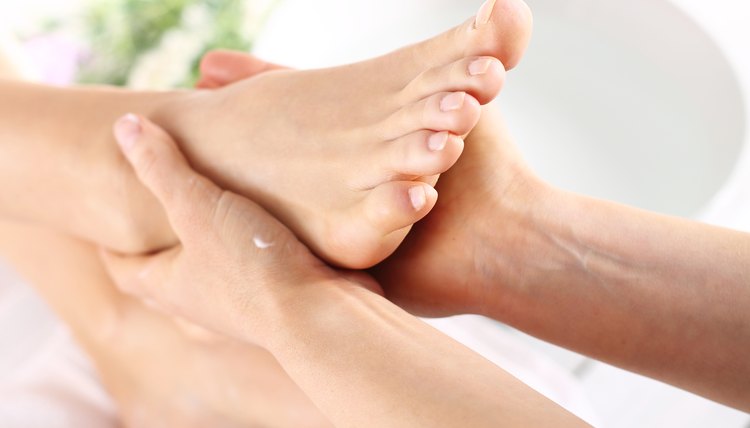 Morton's neuroma is a painful condition that affects your feet. It is usually caused by sports activities that involve running, or it can be caused by wearing shoes that are too tight. Morton's neuroma can usually be treated with physical therapy, however some severe cases may require surgery to correct. Be sure to consult your doctor to find out which treatment is right for you.
Contrast Therapy
Contrast therapy is usually one of the first steps taken towards recovery from Morton's neuroma. This involves alternating between ice packs and heating pads. Typically, an ice pack will be placed on your foot for about 20 minutes. Next, the ice will be removed and a heating pad will be placed on your foot for another 20 minutes. The contrast between hot and cold will alleviate pressure due to swelling as well as increase blood flow to the affected tissues, which can speed up the healing process.
Stretching And Massage
Once the swelling in your foot has gone down, your physical therapist may perform some light stretching and deep tissue massage. Stretching will help increase flexibility in the affected area by loosening up tight tendons and ligaments. Deep tissue massage will help break up and remove any dead tissue underneath the surface of the skin.
Toe Exercises
After your foot has regained some mobility through flexibility exercises and massage therapy, muscle strengthening can begin. Toe exercises help build strength in the muscles that may have been affected by Morton's neuroma. These exercises may include picking a pencil up off the floor using only your bare toes, or walking across a room on the tips of your toes. By strengthening the muscles that run across the bottom of your feet, the risk of developing the condition again can be minimized.
Ankle Exercises
Morton's neuroma can bring pain and weakness to more than just your foot. When the muscles of your foot have become weakened due to this condition, the muscles that support your ankle become weak as well. Therefore, it is important to strengthen the muscles that support your ankle as part of the treatment process. These exercises may include walking across a room using only your heels, or writing the alphabet in the air with your toes. By strengthening the muscles of the foot and ankle complex, you can begin to return to normal activity.
References
Writer Bio
Joe King began writing fitness and nutrition articles in 2001 for the "Journal of Hyperplasia Research" and Champion Nutrition. As a personal trainer, he has been helping clients reach their fitness goals for more than a decade. King holds a Bachelor of Science in kinesiology from California State University, Hayward, and a Master of Science in exercise physiology from California State University, East Bay.