Parts of a Badminton Racket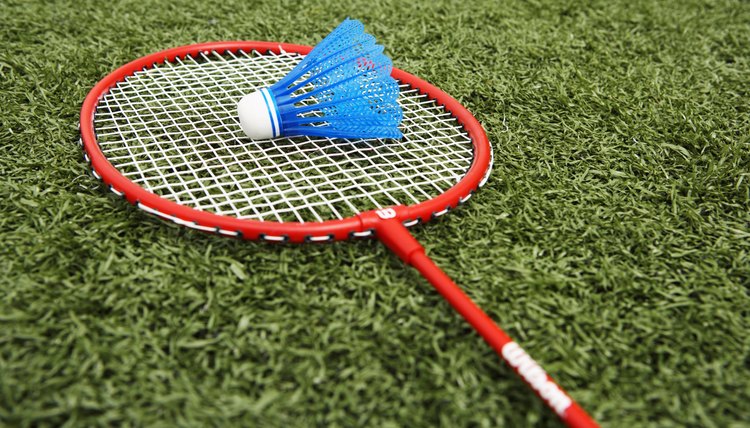 The object of the game of badminton is to hit a small device that resembles a rubber ball with a ring of feathers attached to it, called a shuttle, back and forth across a raised net using a racket. The badminton racket is lightweight yet strong. Once made of wood, these rackets are now made of high-tech materials. The Badminton World Federation (BWF) defines the laws that determine the parts, form, shape and weight of badminton rackets for competition use.
Materials
Traditionally, badminton frames have been made out of wood. Although still available, wood rackets have largely been abandoned due to the availability of lighter, more durable synthetic materials such as carbon fiber, lightweight metal alloys and ceramics. These are used in most modern badminton rackets today.
Frame
The body of the racket itself is called the frame. It consists of the head, the stringed area, the throat, the shaft and the handle. According to BWF laws, the length of the frame should be no longer than 680 millimeters or wider than 230 millimeters. The weight of a fully strung frame should be within 80 and 100 grams. Frames can come in different shapes, with larger or smaller sweet spots, and can be more or less flexible, depending on the materials used and their construction.
Head
The head of the racket is the ring of material that holds the strings in place. It can be oval or more rounded, and has holes in its perimeter though which the strings are laced.
Stringed Area
The stringed area is made up of nylon or carbon fiber string that is interwoven to form the face of the racket. Its dimensions, according to BWF rules, must not exceed 280 millimeters in length or 220 millimeters in width.
Throat
The throat connects the head to the shaft. It may be a separate triangular piece at the base of the head, or may actually be integrated into the head itself.
Shaft
The shaft is the long rod between the throat and handle. Often made of a composite material such as graphite, the shaft can be stiffer or more flexible based on the needs of the player.
Handle
The handle connects to the shaft and is used to hold the racket. The handle is covered with a material called the grip. There are two types of grips: towel grips are good for absorbing moisture, but may need to be changed frequently; synthetic grips are less absorbent but more durable.
References
Writer Bio
In Jacksonville, Fla., Frank Whittemore is a content strategist with over a decade of experience as a hospital corpsman in the U.S. Navy and a licensed paramedic. He has over 15 years experience writing for several Fortune 500 companies. Whittemore writes on topics in medicine, nature, science, technology, the arts, cuisine, travel and sports.