What Kind of Exercise Machines Are Used at Curves?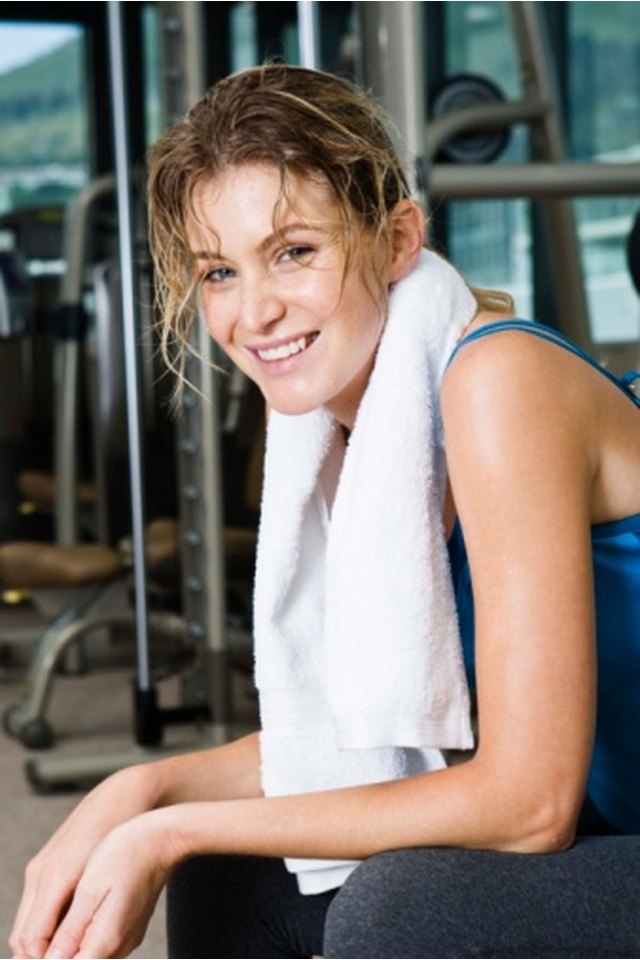 The equipment used in the Curves 30-minute workout provides the benefits of weight training with the safe movement of liquid to provide an effective workout while protecting bones and joints. The machines--manufactured specifically for Curves gyms by Ecological Systems--efficiently accomplish all five components of a complete workout: warm-up, strength training, cardiovascular training, cool-down and stretching.
Machines
Curves' exercise equipment uses hydraulic resistance to combine a cardiovascular workout with strength training. Specially designed for women, the low-impact machines work at least two muscle groups and as many as four at one time by pushing and pulling, rather than lifting and lowering weight. Alternating upper body, lower body and core muscles, the Curves circuit provides a total body workout in just 30 minutes. The objective is to move as fast as possible through full range of motion on each machine, during which time your heart rate increases and your muscles begin to fatigue from the gradually increasing resistance. The intensity of the workout should be on the machines. Every 30 seconds, you change stations to allow you to recover and work out different muscle groups.
Research
The effectiveness of the Curves workout equipment has been studied and validated by Richard Kreider, Ph.D., FACSM, since 2002, first at the Baylor University Exercise and Sport Nutrition Laboratory and, more recently, at the Texas A&M Department of Health and Kinesiology.
Among the findings were that 14 weeks on the Curves fitness plan improved aerobic capacity by 5 percent and muscle strength by 19 percent. Bone density, metabolism, blood pressure, arthritis, blood glucose, mental health scores and other quality of life indicators also improved.
CurvesSmart
In 2007, Curves rolled out its latest technology in fitness and exercise: CurvesSmart. It is a computerized analysis of your workout, which provides immediate feedback of your strength and range of motion during your workout. The aim of CurvesSmart is to keep you challenged and to ensure the most effective workout possible. After the workout, you log onto the computer kiosk to view your progress report, which includes a measurement of your strength, consistency of repetitions, calories burned and balance of workout by muscle group. This feedback provides visual analysis of your workout and keeps you motivated in the long term.
Benefits
The equipment used by Curves is safe and effective for women of all ages and fitness levels. Young girls need only be physically and mentally mature enough to use the equipment properly, and the low-impact exercise--similar in motion to water aerobics--is approved for older members of participating Medicare and Silver Sneakers programs.
Limitations
Curves' equipment is meant for strength training and weight management, but not bodybuilding. The size and structure of the machines is developed for a woman's physique and has not been researched in men.
References
Resources
Writer Bio
Chris McDaniel is a medical writer and registered nurse with more than 25 years experience in hospitals, nursing facilities and government regulatory agencies. She holds a Bachelor's degree in nursing from Angelo State University in Texas. Her areas of expertise include medicine, pain management, fitness, nutrition and aging.