What Do Coaches Look for in College Baseball Tryouts?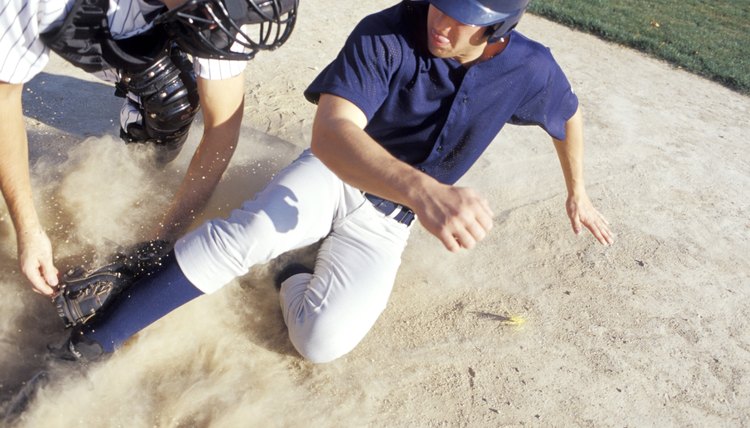 College baseball tryouts represent an opportunity for a non-scholarship player to make a positive impression on a baseball coach and win a spot on the team. In many cases, this can be a difficult task.There may be only a few openings that dozens of players are trying to earn. To have a chance, you must quickly demonstrate hitting ability.
Hitting
Baseball coaches at the college level are looking for consistent hitters. College pitchers usually have two or more pitches that they can throw with command and control. This makes it difficult for hitters to hone in on the fastball. If you can hit the breaking ball consistently, you will stand out at a baseball tryout. That doesn't mean you have to hit for power, but you need to show that you can make consistent contact with line drives and shots to the gaps. Any hitter who shows the ability to make contact regularly will have an excellent opportunity to make the team and gain playing time.
Fielding
Playing at the college level means you must excel at the fundamentals. If you have progressed from youth leagues, travel teams and high school baseball, you should be able to make the basic plays of the game. College coaches want to see players perform these plays with speed and precision. It's not enough to square up to the ball when you are fielding a slow hit ground ball. You have to show you can charge the ball and pick it up on the run. A player who is confident in his defensive ability has a chance to earn a spot on the team.
Arm Strength
Pitchers need to show what they are capable of in a very brief period when they take the mound for a college tryout. You must demonstrate your arm strength, your command and the variety of pitches that you have in your arsenal. In a tryout setting, you may get 20 to 30 pitches to demonstrate your ability. That's not much. To be at your best, you must get the proper warm up. Throw for at least 15 minutes on the side before it is your turn to get on the mound and throw for the coach. Throwing regularly is the best way to build arm strength, according to former major leaguer and pitching coach Steven Ellis. "You should be throwing on a daily basis in the weeks before the big day," Ellis said.
Base Running
This is often one of the most overlooked aspect to winning baseball. Good base runners are capable of keeping rallies going and getting an extra run or two per game for their teams. Poor base runners can cut rallies short and cost their teams severely. Base running is not merely a function of speed. Good base runners must know when to be aggressive and when to be conservative, how to cut the corners of the bases and judge the outfielder's arm strength. Running the bases well lets a coach know that he has a sharp and knowledgeable player at his disposal.
Writer Bio
Steve Silverman is an award-winning writer, covering sports since 1980. Silverman authored The Minnesota Vikings: The Good, The Bad and The Ugly and Who's Better, Who's Best in Football -- The Top 60 Players of All-Time, among others, and placed in the Pro Football Writers of America awards three times. Silverman holds a Master of Science in journalism from the Medill School of Journalism.