What does fact checked mean?
At SportsRec, we strive to deliver objective content that is accurate and up-to-date. Our team periodically reviews articles in order to ensure content quality. The sources cited below consist of evidence from peer-reviewed journals, prominent medical organizations, academic associations, and government data.
The information contained on this site is for informational purposes only, and should not be used as a substitute for the advice of a professional health care provider. Please check with the appropriate physician regarding health questions and concerns. Although we strive to deliver accurate and up-to-date information, no guarantee to that effect is made.
Best Chest Exercise Dips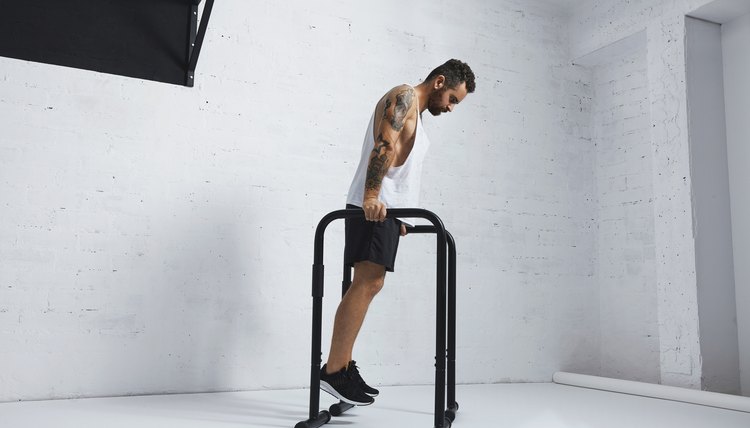 If you only head to the bench to work your pecs with presses and flyes, you're missing out. Bodyweight exercises can be valuable in developing your chest muscles, too.
You, of course, know of the tried-and-true push-up, but consider complementing your pressing and flyes with another option: The chest dip. Don't confuse chest dips with the triceps-centric exercise of bench dips. Chest dips activate your triceps, but use your pectoralis major as the primary initiator of the action.
The Basics
A proper chest dip is done on a set of parallel bars. Mount them by placing one hand on each bar, hovering your legs off the ground by linking the ankles and bending the knees and hips slightly. Start with your arms extended, then lean slightly forward from the hips to drive weight into the chest as you bend the elbows. When your upper arms are about parallel to the floor and you feel a slight stretch in your chest, extend the elbows to return to start.
Add extra challenge to dips by squeezing a dumbbell between your ankles as you press up and down, or by fixing a weight plate attached to a chain around your waist and allowing it to hang down in front of you. Dips on gymnastic rings are another challenging progression from the standard variation.
Benefits
The chest dip is one of the best chest exercises around because it relies on just you — no fancy equipment necessary to get the work done. It also targets the sternal head, or largest middle region, of the pectoralis from an angle that differs from bench presses and flyes.
Dips make an excellent finishing exercise to a complete chest and triceps workout. When you've done all your reps and sets of your other chest exercises, throw in a set or two of chest dips to completely stress the muscle to stimulate new growth.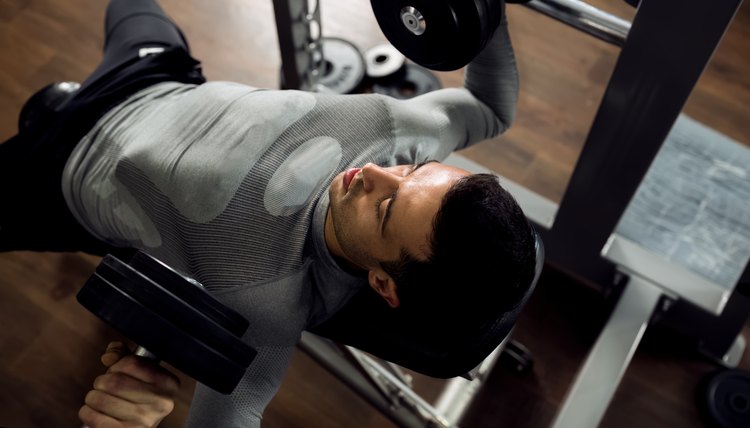 Mobile bars are one option for chest dips.
Don't Give Up the Bench
Chest dips are valuable, but don't use them in lieu of the bench press — use them to augment it. A study published in 2012 by the American Council on Exercise showed that dips were only 69 percent as effective in stimulating the pectoralis major as the bench press. In the nine exercises tested, dips outperformed only push-ups, as well as variations of push-ups on a stability ball or suspension cables.
Be Careful
Dips can put the shoulder joint in a precarious position, causing pain and potential injury. This isn't only when dips are performed with poor form — it is also the nature of the position, notes the American Council on Exercise. The shoulder joint is quite mobile, but doesn't have as much stability as does a similarly shaped joint like the hip. As a result, it's more vulnerable, especially if the surrounding muscles and bones are weak.
If you experience pain during dips or have experienced shoulder injury in the past, the chest dip may just not be an exercise worth trying. The value it offers your chest is not worth the potential injury to your vulnerable shoulders.
References
Writer Bio
Andrea Boldt has been in the fitness industry for more than 20 years. A personal trainer, run coach, group fitness instructor and master yoga teacher, she also holds certifications in holistic and fitness nutrition.