Difference Between Soccer Cleats & Football Cleats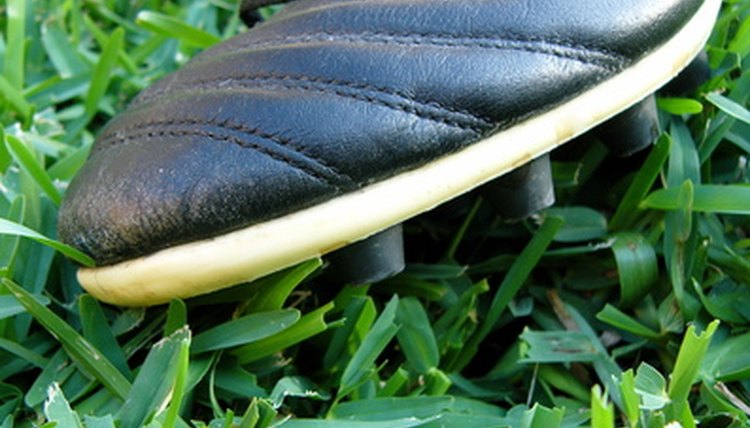 Think you can just put those soccer cleats on for a game of football, or vice-versa? You might want to think twice. Although both types of shoes are made with cleats, the nubs or raised patters on the outsole of the shoe, soccer and football shoes are made as differently as the sports themselves.
Outsole
Soccer shoes used for play on grass tend to have outsoles equipped with removable aluminum cleat caps, which can improve traction and durability. Unlike football cleats, soccer cleats don't have a toe cleat, which is made for straight-ahead movement. Soccer turf shoes have molded outsoles and are made for harder outdoor surfaces and artificial turf. They are built with raised patterns on the bottom somewhat like a tire tread to maintain traction. Football cleats also come in the removable and molded variety. Molded cleats tend to be less expensive and are often required for youth play for safety reasons. Detachable football cleats are made of rubber, hard plastic or metal and come in a variety of lengths for use on different playing surfaces.
Style
Because of the agility-based movements used in soccer for every position on the field, soccer cleats are always made in the low-cut style, which are lightweight and allow maneuverability at the ankle. Football cleats come in three main varieties more specific to a player's needs. High-tops are built to support the entire ankle. Linemen often prefer high-tops because of how well they support the continuous lateral movements associated with the position. There are also midcut shoes, which may surround only a portion of the ankle. Popular with defensive backs, running backs, wide receivers and quarterbacks, midcut shoes still offer support but allow more maneuverability than high-tops. Some defensive backs favor low-cut shoes because they are lightweight for maximum running speed.
Construction
Soccer cleats tend to be lighter and smaller to assist with the prolonged running associated with the sport. Soccer cleats have rubber or polyurethane outsoles that are made light and durable. Soccer cleats don't have midsoles--they are designed to keep the player's feet and center of gravity low to the ground. The upper can be synthetic or leather. Football cleats tend to have thicker outsoles and generally heavier all-around construction of material. They are typically made of either leather or synthetic material. High-quality cleats, whether for football or soccer, should be built to stand up against heavy use in dirt, mud, rain, or even the snow.
Top Brands
Eastbay, the world's leading supplier of athletic footwear, apparel and sports equipment, lists its top soccer cleat brands as Adidas, Diodora, Nike and Puma. Other soccer cleat brands include Mitre, Kelme and Lotto. Eastbay.com's top football cleat brands are Adidas, Jordan, New Balance, Nike, Pony, Reebok and Under Armor. Each brand touts its own trademark features and look.
Price Range
For the common consumer, a pair of men's soccer or football cleats on the lower end can cost as little as $25 as of March 2010. However, while the Nike Mercurial Vapor IV were the highest priced football cleats found online at $154.99, soccer cleats like the Nike Mercurial Vapor Superfly can cost as much as $350. Quality football or soccer cleats made by popular brands can be purchased for less than $70.
References
Writer Bio
Kip Doyle, the managing editor at a weekly newspaper in Western New York, has over 12 years of experience researching and participating in sports and physical fitness. Doyle, who also writes about technology, music and pop culture, has been published by several newspapers, as well as websites like Punknews.org.