What Shoes Do You Need for Distance Track & Field Running?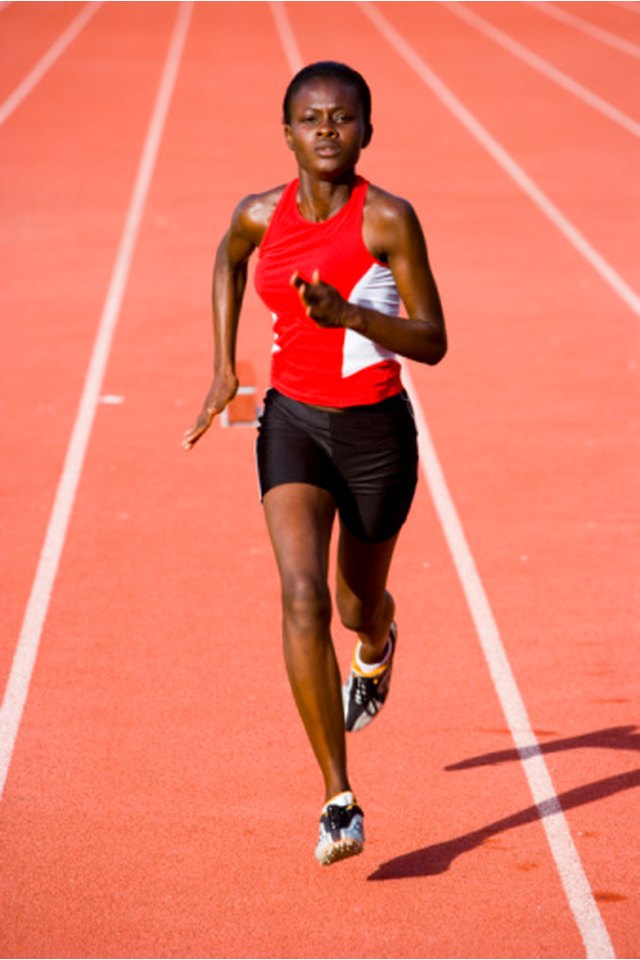 Shoes suitable for track & field athletes are lightweight, offer a comfortable fit and help enhance performance. Spiked running shoes are used by most track and field athletes. Replaceable spikes are quickly and easily screwed into the front sole of the shoe to provide traction, but are not located on the heel section of the shoe. Track surfaces vary; some tracks have regulations about the length of spikes that are allowed, so it's a good idea to carry a few different lengths with you.
Middle-Distance
The middle-distance races in track and field are the 800 m and the 1,600 m. The 3,000 m is a middle-distance race but is often considered a long-distance race for high-school athletes. While sprinters run races only on the balls of the feet, runners in longer distances also use the heel. To accommodate the heel striking the ground, running spikes for middle-distance runners have more padding in the heel for comfort and to help prevent injury. The shoes tend to be more flexible than sprint spikes to account for a greater range of foot motion.
Long-Distance
The 5,000 m and 10,000 m are the long-distance races run on a track. The shoes worn by long-distance runners still have spikes, but are a little heavier and more solid than shoes designed for shorter distances. The heel contains more padding, and the slight arch that many shorter-distance shoes have to impel forward motion is absent in long-distance shoes.
Cross-Country
Cross-country shoes come in both spiked and spikeless models. Cross-country race courses vary significantly, and what kind of course you will be running on should determine what type of shoe to wear. Spikes for cross-country shoes are longer than for other races and work well on dirt, wet ground and some grass courses. Running on pavement or rocky surfaces calls for shoes without spikes. Cross-country shoes are sturdier than any other track shoes, but are still lightweight and low-cut.
Considerations
Always check on the regulations regarding spike length well before a race. The most common spike lengths are ¼- inch and 3/16-inch, but track rules vary. Keep in mind that some cross-country courses do not allow spiked shoes. High school cross-country athletes in California are not allowed to use spiked shoes at all. Do not wear track spikes for training, as that will wear them down before their time. Use running or training shoes for daily practice.
References
Writer Bio
Since 1997, Maria Christensen has written about business, history, food, culture and travel for diverse publications. She ran her own business writing employee handbooks and business process manuals for small businesses, authored a guidebook to Seattle, and works as an accountant for a software company. Christensen studied communications at the University of Washington and history at Armstrong Atlantic State University.