Different Types of Football Helmets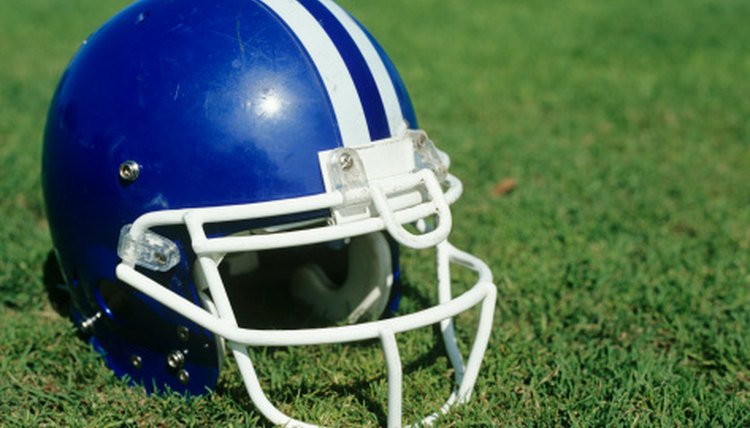 Players of all ages, from youth leagues to professional football, wear football helmets. Teams have several different helmet options to choose from, including size, style and even face mask design. A handful of companies make football helmets, but the two largest, Riddell and Schutt, control most of the market.
The Two Biggest Manufacturers
Riddell and Schutt are the two largest helmet manufacturers in professional football. Riddell is the official helmet of the National Football League, and two-thirds of players wear Riddell models, while the other third wear Schutt helmets. Players in amateur leagues, including college football, often wear Adams brand helmets. A newcomer to the market, Xenith, markets helmets designed to help prevent concussions.
Protection from Concussions
Different styles and models of helmets offer different levels of protection for the players. Football can be risky, and head injuries happen often. Still, all helmets are still not designed the same in terms of padding, support and protection. For instance, helmets that offer protection from concussions also are more uncomfortable and harder for users to wear. All four major manufacturers offer models that claim to give added protection from concussions and head injuries, but all four also make other helmets with less protection.
Face Mask Choices
Any helmet can be fitted with any of the dozens of available face mask options. Usually face masks are chosen based on the position that a player plays. Skill position players, such as quarterbacks and wide receivers, usually wear face masks with fewer bars so that they can see the field more clearly. Linemen, such as tackles and guards, usually wear larger face masks to better protect themselves while blocking and tackling in tight, close quarters.
Sizing and Fit
Football helmets usually come in sizes small, medium, large and extra large. In the past some manufacturers used exact head size measurements, as you would use to size a fitted baseball cap. For players whose size might be in-between standard sizes or too large, adjustments or special orders can be made. Often, changing the size of the ear pads can make the fit larger or smaller depending on the need. Most models' sizing is similar regardless of brand, but players find certain things that fit better with a particular design or padding to form a personal preference.
References
Writer Bio
Based in Harker Heights, Texas, Timothy Onkst has been writing about sports, fitness and health since 2003. His articles have appeared in a variety of publications including "Texas Roundball" magazine, Yahoo Sports, Fox Sports and other websites.