A Summary of the Rules of Professional Soccer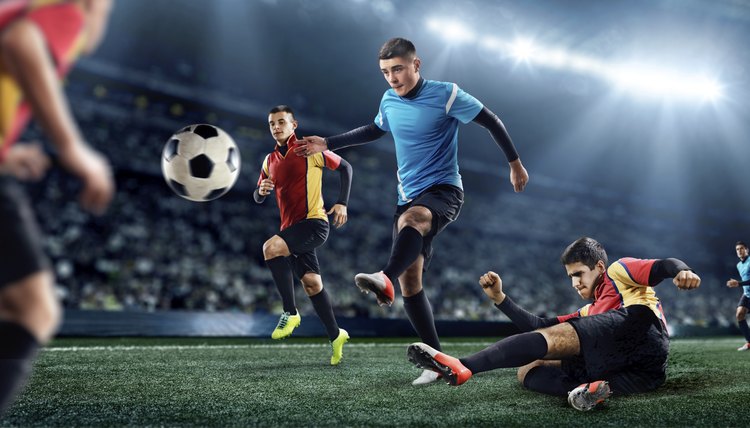 At first, the game of soccer as played in England operated by a free-for-all mentality and rules that changed from one place to the next. The year 1863 is considered the birth date of the Football Association, the first body to set down specific rules that unified the game. Today FIFA, the international governing body of soccer, oversees the game on a worldwide level. Professional soccer mostly follows the same rules set down for international competitions.
Field Measurements
The game is played within an area that measures between 100 and 130 yards long and between 50 and 100 yards wide. The goal is 24 feet wide and 8 feet high. The penalty area extends 18 yards from the goal and is 44 yards wide. A center line divides the field into two halves.
Number of Players
Each soccer team is allowed 11 players on the field at one time. One of those players is the goalkeeper, the only player allowed to use his hands. Players move the ball by dribbling or passing the ball using any part of their body except their hands and arms. Teams are allowed to replace players with substitutes, but in professional and international soccer a player is not allowed to return once he is removed from the game.
Scoring and Offside
The object of soccer is to score more goals than your opponent. A goal occurs when the ball goes inside the goal posts and under the connecting crossbar. The ball must also pass all the way across a line that stretches from one goal post to the other. Scoring is influenced by the offside rule. A player must have two opponents, one of whom is usually the goalkeeper, between him and the goal when the ball is passed.
Types of Fouls
Players can be called for fouls in soccer. Physical fouls, such as tripping or pushing, result in a direct kick. In a direct kick a player can shoot directly on goal if he is close enough. Non-physical fouls, such as offsides or obstructing an opponent, result in an indirect kick, in which the ball must touch a teammate before it can be struck at goal.
Goalkeepers and Hands
Goalkeepers are only allowed to use their hands within the penalty box that surrounds the goal. Once a goalkeeper has possession of the ball, he must release it with a pass or kick within six seconds. In addition, he cannot receive a pass from a teammate with his hands. In that instance he essentially becomes another field player.
References
Resources
Writer Bio
Based in Geneva, N.Y., Greg McNall has been a sports writer since 1998. In 2003 he received an award for Distinguished Sports Writing from the New York Newspaper Publishers Association. McNall has a Bachelor of Arts degree in History from the College of St. Rose in Albany, N.Y.